Thundersleet, thunder freezing rain: What causes lightning and thunder during a winter storm?
On Monday morning in Oklahoma, we saw not thundersnow, but "thundersleet."
Thunder and lightning might be more common during the spring and summer, but winter storms can also produce a few rumbles when heavy snow, sleet or freezing rain are falling.
We've already seen thundersnow on several occasions this winter, which is exactly what it sounds like: thunder and lightning during a snowstorm.
THUNDERSNOW: WHAT CAUSES LIGHTNING AND THUNDER DURING A SNOWSTORM?
But Monday morning in Oklahoma, we saw not thundersnow, but "thundersleet."
Doppler radar detected a few lightning strikes in the Tulsa area in northeastern Oklahoma about 9 a.m. Central time on Monday. Sleet was falling across the region, according to observations from radar, airport weather stations and storm spotters.
"While thundersnow is rare, it can be considered even rarer when sleet and freezing rain are accompanied by thunder and lightning," FOX Weather senior digital meteorologist Brian Donegan said.
He explained that certain atmospheric conditions need to align in order to get sleet or freezing rain instead of snow, and then additional ingredients are required to produce the thunder and lightning.
SNOW, SLEET, FREEZING RAIN AND HAIL: WHAT'S THE DIFFERENCE?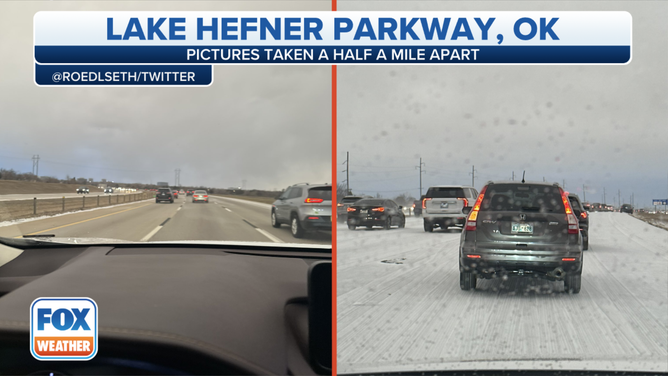 "First, in order for sleet to form, you need a so-called 'warm nose' in the atmosphere that causes snowflakes to melt into raindrops after they fall from the clouds, but a layer of subfreezing air in place near the surface causes those liquid drops to freeze into ice pellets before they reach the ground," Donegan said.
Freezing rain forms in a similar way, he added, except the layer of subfreezing air near the surface is very shallow, so the raindrops remain liquid all the way down to the surface but freeze upon contact with the ground, creating a glaze of ice on anything from roads and sidewalks to trees and power lines.
"Then, in order to get thunder and lightning, you must also have enough warm air pulled into the storm system to create the instability required to form updrafts that lead to thunderstorms," Donegan said. "It's rare to have all of these ingredients come together at the same time, but we just witnessed it Monday morning over parts of northeastern Oklahoma."
The sleet was falling rather heavily over Oklahoma when the thunder and lightning were reported, which Donegan said is typical during thundersleet.
TREACHEROUS TRAVEL REPORTED IN TEXAS AS DANGEROUS ICE STORM TARGETS 30 MILLION IN SOUTH THIS WEEK
"You're probably not going to hear thunder during a winter storm when the precipitation is only falling lightly because the atmosphere is not unstable enough to produce thunder and lightning," Donegan said.
Oklahoma also saw thundersleet from a winter storm last February
A winter storm that hit the southern Plains last winter also produced thundersleet – and even "thunder freezing rain" – in portions of Oklahoma on Feb. 23, 2022.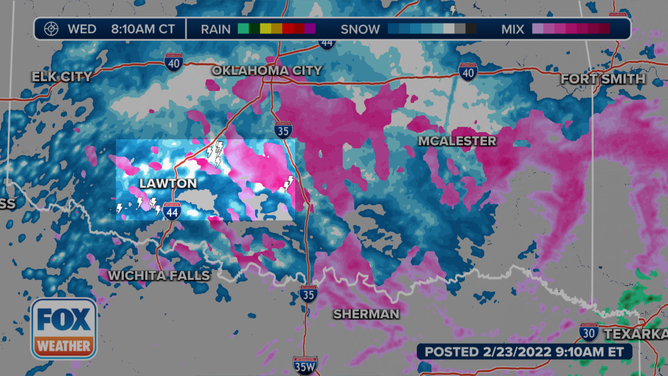 Doppler radar detected a few separate areas of lightning to the south and southwest of Oklahoma City about 8 a.m. Central time that morning as sleet and freezing rain were falling across the state.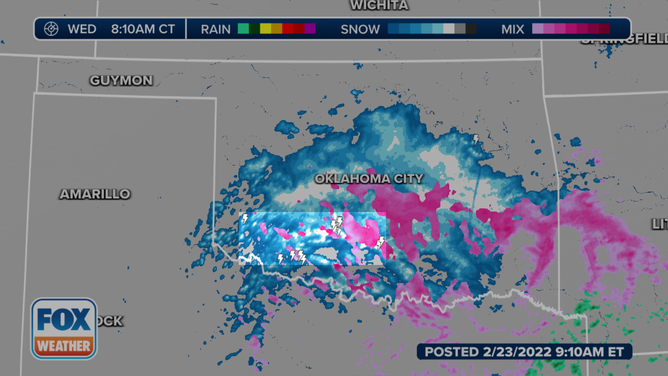 One Oklahoma resident described the precipitation that morning as the "heaviest sleet I've ever felt in my life" as the ice pellets rapidly accumulated on the ground.
'SLEET STORM' CREATES ICY SCENES IN OKLAHOMA, TEXAS
Later in the day, the thundersleet made its way into Arkansas. In Fort Smith, 1 to 2 inches of sleet was seen covering the ground on the afternoon of Feb. 23.
It's important to note that while it's exciting and rare to see lightning and hear thunder during a winter storm, it's just as dangerous to be outside as it would be during a summertime thunderstorm. (Or is it "thunder rain" or "thunder hail" as a National Weather Service meteorologist jokingly said on Twitter?)
If you're outside during winter weather and you see lightning or hear thunder, it's best to head indoors where you can enjoy the snow, sleet or freezing rain from the comfort of your home.