Dangerous heat in Pacific Northwest finally winds down on Monday
A strong ridge of high pressure remains anchored across the West, pumping searing hot air from the Desert Southwest into the Northwest, creating the hottest stretch of weather since the historic heat wave of June 2021
SEATTLE – A heat wave blistering the Pacific Northwest enters its sixth day Sunday as temperatures near or cross into triple digits, but relief is on the way. 
More than 14 million people are under heat alerts, including the Seattle, Portland and Spokane metro areas.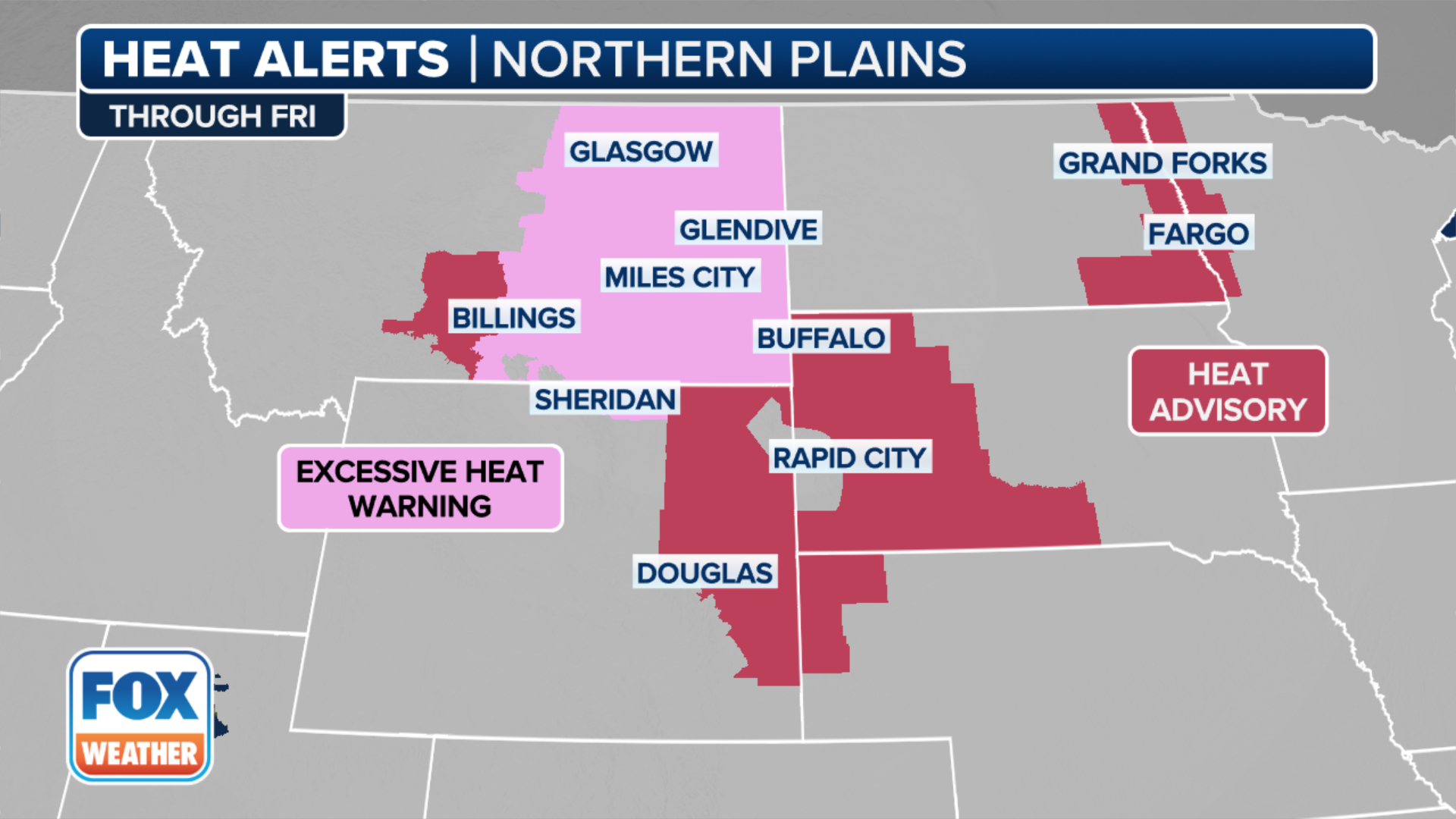 Northwest Heat Alerts
(FOX Weather)
---
A strong ridge of high pressure remains anchored across the West, pumping searing hot air from the Desert Southwest into the Northwest, creating the hottest stretch of weather since the historic heat wave of June 2021. 
Portland topped out at 102 degrees Tuesday, breaking its old daily high-temperature record of 100 set in 2020. Redmond, Oregon's 103 also topped it's record by 2 degrees, as did Seattle with its 94-degree reading, besting the old record of 92 set in 2008.
A few high clouds and a weak ocean breeze provided a couple degrees' relief on Wednesday, but Redmond soared all the way to 107 on Thursday and broke the previous daily record high of 104 set in 1968. Portland and Seattle held in the mid-90s and came up short of their records, however.
Scorching temperatures are expected once again Sunday, with Seattle perhaps reaching 95 degrees on back-to-back days. The city averages a day reaching 95 degrees about once every other year. Saturday could be the fifth since June 2021. 
Widespread triple-digit highs are forecast again across Oregon, while other areas will approach the century mark. 
Forecast high temperatures for Sunday
(FOX Weather)
---
HOW TO TELL THE DIFFERENCE BETWEEN HEAT EXHAUSTION AND HEATSTROKE
The heat extends into far Northern California, where Redding reached 114 degrees Thursday and broke its daily record of 113 degrees set in 2003. Record highs are possible again Friday, as well as in Reno, Nevada; Medford, Oregon; and Kennewick and Spokane, Washington.
Potential Heat Records Thursday
(FOX Weather)
---
While these hot temperatures are at the upper end of typical heat waves in summer, they are still about 10 degrees short of the historic heat levels seen last June.
However, this heat wave is notable for its duration, with 90-plus-degree weather forecast for Seattle for six consecutive days. This would be the longest stretch of 90-degree days since records began in 1894.
Many areas across Seattle and western Washington have opened cooling centers as air conditioning is rare. 
WHEN SECONDS MATTER: CHILDREN EXPERIENCE HEATSTROKE SYMPTOMS WITHIN MINUTES OF BEING IN A HOT CAR
Fire weather increases
The intense heat has led to increased fire weather conditions for portions of the region. 

Forecasters say that an increased number of thunderstorms expected in the region combined with the critically dry vegetation increases the chances for fire weather conditions.
Northern California is already dealing with ongoing fires, including the McKinney Fire that started Friday afternoon. The wildfire is burning in the Klamath National Forest and is estimated to have burned around 40,000 acres in rural Siskiyou County as of Saturday evening. 
WHY DOES THE AIR QUALITY GET SO BAD IN THE SUMMER?
Relief is in sight
The heat will begin to abate on Sunday as the ridge of high pressure begins to break down and a trough of low pressure approaches the coast.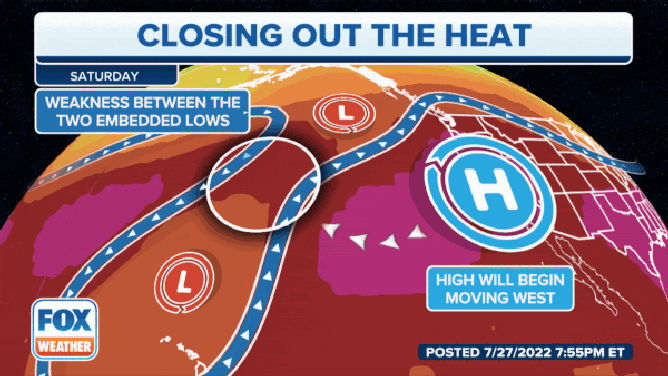 Cooler, marine air will filter back in along western Oregon and Washington, allowing highs to fall back into the 70s and 80s, while temperatures will drop to 80s and 90s on the east side of the Cascade Mountains. 
Be sure to download the FOX Weather app to track any storms in your area and receive potentially life-saving weather alerts issued by the National Weather Service. The free FOX Weather livestream is also available 24/7 on the website and app and on your favorite streaming platform. The FOX Weather Update podcast also provides weather information for the entire country.