Rain out weekend for the Gulf Coast States. How much more rain could they see?
After a week of record rain for some southeast cities, a decaying cold front won't budge and anchors heavy rain over the same areas. Another storm is on the way.
Rain delays, flood threats and rain outs plagued the Gulf Coast from Texas to Florida. After record rainfall in some areas last week, more inches of water is exactly what areas of the South do not want. But, the rain continues.
Weather played a central role this weekend for NASCAR. Mother Nature washed out Friday's qualifying races at Daytona International Speedway. Rain pushed Saturday's Coke Zero 400, the last race before playoffs, to Sunday, according to NASCAR.com.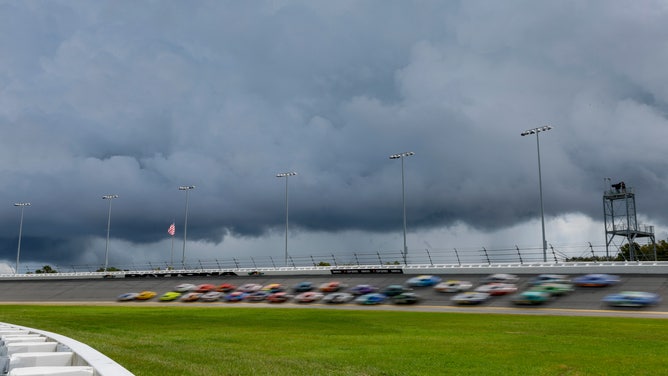 Sunday proved to be almost as wet. NASCAR officials, anxious to get the race in, gave the go-ahead despite the FOX Weather forecast for storms to plague the area into the evening.
Check out the downpours off the coast captured by FOX's WeatherStem cameral.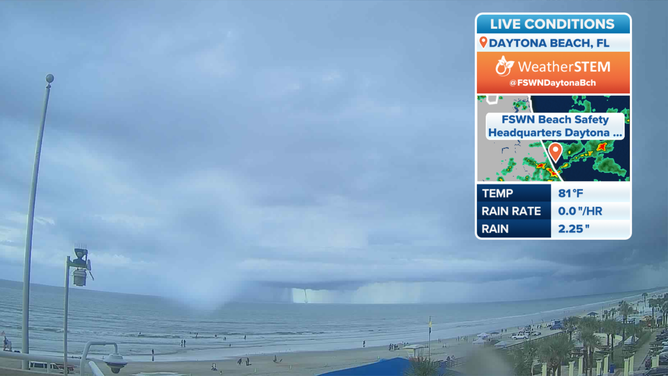 "You have, of course, the race halted because of rain but not until after a bunch of cars wrecked," FOX Sports reporter Bob Pockrass reported on Twitter.
"NASCAR says they couldn't have done anything differently. It didn't start raining till right then," FOX Sports reporter Bob Pockrass explained on Twitter. "You know some people are saying it was raining so close that they should have thrown it, that they knew the rain was going to be heavy. But then others say why even bother start the race because the rain was close then too."
With rain, FOX Sports reports the 2.5-mile track can take anywhere from 90 to 180 minutes to dry.
NASCAR USES SPECIALTY TRACK-DRYING TECHNOLOGY TO RID THE RAIN FROM RACETRACKS
The system producing the wet weather is the same front that triggered historic flooding in Mississippi and caused at least one death in Texas over the past week.
INCREDIBLE SCENES OF SURVIVAL: WATCH AS 15-INCHES OF RAIN LEAVES DALLAS-FORT WORTH UNDERWATER
The decaying front strung across the Gulf Coast states is triggering locally heavy rains in the high humidity locked over the coast by that stationary front. 
Any storm that forms could be slow-moving and have the potential of turning strong or severe with gusty winds and plenty of lightning.
"Heavy rain potential across western portions of Florida, additional rain being 2-3" more in the coming days. Localized spots receiving more," said a meteorologist with the FOX Forecast Center. "It all could come at once if slow-moving storms sit over the same area.  This is where flood issues will arise."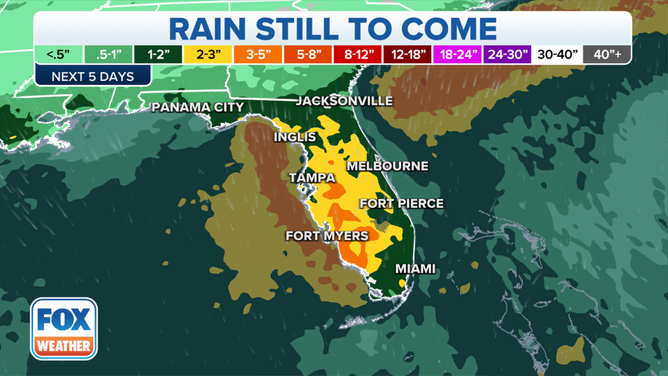 Flooding is still a threat for areas where the rain has stopped. Record rains from last week have rivers running high. The Pearl River at Jackson, Mississippi is currently at moderate flood stage and cresting to 36 feet Monday which is major flood stage. The river was at 6 feet just a week ago before the record rain.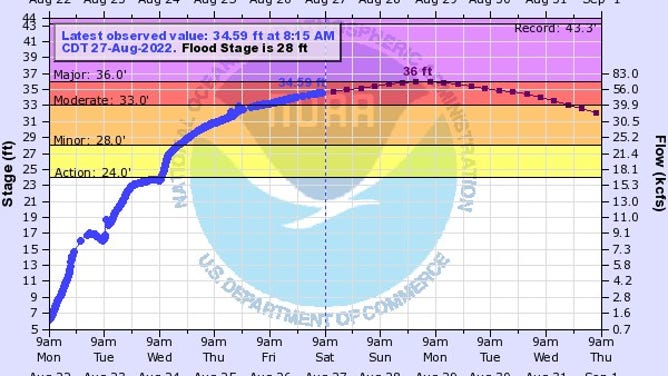 Emergency managers warned on Facebook that roads, homes and business near the river will be impacted. Mississippi's Governor already issued a State of Emergency. Extra search and rescue teams are standing by. Volunteers and city staff fill sandbags to distribute with bottled water.
In Louisiana, Beauregard Parish Sheriff's officers are still searching for one person that went missing in the flooded Sabine River. After 3-5 inches fell Friday, four people disappeared. The sheriff found three and hope to locate the fourth before early evening storms return. The better chance of thunderstorms comes Tuesday.
Monday
All eyes will be on the Space Coast Monday for NASA's planned launch of a mega moon rocket.
Due to the launch window opening at 8:33 a.m., meteorologists say the rocket could avoid most of the scattered showers and thunderstorms that usually develop during the afternoon. 
"Currently, the launch probability for the Artemis I launch is at 80% for a go," said a meteorologist at the FOX Forecast center. "Some storms and clouds in the vicinity during launch could delay."
ARTEMIS 1: RAIN, LIGHTNING STILL A CONCERN HEADING INTO NASA'S HISTORIC MOON ROCKET LAUNCH
Launch teams will be keeping a close eye on the radar and have backup windows in the event of a scrub.
Afternoon and evening thunderstorms will continue for the Florida peninsula all week but not as moisture laden as this weekend's storms.
Through the beginning of the work week another round of heavy rain will hit from Texas to Mississippi Tuesday.

The FOX Weather app is a great resource that can be used to alert you of any watches or warnings issued for your area. The free FOX Weather livestream is also available 24/7 on the website and app and on your favorite streaming platform. The FOX Weather Update podcast also provides weather information for the entire country.