Dozens rescued from Mississippi nursing home as torrential rain causes major flooding
Nearly a foot of rain has fallen across parts of the Magnolia State, resulting in life-threatening flash flooding.
SCOTT COUNTY, Miss. – Flash Flood Emergencies were issued in central Mississippi Wednesday, prompting evacuations as the life-threatening situation unfolded.

The National Weather Service issued the rare Flash Flood Emergencies earlier in the day due to relentless torrential downpours throughout parts of the South. However, those Flash Flood Emergencies were canceled about 2 p.m. CDT.
More than 40 residents were evacuated from a nursing home due to flooding in Rankin County.
"This water is definitely on the rise at this point," field meteorologist Brett Adair said. "Many of the creeks have now come out of their banks."
Adair had a stern warning for anyone in the area where the Flash Flood Emergencies were in effect.
"This is a message for everyone in the Jackson metro area. If you're here today. Stay home if you don't have to be out. I understand that there are some strategic elements going on with the kids in school and trying to get all that situated in the afternoon. But again, this is the type of situation that we're seeing in various areas. And these rivers and creeks are beginning to rise. This is going to become more problematic as we get into the afternoon."
EXPLAINING FLOOD ALERTS ISSUED BY THE NATIONAL WEATHER SERVICE
A Flash Flood Emergency had been in effect for central Scott County in central Mississippi, where 6-12 inches of rain has fallen. That Flash Flood Emergency was canceled just after 2 p.m. CDT. An additional 2-4 inches of rain are possible, forecasters said.
"This is a Flash Flood Emergency for Morton to Forest areas," the National Weather Service had said in its message about the alert. "This is a particularly dangerous situation. Seek higher ground now!"
7 FACTS YOU SHOULD KNOW ABOUT FLASH FLOODS
A short time later, a second Flash Flood Emergency was issued for Jackson, Mississippi and the surrounding area until 3 p.m. Central. Forecasters said between 6-10 inches of rain has fallen in parts of Hinds and Rankin counties, and an additional 2-4 inches could fall in the warned area. That Flash Flood Emergency was also canceled just after 2 p.m. CDT.
Centers throughout the state have been opened for those needing to evacuate due to flooding. 
HEAVY RAIN, FLASH FLOOD THREATS CONTINUE FROM SOUTHEASTERN TEXAS TO LOWER MISSISSIPPI VALLEY ON WEDNESDAY
A Flash Flood Emergency means that life-threatening flash flooding is occurring or is expected to happen soon.
"This is an extremely dangerous and life-threatening situation," the NWS said during the Flash Flood Emergency. "Do not attempt to travel unless you are fleeing an area subject to flooding or under an evacuation order."
HOW TO WATCH FOX WEATHER ON TV
NWS storm spotters have reported multiple issues with flooding across central Mississippi, including several streets flooded in the cities of Canton and Union.
In Farm Haven, a driver had to be pulled from a vehicle trapped in floodwaters along Highway 16, which also suffered flooding miles away in Edinburg.
Spotters reported "considerable" flooding in Sebastopol, where residents were rescued from at least two houses due to rising waters.
Rising waters were approaching numerous cars at dealerships as well as the high school along Highway 80 in Pearl, and two southbound lanes of Interstate 20 were flooded in Jackson.
In Rankin County near Fannin, widespread flooding near Highway 25 has surrounded at least one home with floodwaters. 
Rankin County volunteers and deputies helped rescue 104 children and 14 daycare workers from rising floodwaters at the Railroad Center Day Care in Florence. No injuries were reported.
In all, multiple flooded road reports have come in so far from Rankin, Scott, Newton and Neshoba Counties.
The NWS in Jackson said significant flooding has been reported in counties along the I-20 corridor, roughly from the I-5 corridor through the state line.
Forecasters said some of the heaviest activity has been slowly tracking to the south, but flooding concerns will continue for eastern Mississippi.
"Right now, we are seeing a steady flow of rain, and we have several areas within the city that are experiencing flash flooding, and our firefighters are standing by to respond in the event of a rescue call," said Celotha Sanders, deputy fire chief in Jackson, Mississippi.
Sanders said that as of Wednesday afternoon, no calls for help have been received.
"We just encourage everyone that if you do not have to be out on the roads that you stay home or at work," he said. "We've seen cars where our citizens have tried to drive through standing water, and they have stalled." 
And if rain wasn't enough, Hattiesburg residents spotted what appears to be a tornado form within the city. 
Flood threat continues in Mississippi
The flash flood threat on Wednesday, Aug. 24.
(FOX Weather)
---
The FOX Forecast Center has highlighted an area from Texas to the Florida Panhandle that is at risk of flash flooding on Wednesday.
However, flash flooding is very likely from parts of northeastern Louisiana through central Mississippi, including Jackson. 
How much rain has fallen?
Rain totals over the past 24 hours.
(FOX Weather)
---
Rain totals across the region have been extremely high as the torrential rain continues to fall across the region.
In Forest, nearly 9 inches of rain has fallen over the past 24 hours, and that number is expected to rise as Wednesday continues.
More than 8 inches of rain has fallen in Wiggins, and Goshen Springs and Lena are now approaching 8 inches of rain.
Walnut Grove has reported just over 7 inches of rain so far.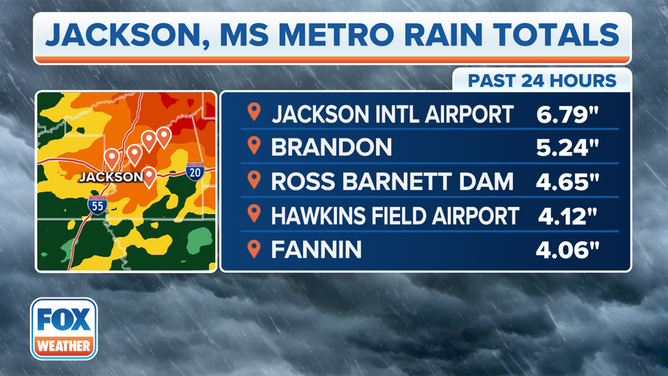 Several inches of rain have also fallen across the Jackson, Mississippi, metro area over the past 24 hours.
Jackson International Airport has seen the highest rain total so far, with 6.79 inches.
Brandon, Mississippi, has picked up 5.24 inches of rain, and the Ross Barnett Dam has seen 4.65 inches.
Hawkins Field Airport and Fannin have received just over 4 inches of rain so far on Wednesday.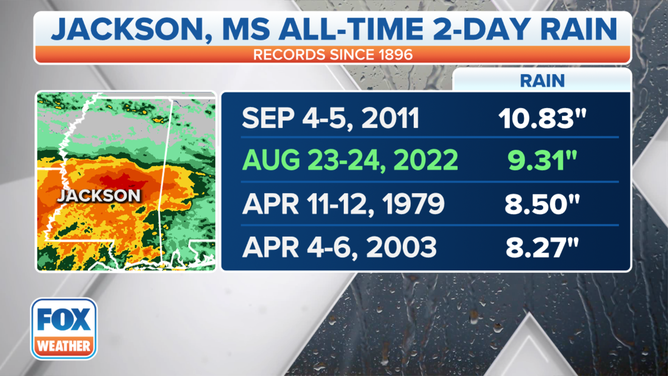 This rain event and the Flash Flood Emergencies are now going down in the history books as being the second-place record holder in terms of two-day rain totals with 9.31 inches of rain.
The all-time wettest two-day person was between Sept. 4-5, 2011, with 10.83 inches of rain.
The FOX Weather app is a great resource that can be used to alert you of any watches or warnings issued for your area. The free FOX Weather livestream is also available 24/7 on the website and app and on your favorite streaming platform. The FOX Weather Update podcast also provides weather information for the entire country.