Millions of Americans at risk of severe weather on Sunday
Heavy rain could lead to flooding in some locations
The National Weather Service on Sunday issued Severe Thunderstorm Watches for parts of Texas, Oklahoma, Illinois and Indiana as a spring storm system that brought severe weather to the Plains on Saturday continues to march eastward.
Severe thunderstorms are possible Sunday from an area that stretches from the Great Lakes region to the Texas/Mexico border with the primary threats being strong winds and hail, although an isolated tornado can't be ruled out.
While areas in the system's warm sector see storms, other areas are being reminded that the book hasn't yet closed on winter.
Upwards of 2 feet of snow fell across the Northern Plains causing travel problems, especially along the I-90 corridor.
HOW TO WATCH FOX WEATHER ON TV
Severe weather threat
Sunday
Severe storm threat on Sunday, April 24, 2022.
(FOX Weather)
---
The risk for severe weather will turn more isolated on Sunday as the cold front slowly moves south and eastward.
Isolated strong to severe storms are possible from portions of Texas to the Upper Peninsula of Michigan.
Because of the threat of severe weather, a Severe Thunderstorm Watch was issued for 15 counties in Texas and nine counties in Oklahoma until 6 p.m. Central.
A Severe Thunderstorm Watch was also issued for parts of Illinois and Indiana until 7 p.m. Central.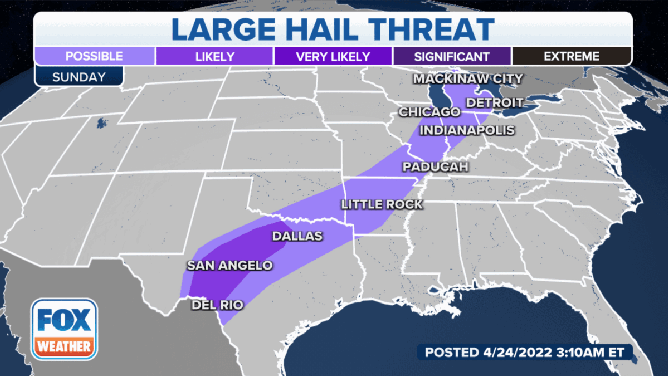 Strong, damaging winds, large hail and tornadoes are all possible during severe weather on Sunday.
The threat of damaging winds will be highest in parts of South and Central Texas, as well as areas of the Great Lakes in Illinois, Indiana and Michigan. Those same areas have the highest chances of seeing large hail.
The threat of tornadoes exists from Del Rio, Texas into San Angelo and Central Texas into parts of Oklahoma and Arkansas.
The Great Lakes Region also has a chance of seeing tornadoes on Sunday.
Heavy rain threat
Rainfall forecast through Monday, April 25, 2022.
(FOX Weather)
---
While severe weather might become less of a concern Sunday and Monday, the threat of heavy rain will increase the potential for flooding from North Texas and eastern Oklahoma to the Ozarks and the mid-Mississippi and lower Ohio valleys.
Between 1 and 3 inches of rain could drench these areas through Monday, with localized rainfall amounts over 3 inches not ruled out in some locations.
Because of the threat of more heavy rain, Flash Flood Watches were issued for parts of North Texas, central and eastern Oklahoma, northwestern Arkansas and southwestern Missouri.
Be sure to download the FOX Weather app for the latest forecast and weather alerts for your exact location, plus the 24/7 livestream of America's Weather Team – now featuring a new, all-star lineup with live programming weekdays from 6 a.m. to 10 p.m. Eastern time.