'Fountain on the Mountain': California mountains rack up 5-plus feet of snow; several inches of rain at coast
Evacuation warnings and orders are in place for some of the wildfire burn-scar areas in Southern California
An ongoing atmospheric river continues to pound California, where 5-plus feet of snow is forecast for the Sierra Nevada and several inches of rain is expected at the coast through Tuesday night.
The National Weather Service is calling this event the "Fountain on the Mountain" – rather than the "Elf on the Shelf" – noting travel in the mountains will be extremely difficult to impossible on Tuesday, including over the passes along Interstate 80.
Some Sierra Nevada peaks have already received more than 2 feet of snow since Sunday, giving California skiers an early holiday gift.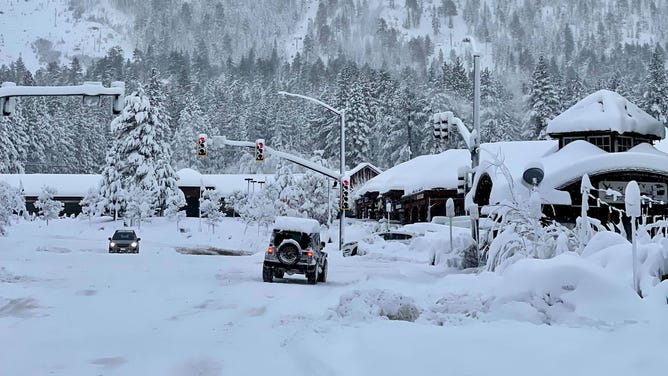 As of Monday night, Castle Peak, just off Interstate 80 near Donner Pass, had tallied 25 inches of snow. Heavy snow will continue to fall in the Sierra through Tuesday.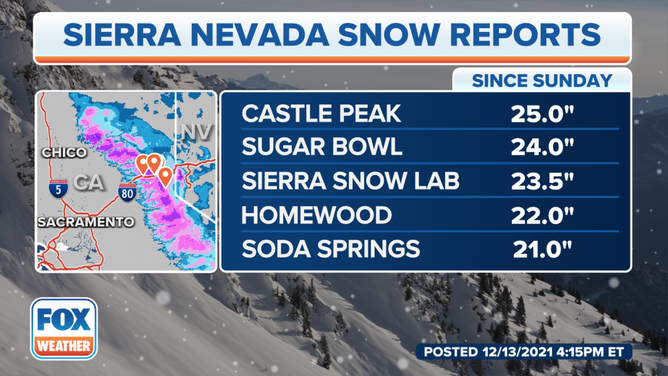 Meanwhile, parts of the Bay Area reported record rainfall on Monday. San Francisco International Airport measured 3.14 inches of rain for the day, breaking the daily record of 2.47 inches set in 2002. For the month, San Francisco has already received 3.92 inches of rain, nearly how much it typically receives over the entire month of December (4.14 inches). Oakland also got a record 3.39 inches of rain on Monday, breaking the daily record of 2.52 inches from 2002.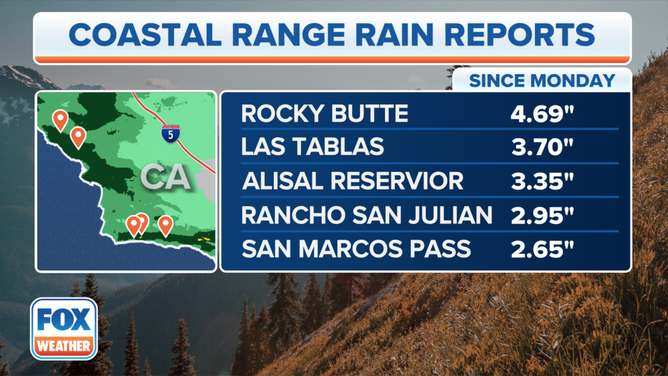 Monterey County, south of San Jose, received 2 to 3 inches of rain on Monday, and the forecast calls for an additional 2 to 3 inches through Tuesday, prompting an evacuation warning for wildfire burn-scar areas in Santa Cruz County.
TORRENTIAL RAINS TRIGGER MUDSLIDES, FLOODING IN CALIFORNIA
On Tuesday, the heavy rain and mountain snow will shift toward Southern California.
The National Weather Service has issued Flash Flood Watches for the burn-scar areas in Southern California, where rainfall totals for this event will reach 1 to 3 inches along the coast and in the valleys and 3 to 6 inches for the mountains and foothills.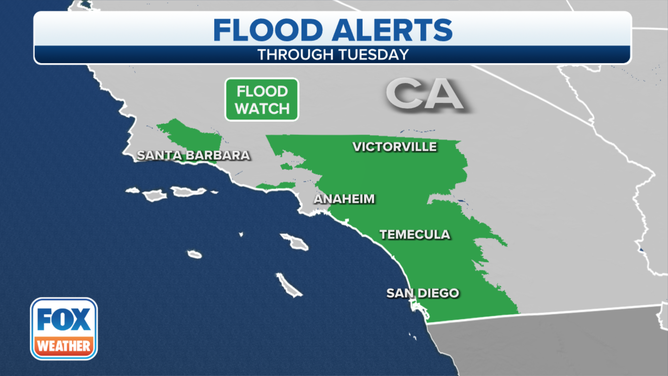 Forecast for Southern California
Heavy rain on Tuesday could cause flooding concerns, especially for the Bobcat burn-scar area and the many other smaller-scale burn scars in this region.
An additional 2 to 5 inches of rain is forecast for many parts of Southern California, including the Los Angeles and San Diego metro areas, through Tuesday night. Higher elevations of the San Gabriel Mountains will change over to snow Tuesday evening.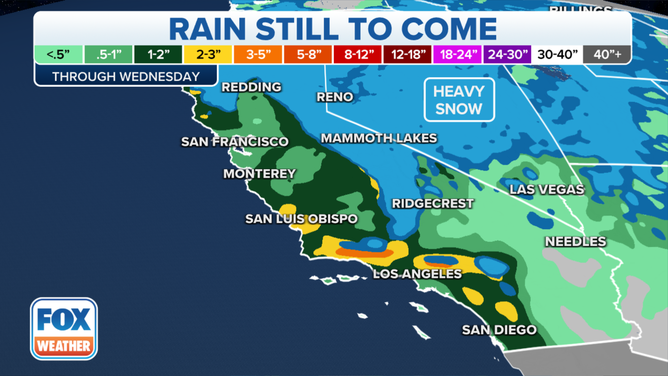 Evacuation warnings and orders are in place for the burn-scar areas of Orange and San Bernardino counties due to the potential for mudslides and debris flows caused by heavy rain into Tuesday evening.
The NWS office in Los Angeles warned residents to be prepared for evacuations in the burn-scar areas of Santa Barbara, Ventura and Los Angeles counties.
Burn-scar areas are at high risk for debris flows. The United States Geological Survey said burned soil is not readily absorbent. Floodwaters flow downhill and pick up newly bare soil and fire-weakened trees. Debris flows on steep terrain can move at up to 100 mph.
HOW WILDFIRE BURN SCARS COULD HAVE LASTING IMPACTS
The heavy snow is also a significant threat over the Sierra Nevada and northern Rockies. Hazardous driving conditions are expected in these mountains due to significantly reduced visibility.
The National Weather Service has posted Winter Storm Warnings and Winter Weather Advisories for the various mountain ranges across the West.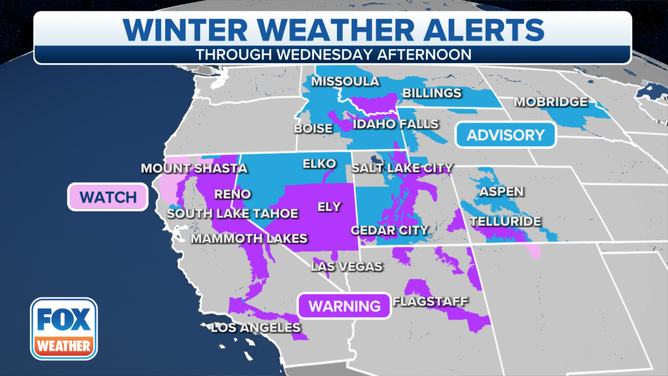 Travel will be extremely difficult to impossible in the Sierra Nevada on Tuesday, including over the passes along Interstate 80. More road closures are expected, as whiteout conditions, downed trees and power outages are all likely. Avalanches are also possible across the Sierra. 
BLUSTERY CONDITIONS IN WEST CONTINUE AFTER HIGH WINDS CAUSE CLOSURES ON I-80
Between 1 and 3 feet of snow is predicted for portions of the northern Rockies and Great Basin mountains.
The Sierra Nevada is forecast to be buried under 5-plus feet of snow, as snowfall rates could approach 3 inches per hour at times on Tuesday.
IMAGINE 5 FEET OF SNOW IN A DAY: IT'S HAPPENED IN COLORADO AND CALIFORNIA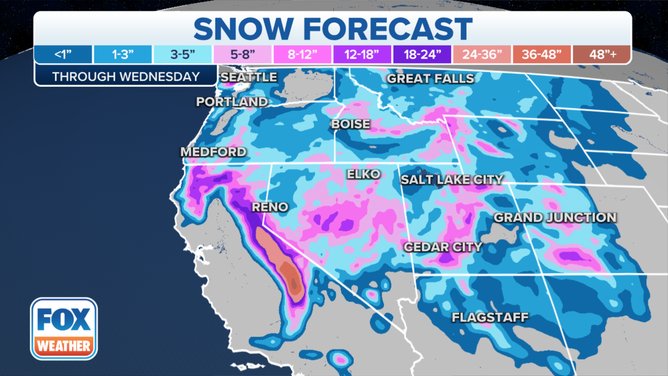 By Wednesday morning, the rain and mountain snow should taper off in Southern California as this storm system shifts into portions of the Southwest and Great Basin.
A weaker storm system will move through California Wednesday into Thursday.