Blustery conditions out west continue after high winds cause closures on I-80
High wind advisories continue into the week from mid-west to California

This week, drivers on America's east-west Interstate 80 will face potentially dangerous driving conditions due to wind, snow, and icy conditions.
Snowfall, high winds and icy roads led to closures across Wyoming highways over the weekend, and the winds will continue into the workweek.
According to the Wyoming Department of Transportation, multiple exits on I-80 were closed Sunday due to icy roads and high winds. WYDOT reports multiple crashes blocking all lanes, and tractor-trailers sliding off I-80 caused more closures Sunday. 
In Riverton, the National Weather Service reports peak winds of 88 mph in Casper Sunday. On Saturday, Clark reported a 118 mph wind gust, according to the NWS.
High wind advisories are in effect from the mid-west to California. 
According to the NWS, in Wyoming, peak wind gusts will continue through Monday night with 30 to 50 mph winds and gusts over 60 mph.
"Drive carefully and keep both hands on the wheel. There is also an elevated risk for a blow over," the NWS Riverton wrote.
Windy conditions will develop across western Utah Monday, with crosswinds along I-80 reaching up to 40 mph. Winds will increase in speed by Tuesday afternoon, according to the NWS Salt Lake City. Roads on mountain passes will be covered in snow by mid-week, with the heaviest snow occurring overnight into Wednesday morning.
More delays are likely even further west as an ongoing atmospheric river will bring long periods of heavy rain.
Drivers are advised to double the distance between cars to prevent crashes. Rain combined with oil will make roadways slick.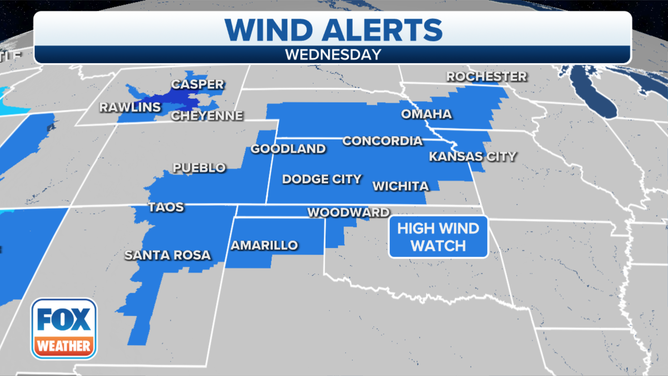 More than a foot of snow has already fallen Monday in the Washington Cascades. Wind gusts over 65 mph were reported over the weekend in northern Washington, along the Oregon coast, and north-central Montana.