Imagine 5 feet of snow in a day: It's happened in Colorado and California
There are three blizzards that struck America in the early throes of the 20th century that still rate as the snowiest days in our nation's history -- two of them are in Colorado.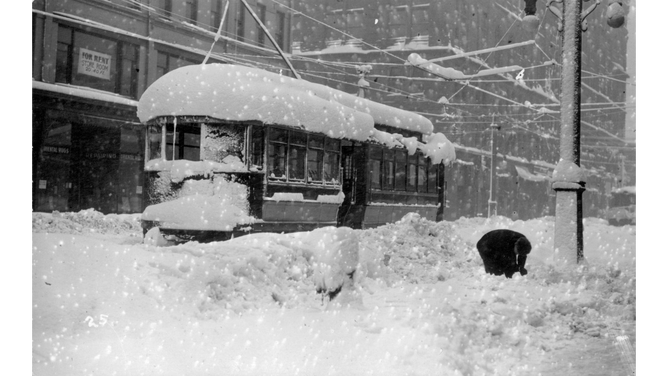 It's the type of storm your grandpa used to brag about but made you raise a skeptical eyebrow: "Back in my day, I had to shovel 5 feet of snow while barefoot then carry it uphill -- both ways -- to keep the yard clear."

Yet, there are a few snowstorms in America's history that might have lent some truth to (at least part) of the tall tale.

Three blizzards struck America in the early throes of the 20th century that still rate as the snowiest days in our nation's history. 
Blizzard of 1913 in Colorado
As winter began in 1913, Colorado residents were becoming concerned. While it had snowed in September and was cold in October, November was relatively warm and dry, and moisture was lacking, be it rain or snow. 
Little did they know Mother Nature was going to make up for it all at once with a historic blizzard.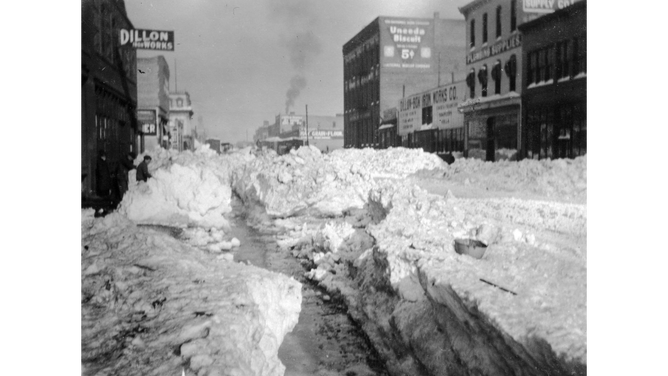 An unusual and stubborn pattern set up where copious amounts of moist air from the Gulf of Mexico were carried into the Rocky Mountains' eastern slopes, providing lift to squeeze out several inches of snow.
Wait, did I say inches? I meant feet. For the city of Georgetown up in the Colorado Front Range, it meant several feet. "Colorado has had many giant snowstorms in the past 100-plus years of recorded history, but few hold a candle to the potent storm of 1913," said Nolan Doesken with the Colorado Climate Center at Colorado State University.
December started with a typical winter snowfall. Georgetown reported nine inches on Dec. 1, while another inch fell the next day, followed up by five more inches on Dec. 3, according to the official U.S. Weather Bureau records provided by the Colorado State Climate Office.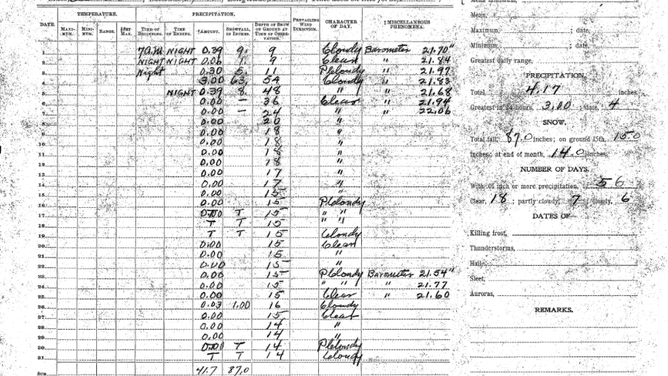 "By Wednesday, Dec. 3, the precipitation had stopped falling over much of northern Colorado and was light over southern Colorado; many assumed the storm was over," the state climate office reported. 
They assumed wrong.
On Dec. 4, it snowed…and snowed and snowed. By 7 a.m. on the 5th, observer H.L. Corbett reported 63 inches of snow had fallen, with 54 inches of snow on the ground (some of the snow compacts as it falls). The 63 inches of snow in 24 hours remains atop one of the greatest 24-hour snows in U.S. history.
Down in Denver, the temperature hovered right at 32 degrees as the snow fell, and that caused all sorts of problems as it piled up.
"The snow was very wet and heavy, and by noon traffic was considerably impeded," according to observer notes from The Weather Bureau. "By late evening, the blockade was general, and streetcars, automobiles and other means of conveyance were abandoned. Streets were almost impassable, in many places, the snow being drifted to a depth of 4 to 5 feet."
By the time Dec. 5th rolled around, Georgetown had 86 inches of snow, while Boulder (43.75 inches) and Denver (45.7 inches) were just under four feet for storm totals.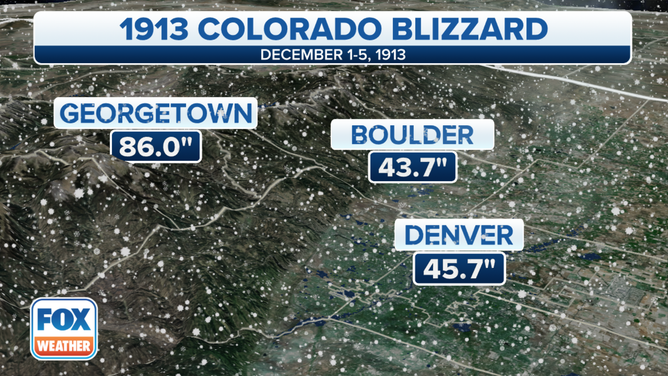 Buildings suffered under the tremendous weight of the snow. "Great damage was done to flat-roofed buildings, and in several cases, buildings with flat roofs collapsed," a weather observer noted.
Streetcars and tracks buried in snowdrifts were rendered out of service for a week. Cars had to be hauled to garages by teams of horses, the Weather Bureau noted ironically.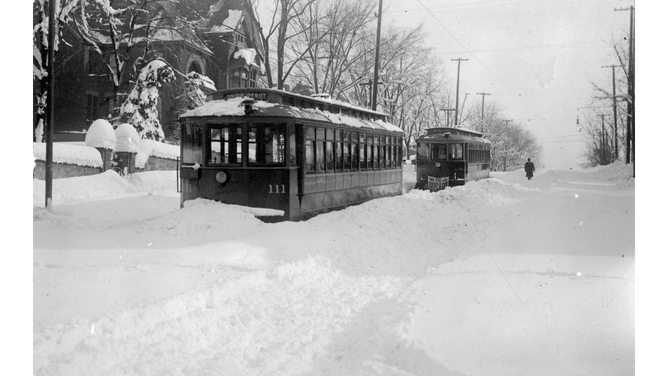 "The only means of transportation was a sturdy pair of legs," the Weather Bureau quoted the Denver Post as saying on Dec. 5, 1913. That day, the tramway hired 4,000 men to help clear the tracks.
The good side of the storm: It gave rise to the ski industry in Colorado and made for a bountiful harvest in 1914 due to plenty of soil moisture. The storm also gave rise to stricter building codes meant to withstand future heavy, wet snowstorms. 
1901 blizzard in Yreka, California
A massive snowstorm had hit Northern California with similar force just a decade earlier, kicking off the 20th century on a very stormy note.
Snow began falling on the evening of Jan. 1, 1901 and fell for 50 consecutive hours. By the morning of the 3rd, observer Robert Rankin reported 63 inches had fallen.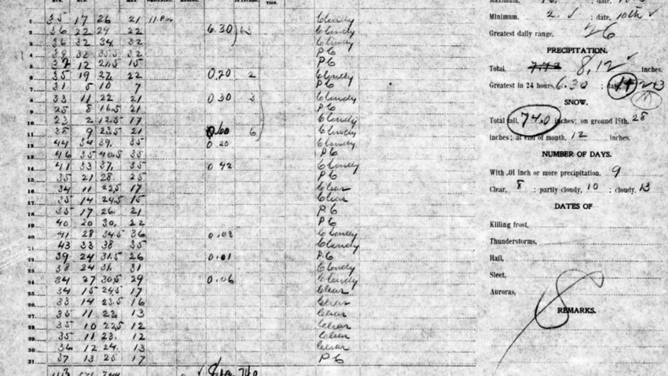 The Yreka City Newsletter, sourcing a Siskiyou Daily News story, said that snow drifts were 6-7 feet in town, and businesses came to a halt so everyone could shovel snow off the businesses and keep their roofs from collapsing.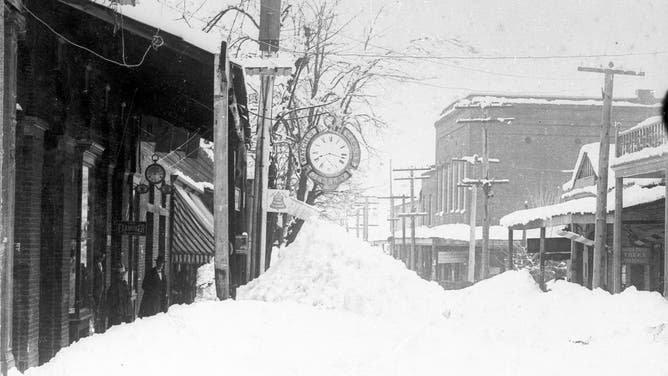 The paper reports pay to shovel snow off roofs began at $1/hour but rose to $1.50/hour, then $2.50/hour by Jan. 10. 
1921 record snow in Silver Lake, Colorado
A snowfall of 63 inches is a lot, but Silver Lake, Colorado, can boast it beats them both. In April 1921, the region recorded extreme amounts of snowfall that hold the top spot for 24-hour snowfall at over six feet. But the snow didn't stop there. 
The official measurement was 87 inches of snow over 27.5 hours on April 14-15th, which was prorated back to 24 hours to give a total in that period of 76 inches. The snow would fall non-stop for 32.5 hours, and by the time they reached the end of April 15, 95 inches of new snow had fallen. This location was high in the mountains at 10,220 feet, but nearly 8 feet of snow in a day-and-a-half is impressive at any elevation.
When factoring in some of the snow that fell before the big storm, this snowfall holds the records for 72-hour snowfall (98 inches) and 85-hour snowfall at precisely 100 inches. 
Honorable Mention: Great Blizzard of 1966 in North Dakota
The great blizzard of 1966 may not hold any national snowfall accumulation records but certainly deserves mention among the nation's greatest.  It struck over multiple days, dropping 20-30 inches of snow across North Dakota and the Great Plains.  
But combined with 70 mph wind, there were reportedly snowdrifts of 30-40 feet in the Northern Plains leading to this incredible photo taken in North Dakota: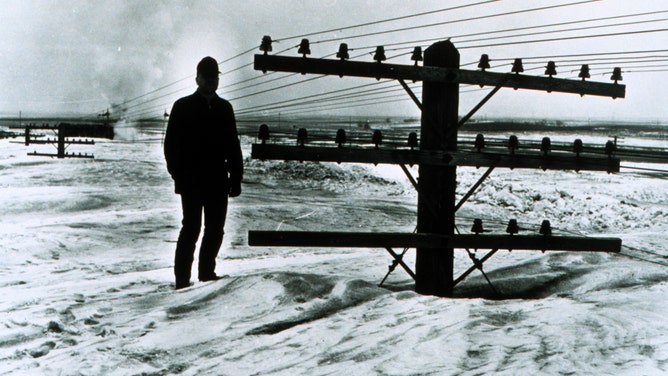 The National Weather Service says 18 people died in the blizzard, including some who were caught in the storm and became disoriented in the whiteout conditions. Tens of thousands of livestock were killed in the storm.
"Transportation became impossible, with schools and businesses shut down across the area, and power and telephone service outages which lasted for many days," NWS officials in Grand Forks, N.D. said.