October 2021 was warmest, wettest on record for several cities in central, eastern US
October 2021 was highlighted by record warmth and rainfall
If you thought October felt more like summer than fall, you wouldn't be wrong if you live in the central or eastern United States. Several cities from the Midwest to the East Coast just endured their warmest October on record.
Baltimore; Milwaukee; Syracuse, New York; and Harrisburg and Williamsport, Pennsylvania, all had a record-warm October, according to preliminary data compiled by the Southeast Regional Climate Center (SERCC).
The warmth was highlighted by exceptionally mild nights due to increased cloud cover, which helps trap heat near the Earth's surface instead of escaping into outer space.
HOW DO CLOUDS AFFECT THE CLIMATE ON EARTH?
For example, Milwaukee's average low in October was 53.1 degrees, far above its 30-year average October low of 44.7 degrees. It was a similar story in Syracuse, where the average low for the month was 50.8 degrees, while a typical October would have an average low of 42.4 degrees.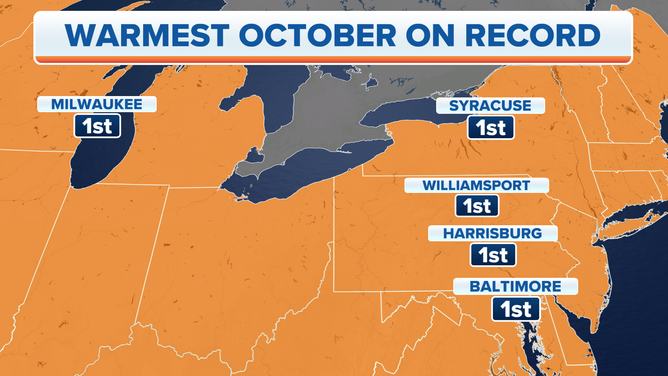 Last month was also the warmest October on record in Washington, D.C.; Newark, New Jersey; Scranton, Pennsylvania; and Williamsburg, Virginia, according to the SERCC.
Again, the warm overnight lows helped vault the month into the top spot of the record books.
Washington's average low in October is 52.2 degrees, but last month averaged 58.5 degrees at night. Likewise, in Newark, where the average October low is 49 degrees, nights were far warmer than that last month, averaging 56.5 degrees.
NOVEMBER FORECAST TO BE WARMER THAN AVERAGE IN NORTHEAST AND ROCKIES, NOAA SAYS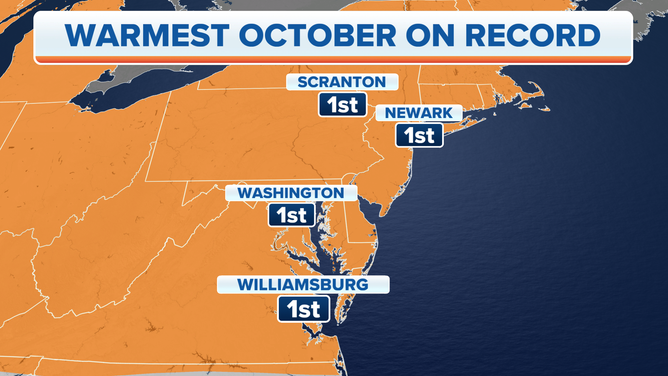 While not quite the warmest on record, there were many other cities that had one of their five or 10 warmest Octobers.
COLD AIR INVADES U.S. TO START NOVEMBER
In Erie, Pennsylvania, it was the second-warmest October. Cleveland had its fourth warmest, while it was the fifth warmest in Buffalo, New York. Lansing, Michigan, and Green Bay, Wisconsin, both had their sixth-warmest October on record.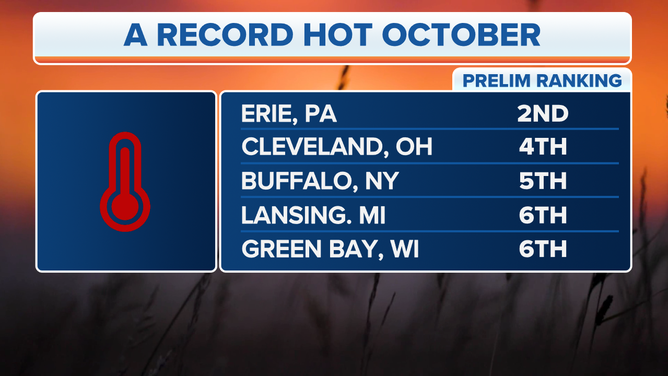 And then there was the rain
Not only was October 2021 warm, but it was also very rainy. According to the SERCC, numerous cities from the Midwest to the East and South also had one of their wettest Octobers on record.
Toledo, Ohio, had the wettest October in its 67-year period of record at Toledo Express Airport, tallying 7.43 inches of rain last month.
It was the second-wettest October in Youngstown, Ohio, while Syracuse, New York, recorded its third-wettest October.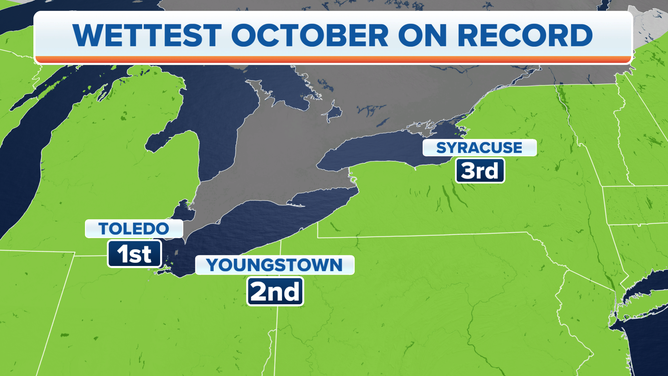 Last month was also soggy in the South, with enough rain to vault the month to the wettest October on record in Columbus, Georgia, and Centerville, South Carolina.
Columbus measured 8.58 inches of rain through the month, but it was even rainier in Centerville, where 9.33 inches fell over the 31 days.
OCTOBER 2021 COMES IN SECOND ON LIST OF OCTOBERS WITH MOST TORNADOES
October 2021 was also among the five wettest Octobers on record in Birmingham, Alabama; Raleigh, North Carolina; and Macon, Georgia.