November forecast to be warmer than average in Northeast and Rockies, NOAA says
Above-average temperatures will dominate across New England and the central and southern Rockies
November is starting off cold for much of the United States this week, but a warmer-than-average month is predicted for the Northeast and Rockies as temperatures turn milder in the weeks ahead.
The latest temperature outlook from NOAA's Climate Prediction Center forecasts above-average temperatures will dominate the central and southern Rockies in November, from Arizona and New Mexico into southeastern Utah, southwestern Colorado and southwestern Texas. Warmer-than-average temperatures are also predicted across much of the Intermountain West and the Central and Southern Plains.
NOAA also favors above-average temperatures from the Great Lakes to parts of the mid-Atlantic and Northeast, particularly eastern New York into New England.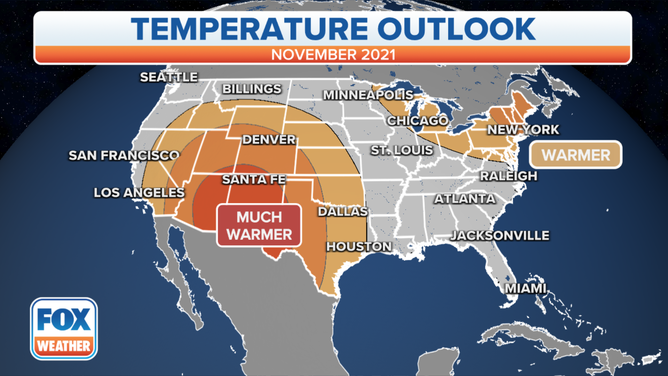 No part of the country is forecast to have colder-than-average temperatures when averaged over the entire month.
November's temperatures are expected to be near average for the rest of the U.S., according to NOAA's outlook.
WARMER-THAN-AVERAGE WINTER PREDICTED IN SOUTH AND EAST; BELOW-AVERAGE TEMPERATURES FAVORED IN NORTHWEST
Precipitation outlook
Above-average amounts of precipitation (including rain and snow) are favored across the Northwest in November.
An area from Northern California into northern Nevada, eastern Oregon, eastern Washington, Idaho, western Montana and northwestern Wyoming has the highest likelihood of seeing more precipitation than average this month.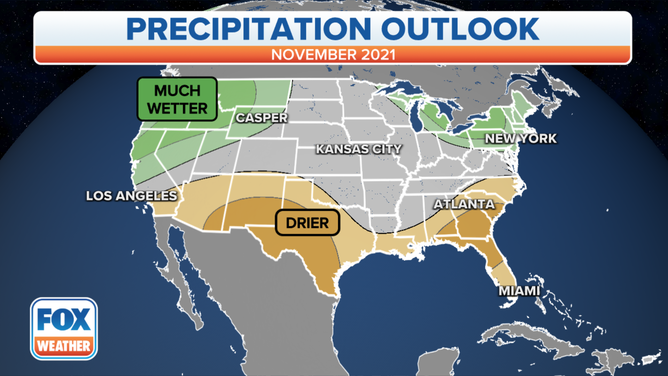 A wetter-than-average month is also forecast for the Great Lakes and Northeast, as lake-effect rain and snow typically become more frequent in November.
Meanwhile, NOAA expects dry weather to persist across the nation's southern tier this month. 
Below-average amounts of precipitation are most likely in the Southern High Plains and the Southeast, including much of Florida.
Everywhere else in the U.S. is predicted to have typical amounts of rain and snow in November.