Northern Plains, Upper Midwest bracing for severe weather, possible tornadoes on Sunday
Rounds of severe storms are possible through Monday
People in the Northern Plains and the Upper Midwest will have severe thunderstorms to contend with during the second half of the Memorial Day weekend.
A storm system moving through the region is forecast to generate powerful storms as it slowly moves eastward.
HOW TO WATCH FOX WEATHER ON YOUR TV
Storms that develop could produce all types of severe weather, but damaging wind appears to be the primary threat. The Storm Prediction Center has outlined a so-called "hatched area" for the possibility of hurricane-force wind gusts with severe storms that develop.
The severe weather outlook for May 29, 2022.
(FOX Weather)
---
Meteorologists say an area from southwestern Minnesota into Nebraska has the highest chance of seeing severe storms. The zone is in a level three threat on the SPC's five-level scale. Places inside this risk area include Sioux Falls in South Dakota and Norfolk in Nebraska.
A slight risk has been outlined from northern Minnesota south into Wyoming and Colorado. Places inside this risk area include the Minneapolis area and Omaha and Kearney in Nebraska, and Casper in Wyoming.
THE 5-POINT SEVERE THUNDERSTORM RISK CATEGORY SCALE EXPLAINED
Because of the conditions on Sunday, the National Weather Service issued Tornado Watch for counties in Nebraska and South Dakota until 2 a.m. Severe thunderstorm Watches for parts of Minnesota and North Dakota continue until 10 p.m.
Several cities in Minneapolis are under the watch. Those include Detroit Lakes a Bemidji. Grand Forks and Fargo, North Dakota are also under the Watch.
The NWS also issued a Severe Thunderstorm Watch for eastern Nebraska until 9 p.m. MDT.
Let's break down each of the severe weather threats that are possible on Sunday.
Damaging winds are possible from northern Minnesota south through the Dakotas and Nebraska and stretching into southern Wyoming and northern Colorado.
The highest risk exists from the Minneapolis area through Sioux Falls, South Dakota, and into Norfolk, O'Neill and Broken Bow in Nebraska.
Large hail could also occur in areas where severe thunderstorms form.
The risk extends from northern Minnesota and northwestern Wisconsin, south through the Dakotas and into Nebraska, Wyoming and Colorado.
However, there is a much higher risk in areas from southwestern Minnesota to eastern South Dakota and north-central Nebraska.
Tornadoes are also a possibility on Sunday.
That threat extends from areas of northern Minnesota and extreme eastern North Dakota, south through southeastern South Dakota, most of Minnesota, northwestern Iowa and north of central and northern Nebraska.
GET THE LATEST EPISODE OF THE FOX WEATHER UPDATE PODCAST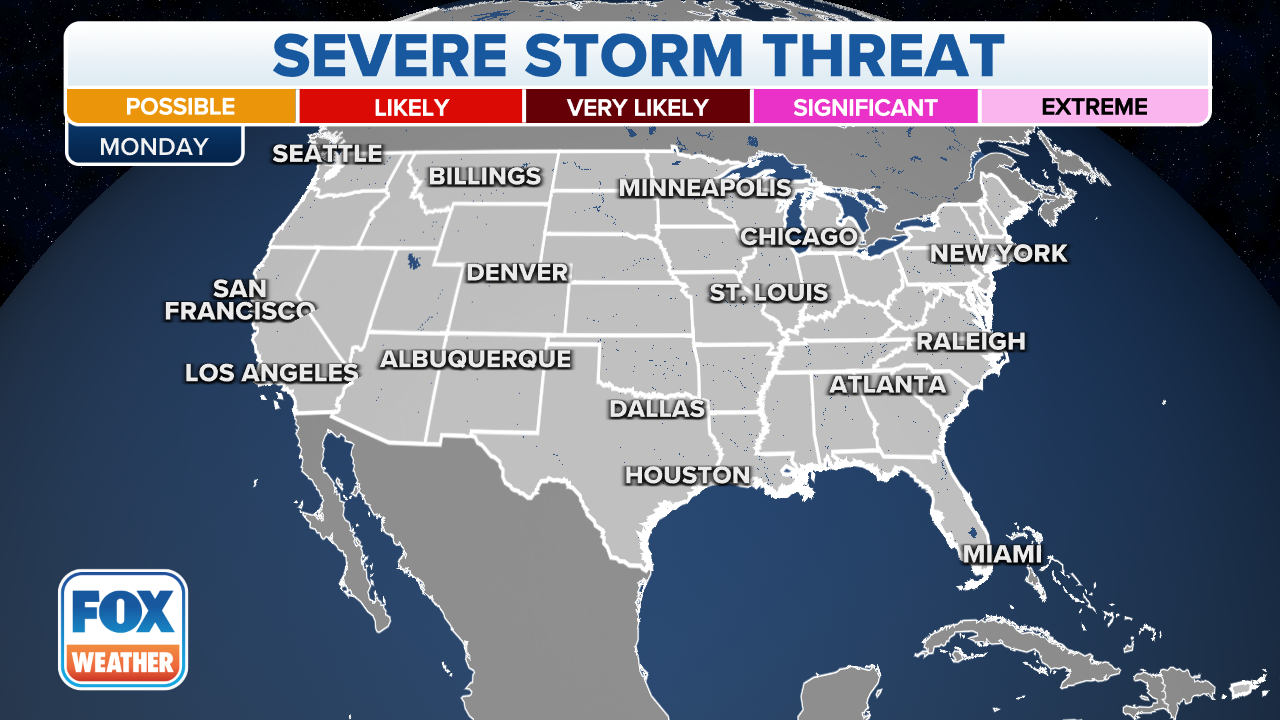 There is also a large enhanced risk area that has been indicated by the SPC for Memorial Day. It stretches from North Dakota south into northeastern Kansas. Larger cities inside the enhanced area include Grand Forks and Fargo in North Dakota and Wichita in Kansas.
A slight risk has also been outlined by the SPC just outside the enhanced risk area. Cities inside the slight risk area include Minneapolis, Des Moines in Iowa and Omaha and Lincoln in Nebraska.
Large hail and strong winds present the biggest threat Monday.

People who live in these regions should stay updated on the latest weather forecast. Download the FOX Weather app to get the forecast for your area as well as any weather alerts that are issued for your location.