Navy helicopters damaged by severe storms in Virginia
There were no reported injuries from the severe thunderstorm
NORFOLK, Va. – A line of severe thunderstorms that blasted through southern Virginia on Tuesday afternoon produced destructive winds that caused helicopters to tumble at Naval Station Norfolk.
Emergency management reported at least ten military helicopters were damaged at the base during winds that were thought to have topped 60 mph.
The National Weather Service Office in Wakefield, Virginia, issued a Severe Thunderstorm Warning ahead of the inclement weather in the Norfolk area and warned of damaging wind gusts.
HOW TO WATCH FOX WEATHER ON TV
Video from outside the Navy facility showed large helicopters on their sides after the storm rolled through.
Since damage appeared to be localized to a limited part of the base, NWS meteorologists believe the area was impacted by a downburst.
Downbursts develop when precipitation falls through dry air, allowing for quick evaporation. Since evaporation is a cooling process, cooler air forms and quickly sinks to Earth's surface.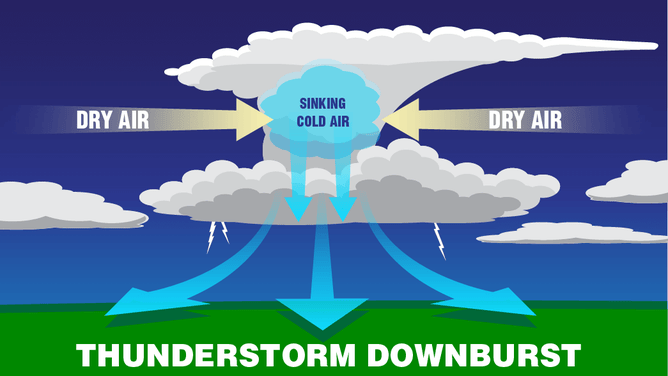 The ground forces the air to expand outward in all directions, and wind gusts can reach speeds over 100 mph.
Since a nearby weather observation site reported wind gusts only to around 40 mph, meteorologists believe the downburst was small and likely met the categorization of a microburst.

There were no injuries reported from the storm, and the NWS only received scattered reports in the immediate area of downed trees and power lines.

US NAVY: 'HEAVY WEATHER' BLEW SUPER HORNET OFF AIRCRAFT CARRIER
Naval Station Norfolk is home to more than 80,000 active duty personnel, including dozens of ships and three aircraft carriers.

A statement form the Navy read: "We can confirm that ten helicopters located at Naval Station Norfolk Chambers Field sustained damage while on deck at the airfield following a severe storm that occurred in the area July 26. Known damages to the aircraft span from broken tail and rotor blades to structural dents and punctures in the airframes. No personnel were injured during the storm. The Navy is continuing to assess the full extent of the damages to each airframe, but there are no impacts to operational forces as a result of this incident."