US Navy: 'Heavy weather' blew Super Hornet jet off aircraft carrier
Ship was involved in replenishment operations in the Mediterranean Sea, officials say
NAPLES, Italy – Bad weather led to a fighter jet being blown off an aircraft carrier last week, officials said.
According to a news release from the Navy, the USS Harry S. Truman was involved in a replenishment-at-sea operation July 8 in the Mediterranean Sea, when "unexpected heavy weather" blew a F/A-18 Super Hornet on the ship overboard.
One sailor suffered minor injuries during the rough weather and is expected to fully recover, according to officials.
HOW TO WATCH FOX WEATHER ON YOUR TV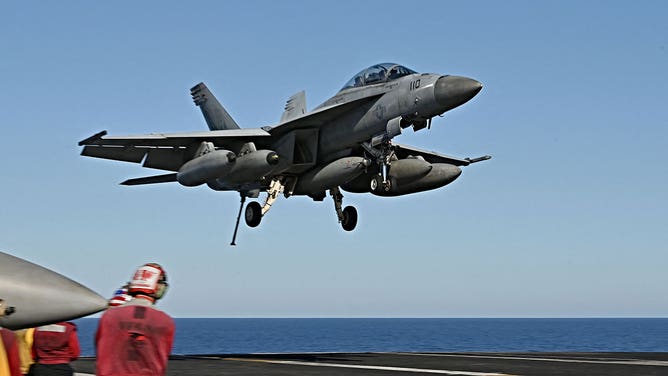 Officials said the replenishment operation was safely terminated, and the ship remains fully mission capable.
The incident is under investigation.
A twin-engine Super Hornet jet has a wingspan of about 45 feet and is estimated to cost about $67 million.
GET THE LATEST EPISODE OF THE FOX WEATHER UPDATE PODCAST
Be sure to download the FOX Weather app to track any storms in your area and receive potentially life-saving weather alerts issued by the National Weather Service. The free FOX Weather livestream is also available 24/7 on the website and app and on your favorite streaming platform. The FOX Weather Update podcast also provides weather information for the entire country.