New York City National Weather Service confirms 7 tornadoes in Saturday's storms
An additional 2 tornadoes were confirmed by the Boston NWS office in New England
The National Weather Service office in New York City found that seven tornadoes touched down across the Tri-State Area on Saturday.
Storm survey teams investigated damage on Sunday and confirmed the following twisters:
EF-0 tornado tracked from Woodmere to Levittown in Nassau County, New York.
EF-0 tornado touched down in East Islip in Suffolk County, New York.
EF-1 tornado tracked from Shirley to Manorville in Suffolk County, New York.
EF-0 tracked from Remsenberg to Westhampton in Suffolk County, New York.
EF-0 tornado touched down in Branford in New Haven County, Connecticut.
EF-0 tornado touched down in Cheshire in New Haven County, Connecticut.
EF-1 tornado touched down in Stonington in New London County, Connecticut.

Boston's NWS office confirmed an additional tornado struck Connecticut and two more twisters touched down in Rhode Island, bringing Saturday's total to at least eight tornadoes in the Northeast.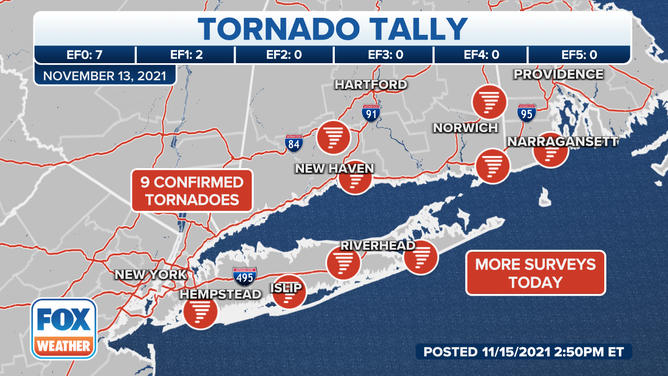 NWS survey teams said one EF-0 tornado in Nassau County lifted and skipped across a few locations. Crews in Woodmere, Hempstead and Levittown noted trees and powerlines were down. In Uniondale, New York, the tornado hit a two-story building, tore the roof off and tossed it onto a nearby house.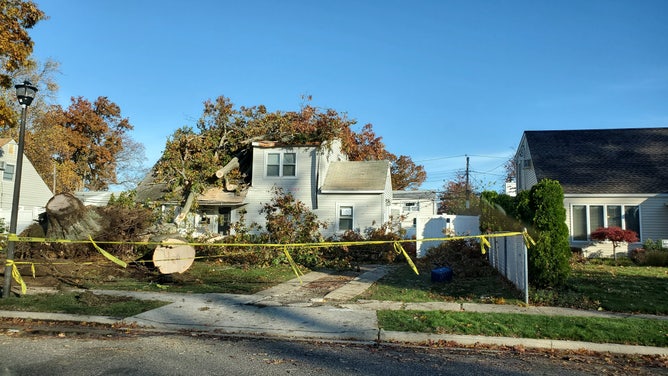 Peak winds from this tornado were 85 mph.
A tree fell and destroyed a home in East Islip, the team reported. The EF-0 tornado also pulled roof tiles and siding off homes.
An EF-1 tornado tracked from Shirley to Manorville, New York, and flipped over several planes at the Brookhaven Airport, tore a roof off a home and collapsed a restaurant's covered walkway.
The EF-0 twister in Cheshire, Connecticut, crushed an SUV and an RV and uprooted numerous trees in its 3.5-mile path. At one point, the tornado damage spanned 100 yards wide.
Saturday's storms
A line of severe storms marched through the New York City tri-state area Saturday afternoon, producing hail, damaging winds and triggering several Tornado Warnings.
Hail from the size of pennies to ping-pong balls impacted millions of people from the Garden State to Long Island. Some FOX Weather viewers said it was a sight they've never seen before.
As the storms rolled through New York City, hail and strong winds were reported in many of the boroughs. New Yorkers in Manhattan captured video of hail falling along Wall Street.
The New York Police Department reported strong winds brought down part of a light post onto a Metropolitan Transportation Authority bus. There were no reported injuries.
According to PowerOutage.US, more than 20,000 customers, mostly from Westchester to Long Island, lost power because of the storms.
Damage to trees and power lines was reported to be significant in the community of Lynbrook on Long Island.
The stormy weather also caused delays in the skies. Hundreds of flights both into and out of John F. Kennedy International and LaGuardia were delayed because of the inclement weather. 

FlightAware.com reported nearly 500 flights departing and arriving at the major airports that serve the tri-state region were delayed.
As of Saturday evening, there were more than 100 preliminary reports of hail, damaging winds and even a tornado from near Washington to Boston.