Teams confirm first Connecticut, Rhode Island tornadoes in November since 1950
Saturday's storms brought damaging winds, hail and at least 9 tornadoes in the Northeast
The National Weather Service confirmed two tornadoes in Rhode Island and three in Connecticut wrought damage in New England on Saturday. These were the first November tornadoes in these two states since 1950.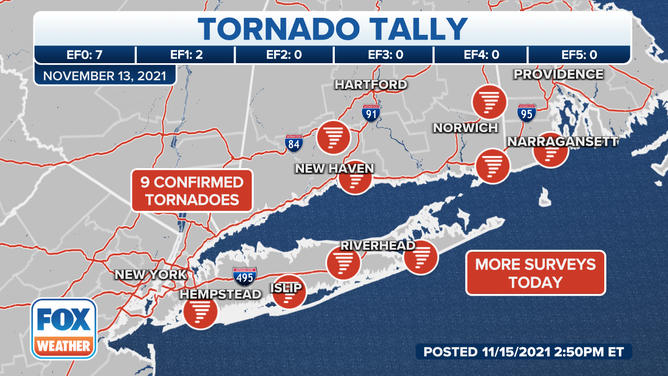 An EF-1 tornado touched down in Stonington, Connecticut, and traveled 1.35 miles to Westerly, Rhode Island. The twister ripped shutters and gutters off houses, deposited a trampoline in a power line 20 feet in the air, uprooted at least 20 trees and flipped over a metal shed.
An EF-0 tornado in North Kingstown, Rhode Island, knocked a tree onto a home and snapped a handful of power poles.
Another EF-0 twister that touched down in Plainfield, Connecticut, and traveled to Foster, Rhode Island, moved a red trailer about 50 feet.
Survey teams also reported two EF-0 tornadoes in New Haven County, Connecticut. One crushed an SUV and an RV in Cheshire. In Branford, the tornado traveled for almost two miles and was 300 yards wide at one point, with maximum wind speeds of 85 mph.
Teams ran out of daylight to survey storm damage in Scituate, Rhode Island, where a telephone pole snapped in half and trees fell onto roads. The NWS expected a report on Monday.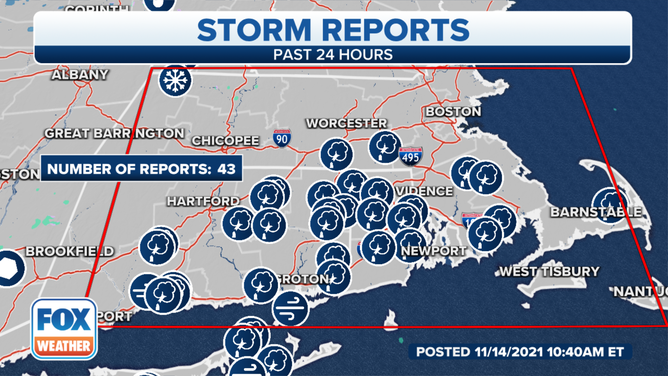 Four tornadoes ripped across Long Island, knocking trees into homes.
Wild weather was reported across the Northeast and southern New England starting Saturday afternoon when a line of severe thunderstorms moved through the New York City tri-state area and Long Island and produced hail and damaging winds, triggering several Tornado Warnings.
The intense storms brought down numerous trees and wires across the region due to the damaging winds.
Lightning hit a tree, which ended up in someone's bedroom in Ashland, Massachusetts.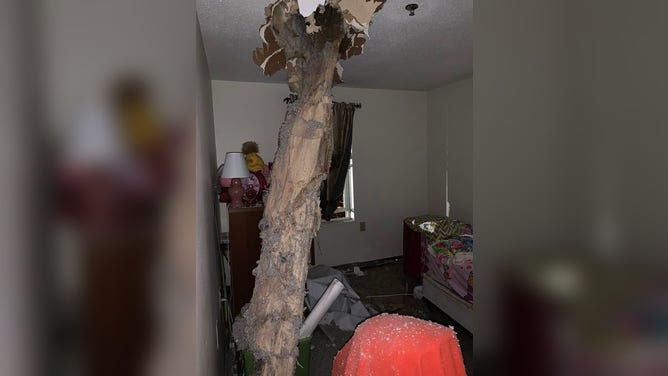 A gust of 54 mph was reported at Bradley International Airport in Connecticut, and a 55-mph gust was reported at T.F. Green Airport in Warwick, Rhode Island.
New England had reported a November tornado as recently as 1971 in Massachusetts, according to the NWS office in Boston.