Power expected to be restored to 95% of customers affected by nor'easter in New York by Friday night
The storm caused 'severe damage' to the electrical grid, with more than 840 downed wires and 52 broken poles in the Binghamton area alone
BINGHAMTON, N.Y. – More than 100,000 people in New York are still without power Wednesday despite crews working around the clock to restore electricity after a nor'easter dumped heavy snow across the state Monday night and Tuesday.
As of Wednesday afternoon, about 118,000 customers remain in the dark, according to PowerOutage.us. The counties with the greatest number of outages include Broome (32,000), Chenango (16,000), Otsego (10,000), Delaware (9,000), Tioga (7,000) and Warren (7,000).
Many of these people have now been without power for 36 hours or more – since late Monday night or early Tuesday morning – amidst cold temperatures, only in the 30s and 40s.
'TREES EVERYWHERE': THOUSANDS IN NEW YORK WITHOUT POWER AFTER HEAVY SNOW FROM NOR'EASTER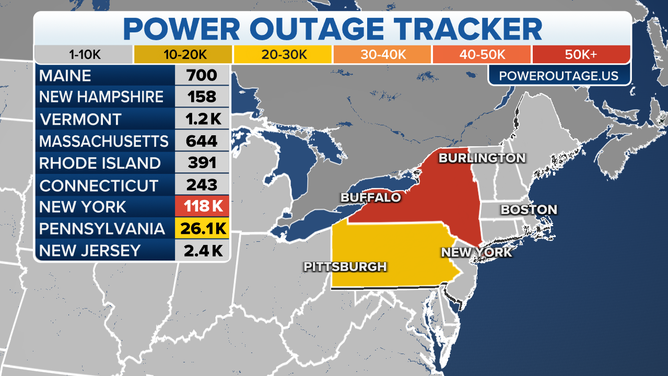 New York State Electric and Gas (NYSEG) has been working tirelessly to restore power to all of its affected customers, with an increased focus on the Binghamton division, which consists of Broome, Chenango and Tioga counties. This was the hardest-hit area during the storm, knocking out power to more than 40,000 in Broome County alone.
"Due to the severity of the damage, customers should anticipate outages lasting at least 24 hours; some customers may be without power for multiple days," NYSEG said in a release Wednesday morning.
7 WAYS TO STAY SAFE WHILE USING A GENERATOR
The electric company noted it will provide an estimated time of restoration to all remaining customers on Wednesday and encourages them to look to their individual accounts for their restoration updates.
"For the customers affected by the winter snow event occurring Tuesday, April 19, the company anticipates restoring service to 95% of the affected customers by 11:30 p.m. on Friday, April 22, with the exception of any customers in inaccessible areas or with damage to customer-owned equipment who will be restored through the weekend," NYSEG wrote in an updated statement Wednesday afternoon.
NYSEG has more than 2,300 field resources engaged in restoration efforts across New York state and expects to add additional resources on Wednesday.
"To bolster restoration efforts in the Binghamton division, the company is also adding a second incident commander to split the division and focus resources in the most impacted areas," the release said.
On Wednesday, NYSEG crews will focus on repairing transmission lines across the region, which the company believes will restore power to a large number of its impacted customers.
Crews will also work to set new poles to replace those damaged by the nor'easter. Additionally, they will continue to restore service to critical facilities, particularly in Broome and Tioga counties, such as nursing homes, senior living facilities and cell phone towers.
HERE'S WHY YOU SHOULD NEVER STORE FOOD OUTSIDE DURING A WINTER POWER OUTAGE
NYSEG said the storm caused "severe damage" to its electrical grid, with more than 840 downed wires and 52 broken poles in its Binghamton division alone.
"As crews work to make repairs, it's possible that some customers that have already been restored may experience scattered outages that are necessary to complete additional work," the release noted.
NYSEG is urging people to remain away from storm debris, as it may contain downed wires or other damaged equipment, which may be hidden underneath the snow.
The electric company will continue to provide updates throughout this power outage event on its website and its Facebook and Twitter accounts.