The heat is on: Record-high temperatures in jeopardy as warm air slides east
Most of the eastern U.S. will enjoy warmer temperatures by the weekend
It will be another warm day in the central part of the country before spring-like temperatures slide toward the East Coast through the weekend.
HOW TO WATCH FOX WEATHER ON TV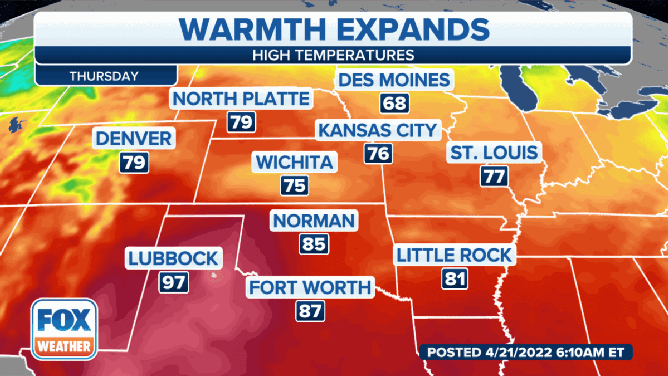 In the Central Plains, temperatures could get into the mid- to upper-90s by the end of the week.
The high temperature in Wichita, Kansas, will be around 75 degrees on Thursday before a warmup to 84 degrees on Friday. Saturday will also be warm in the area, with a high temperature of 80 degrees.
Further north, temperatures will jump even higher.
North Platte, Nebraska, will get to around 79 degrees Thursday but will skyrocket into the low-90s by Friday. 
Norman, Oklahoma, will also get in on the action with a high temperature on Thursday, hitting 85 degrees. Friday will be around the same, with a forecast high temperature of 84.
Some temperatures in the Plains could be record-breaking. Most of the records could be broken in Nebraska. Grand Island, McCook, Hastings and North Platte will all get into the 90s.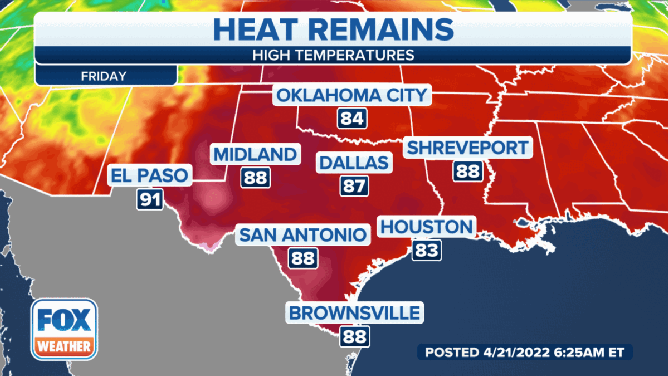 The temperatures will also be on the rise in the Southern Plains starting Friday.
Temperatures across the Lone Star State will be in the mid- to upper-80s, with some areas in West and South Texas getting into the 90s.
Midland, Texas, will see a high temperature of 88 degrees on Friday, but by Sunday will fall into the upper-70s as the warm air continues to slide to the east.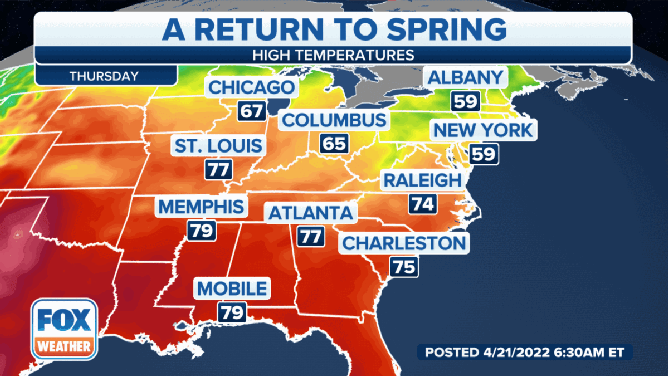 On Thursday, temperatures will be cooler in the Northeast and New England, but the spring-like temperatures will return just in time for the weekend.
New York City is expected to get to around 59 degrees but will jump 10 degrees on Friday and Saturday. By Sunday, the Big Apple could reach 70 degrees.
Albany, New York, will be around 60 degrees through Saturday but will enjoy temperatures in the 70s by Sunday.