Critical fire weather conditions stretch across the Southwest on Tuesday
Nearly 2 million Americans are under a critical risk of wildfires on Tuesday
Another day of critical fire weather is expected across the Southwest as hundreds of firefighters work to contain and extinguish fires that are already burning in the region.
HOW TO WATCH FOX WEATHER ON TV
Elevated fire weather conditions exist from the Las Vegas area to the east across northern and eastern Arizona, New Mexico and southern Utah and Colorado. Elevated conditions are also expected in North and West Texas.
The critical risk of fires extends across most of New Mexico, including the cities of Tres Piedras, Albuquerque, Roswell and Las Cruces.
Parts of northeastern Arizona are also included in that critical risk.
HOW WILDFIRE BURN SCARS COULD HAVE LASTING IMPACTS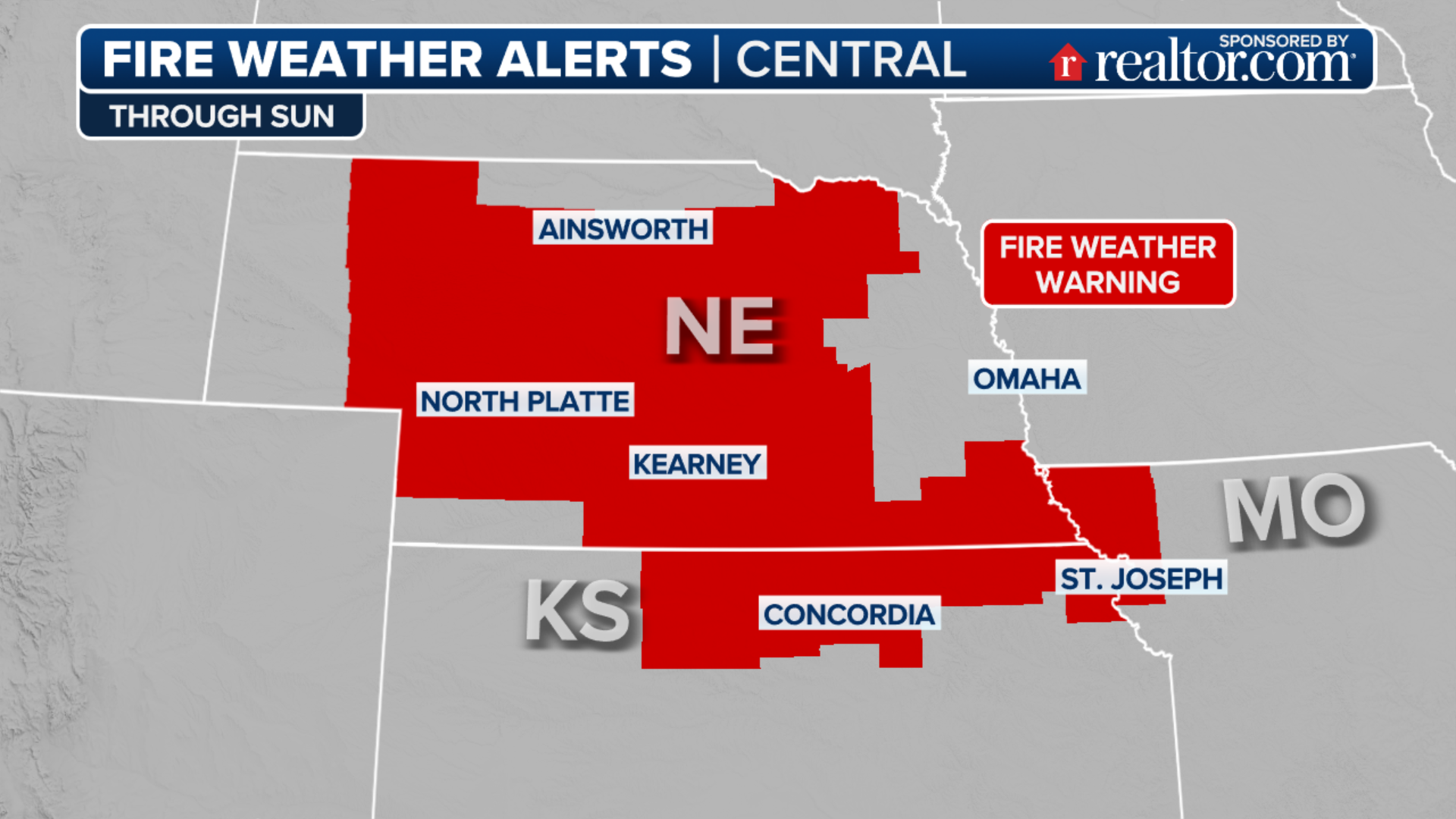 Because of the expected conditions, Fire Weather Watches and Warnings have been issued in the Southwest.
The Fire Weather Warnings are in effect through Tuesday evening from southern Colorado and across central and northern New Mexico, as well as northeastern Arizona.
South-central and western New Mexico, as well as far West Texas, are included in Fire Weather Watches.
THE FUTURE OF WILDFIRE DETECTION IS HERE: ARTIFICIAL INTELLIGENCE
NOAA's Storm Prediction Center says winds in the region will reach 20 to 25 mph across northwestern Arizona and into western and central New Mexico. However, gusts between 40 and 50 mph are expected in the Flagstaff, Arizona, area.
Gusts between 20 and 30 mph can be expected in southern Arizona and to the east in southern New Mexico. In the northern part of the state, like Santa Fe, gusts could be as high as 40 mph.
HOW THE LAY OF THE LAND AFFECTS WILDFIRE BEHAVIOR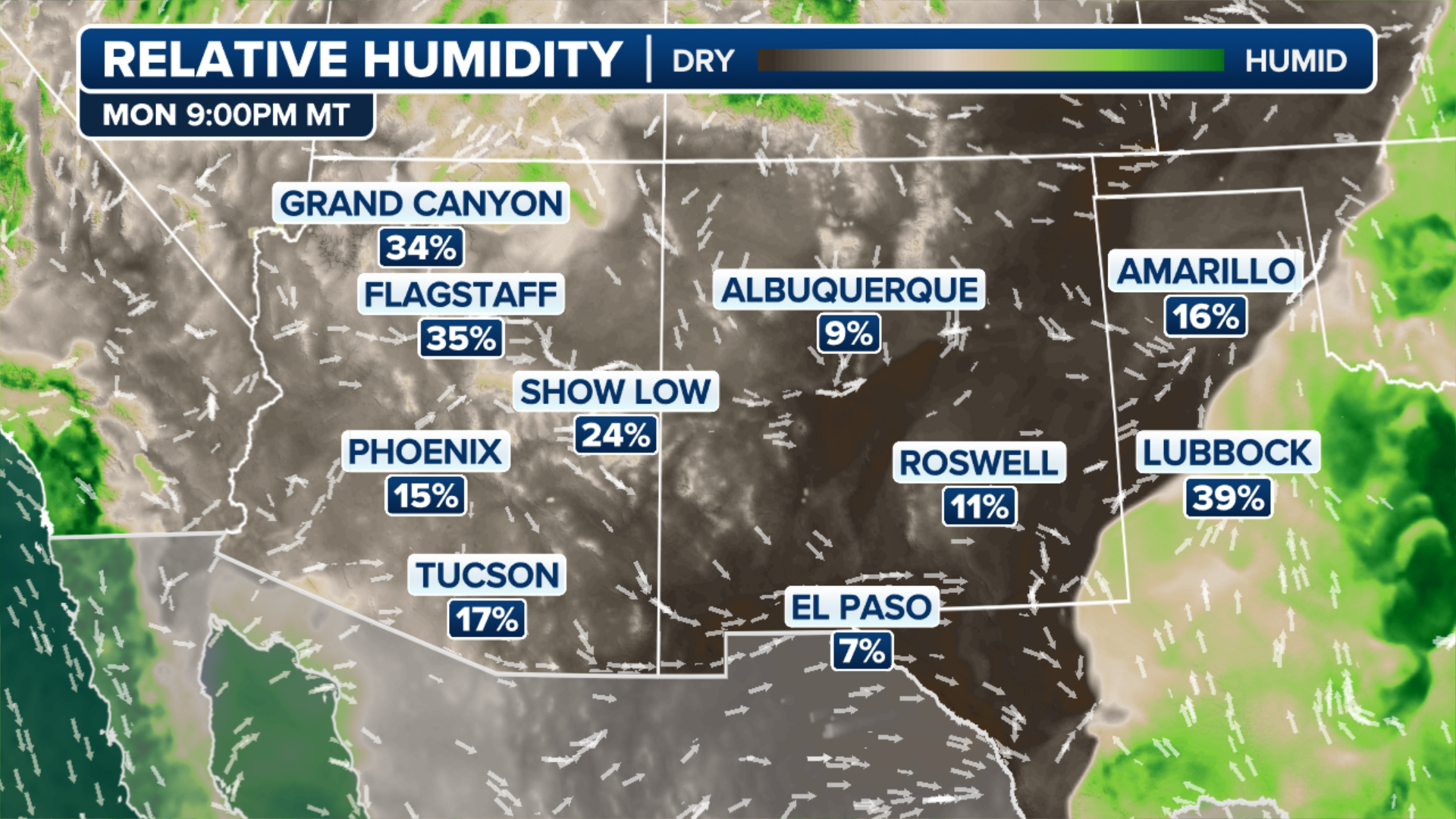 The relative humidity levels in New Mexico and West Texas will remain in the single digits, ranging from 5% in El Paso, Texas, to about 9% in Santa Fe.
The Las Vegas area will also stay below 10% on Tuesday.
Those dry conditions mixed with the strong winds would allow wildfires to spread rapidly and grow in size if any were to ignite.
People living and working in the areas seeing elevated or critical fire weather conditions should avoid any activities that could cause a spark and need to dispose of cigarettes properly.
CLICK HERE TO GET THE FOX WEATHER UPDATE PODCAST
New evacuations have been ordered near a massive wildfire that has been burning outside Las Vegas, New Mexico, since the middle of April.
The Calf Canyon and Hermits Peak fire has scorched more than 120,000 acres since it began on April 19.
On Monday morning, the Mora County Sheriff's Office announced new evacuations and told other residents to prepare to flee at a moment's notice.
The new evacuations include the Cinder and Luna areas of Las Vegas, New Mexico. Those residents were told to leave the area, and officials warned that refusing to go could be a fatal decision.