Much of the country to see cooler temperatures in wake of severe weather outbreak
Some parts of the Northern Plains could see temperatures 30 degrees below average
Much of the eastern United States will enjoy above-average temperatures for one more day before a line of showers and storms moves through and allows cooler air to move into the region.
HOW TO WATCH FOX WEATHER ON TV
High temperatures will get into the 80s as far north as southern New England, and temperatures into the 70s will reach north to the Canadian border on Thursday.
However, the same storm system that brought tornadoes, damaging winds and large hail across the South, Midwest and Plains will reach the Interstate 95 corridor by Thursday afternoon.
While storms aren't expected to be as powerful as they were over the past several days, some could pack a punch.
The National Weather Service says severe thunderstorms are likely from the Philadelphia metro area and southeastern Pennsylvania into New Jersey, the New York City tri-state area and southern New England.
Once those storms move through, that will allow for the cooler air to move in from behind the system.
Highs in the East will drop considerably. New York City will reach 82 degrees on Thursday. By Friday, the Big Apple will only reach about 68 degrees. By the end of the weekend, temperatures should only be around 53 degrees.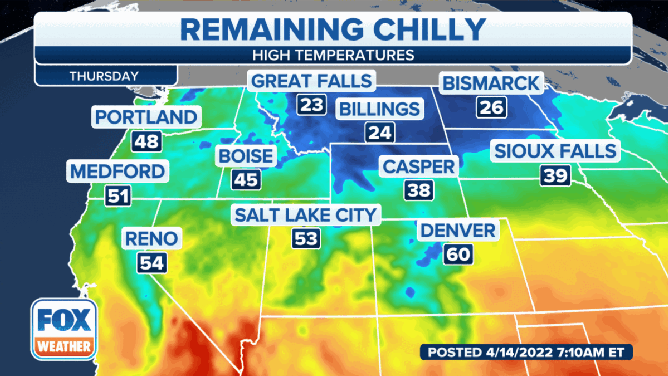 Temperatures have already been cold in the Plains and western United States.
In fact, the Northern Plains have been experiencing a potentially historic blizzard, with some areas receiving more than 30 inches of snow.
WHEN CAN YOU EXPECT THE LAST SNOW OF THE SEASON?
Bismarck, North Dakota, will be among the coldest spots in the country, with a high temperature of only 26 degrees on Thursday.
And those temperatures will drop through the weekend.
On Friday, temperatures in the area will only reach about 23 degrees. It will likely stay below freezing through at least Sunday.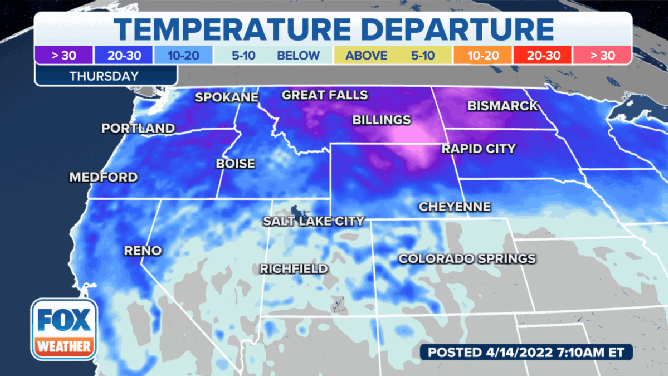 Those cold temperatures are well below average for this time of year.
The Northern Plains and Rockies will be about 20 to 30 degrees below average, with some areas seeing temperatures more than 30 degrees below average.
People living in the northern tier of the country can expect those below-average temperatures to last at least through the weekend.