Missing: 4+ feet of snow; Syracuse among several cities with well-below-average snowfall
Syracuse, New York, sits at 51.8 inches below average from Sept. 1 through Monday. Several other towns had snowfall deficits of over a foot.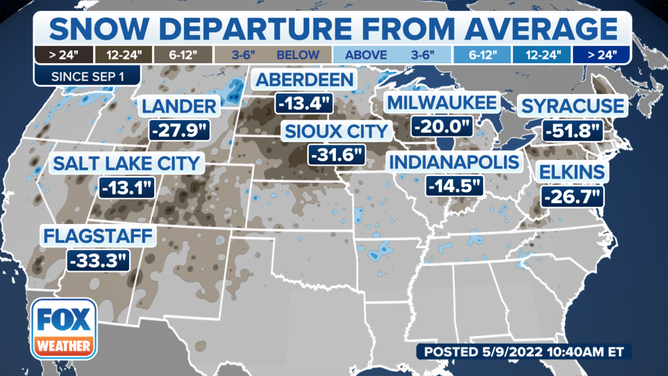 SYRACUSE, N.Y. – Several towns across the U.S. got a bit of a break from the snowfall this winter, with some places ending up more than a foot below average for the season.
Nowhere was the snowfall more shorted than in Syracuse, New York, which sits at 51.8 inches below average from Sept. 1 through Monday. Though Syracuse is the snowiest large city in the U.S. with 127.8 inches of average snowfall – it still received 76 inches of snow over the winter, so it's not like snowmen were extinct. And it's even nearly 3 inches more than last winter.
FOX Weather Senior Weather Data Specialist Shane Brown notes that Syracuse has seen a downward trend in average snowfall since peaking around 2000.
It's a different story in Sioux City, Iowa, which managed a paltry 4.4 inches of snow this past winter season. That is 31.6 inches below average and makes 2021-22 its least-snowy winter on record.
HERE'S WHY 'BLIZZARD ALLEY' IS IN THE NORTHERN PLAINS
You might not think of Arizona as a snow haven, but Flagstaff in the northern mountains does average about 90 inches of snow a year.
Not this year; Flagstaff was nearly 3 feet short, sitting at 56.2 inches for the year. (Though several winters have featured considerably less snowfall, such as 1934 with just 11.2 inches there.)
Milwaukee's snow deficit sits at an even 20 inches – its least-snowy winter since 1987.
THESE ARE THE 7 SNOWIEST CITIES IN THE U.S.
Lander, Wyoming (-27.9 inches), Elkins, West Virginia (-26.7 inches), Indianapolis (-14.5 inches), Aberdeen, South Dakota (-13.4 inches), and even snow-haven Salt Lake City (-13.1 inches) were all below average.
What about towns receiving a snow bounty?
While Milwaukee was short on snow, Sault Ste. Marie in Michigan had plenty to spare with 161.7 inches last winter – 45 inches above average and its second-snowiest winter on record.
Grand Forks, North Dakota – home to multiple blizzards this year – finished at 67.8 inches, 20 inches above average and its sixth-snowiest winter on record. And those who bet on a snowy winter in southern New Jersey hit big as Atlantic City checked in with 33.3 inches of snow – nearly double the average of 17.3 inches.
APRIL BLIZZARD BURIES NORTHERN PLAINS UNDER NEARLY 4 FEET OF SNOW
Other snow winners: Winnemucca, Nevada (43.7 inches – 22 inches above normal; fourth-snowiest season), and Casper, Wyoming (97.8 inches – its 11th-snowiest season).
The largest snow winner was a place no one lives but gets plenty of visitors: Mount Rainier National Park in Washington. Its snow gauge picked up 215.9 inches – a whopping 75 inches above average and, for this season, home to the largest snow surplus in the United States.