Midsummer report card: Weather trends of the season
Meteorological summer began on June 1 and will end on August 31
Summer is halfway over, at least on the meteorological calendar. Plenty has happened over the last 45 days in the weather world that have many looking towards relief from the heat, but some areas still have yet to see the worst of the season.
On average, July 26 is the warmest day across the country, but don't tell that to the hundreds of communities that have already seen record temperatures.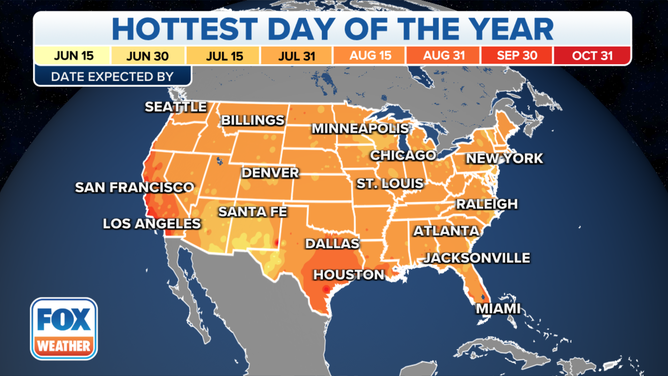 And if the record heat isn't enough, a drought has some communities wondering where all the rain is.
According to the National Oceanic and Atmospheric Administration's Climate Prediction Center, more of the same weather is in store for large parts of the country during the next several weeks.
Climatologists say the heat and whether or not communities will see rain is being driven by La Niña.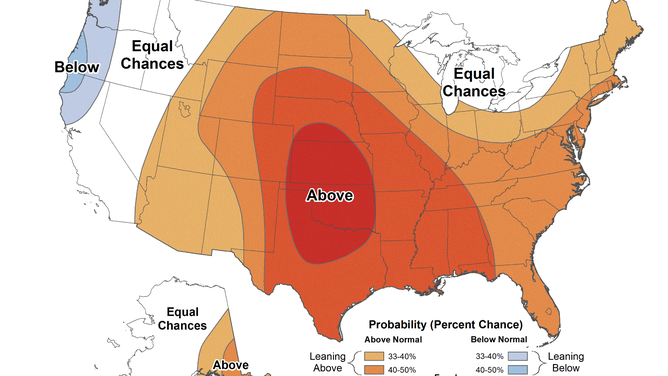 Here is how our La Niña summer has stacked up so far.
HOW TO WATCH FOX WEATHER ON TV
Warm for many, cold for none
High pressure is usually your fair weather friend, but during the summertime, it can mean communities beneath this shield dome can bake.
This is what happened across large parts of the country during June and July. 
Hundreds of cities from the Plains and Ohio Valley to the mid-Atlantic and Southeast reported seeing one of their warmest starts to summer on record.
Cities experiencing their warmest summer include: Tupelo, Mississippi; San, Antonia, Texas; Austin, Texas; Houston; and Tampa.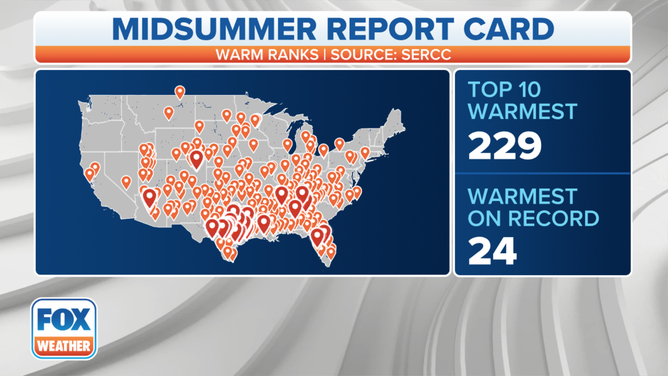 Texas has been particularly hard hit this season with multiple heat waves, which has put extra strain on the state's power grid.
Meteorologists say Houston, the largest city in the state, is on track for seeing its warmest and driest summer on record, if trends continue for the second half of the season.
The extreme temperatures mean an increased demand for air conditioning. 
Industry experts say the heat and short supply of parts could leave some without AC for a while.
Where it is hot, it is usually dry
The same weather patterns responsible for the heat also produced dry air, which has led to more than 60 percent of the country experiencing some sort of drought.
Cities such as Santa Maria, California; Fresno, California; Reno, Nevada; San Diego; and Houston all reported either seeing their driest or being tied with their driest start to summer ever on record.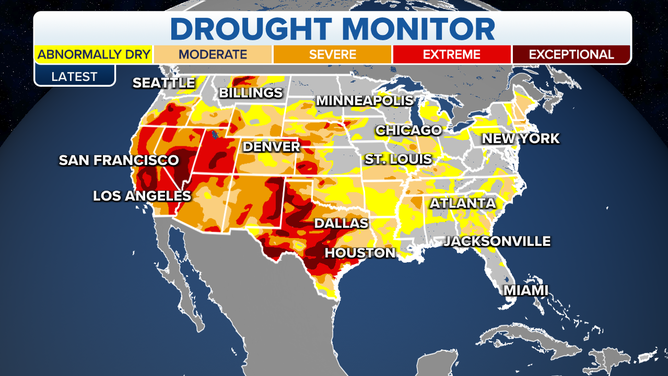 One hundred twelve other communities from California to Maine also reported seeing their top 10 driest starts to summer.
The dry weather has led to an active wildfire season across the country, which forecasters say shows no signs of slowing down.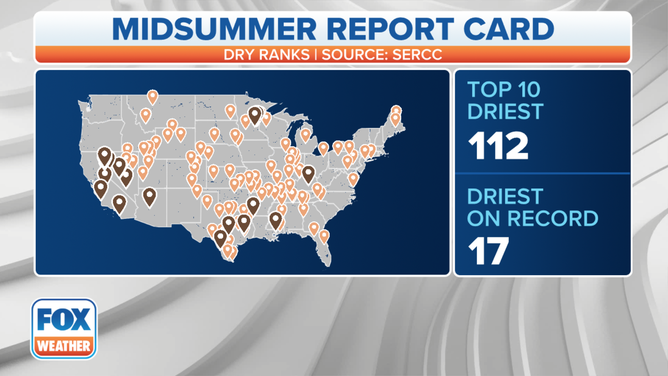 'IT'S A DIFFERENT LAKE EVERY TIME': SUNKEN BOATS EMERGE FROM DWINDLING LAKE MEAD
Few bright spots in the rain bucket
Only a few dozen communities across the country reported seeing an extremely rainy June and start to July.
Cities were scattered from coast to coast; however, there were some pockets that usually do see heavy rainfall during the summer months that made the list of wettest cities.
Some areas in the Pacific Northwest, Northern Rockies, Southwest and Southeast all had communities that experienced their top ten wettest starts to the season.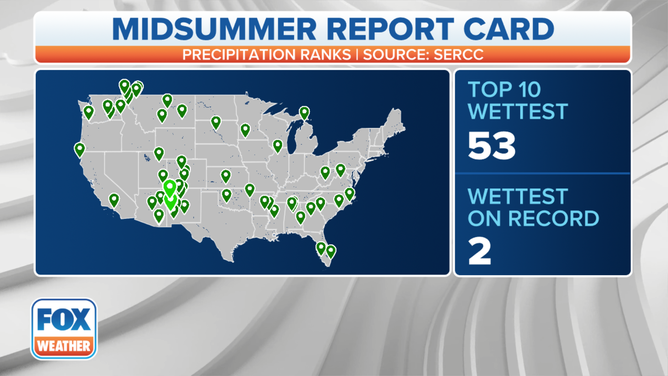 Don't give up hope if your rain gauge isn't as full as you would like.
Meteorological summer doesn't officially end until August 30, and forecasters say there are still plenty of chances for precipitation to kick into high gear. 
Through the end of August, the monsoon season in the Southwest will continue, thunderstorms in the Southeast will be nearly a daily occurrence and meteorologists will start watching the tropics closely for any potential threats and increased moisture.
COLORADO STATE UNIVERSITY INCREASES FORECAST FOR 2022 ATLANTIC HURRICANE SEASON TO 20 NAMED STORMS