'It's a different lake every time': Sunken boats emerge from dwindling Lake Mead
Boater Travis Pardee says the lake is becoming dangerous because of historically low water levels
LAKE MEAD – Water levels at Lake Mead have hit historic lows, which has brought boats that were once sunken back to the surface.
Travis Pardee, of Henderson, Nevada, a suburb of Las Vegas, happened upon one of those boat-wrecks Sunday while he was enjoying the waters of America's largest manmade lake with his family. A boat that was once underwater is now sticking out several feet above the surface.
"Obviously, it's tragic, but right now, it's kind of fun to see these things," Pardee said. "It's a little bit like treasure hunting.
HOW TO WATCH FOX WEATHER ON YOUR TV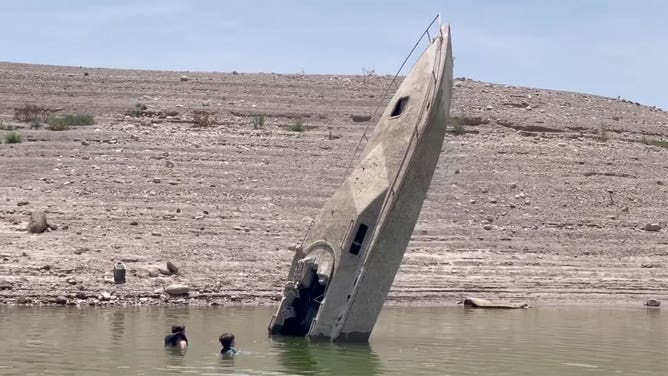 Pardee said other people who have also found the wreckage have recovered artifacts that indicate the boat was likely cruising the water in the late 1980s before sinking.
Pardee said he has been boating at the lake for more than two decades and can attest to the rapid changes that have resulted from water levels dropping to their lowest since 1937, three years after Lake Mead was filled.
"You couldn't even see that just a few months ago," Pardee said.
"Now, it's really becoming dangerous," he added.
FIRST-EVER WATER SHORTAGE DECLARED FOR PARTS OF COLORADO RIVER AMID WEST'S HISTORIC DROUGHT
Besides the appearance of once-sunken wreckage, new boating hazards are appearing all the time, according to Pardee. He said rocks are also starting to peak above the surface, and officials at the lake are having a hard time marking them.
"It's literally like a different lake every time we go out there, especially lately," Pardee said.

Sunken boats are not the only thing that plummeting water levels have revealed. In early May, a barrel with a body stuffed inside was found near a boat launch. Investigators said they believe the person was killed in the early '80s. A few days later, another body was discovered in Callville Bay.
GET THE LATEST EPISODE OF THE FOX WEATHER UPDATE PODCAST
More discoveries such as this are likely to continue as water levels drop, according to authorities.
The levels are the result of a megadrought that has left much of the western U.S. parched for two decades. Forecasters said in mid-May they don't expect relief anytime soon.