Mid-South snowmaker to become next East Coast snowstorm, bring more snow to I-95 corridor Thursday into Friday
The snow could snarl travel in portions of the mid-Atlantic and Northeast
Another snowstorm is on the way for parts of the mid-South and East Coast that were just hit by a winter storm that dumped more than a foot of snow from Virginia to New Jersey earlier this week.
The snow could snarl travel in portions of this region Thursday into Friday, which is certainly not the news people want to hear after motorists were stranded on a portion of Interstate 95 in Virginia for nearly a day during the Sunday and Monday storm.
Virginia Governor Ralph Northam already declared a state of emergency in advance of the next storm.  "While we typically have ample resources for snow storms, these back-to-back events will generate landmark winter weather that requires extra flexibility, he said in a statement.  The emergency order will cover costs of both storms.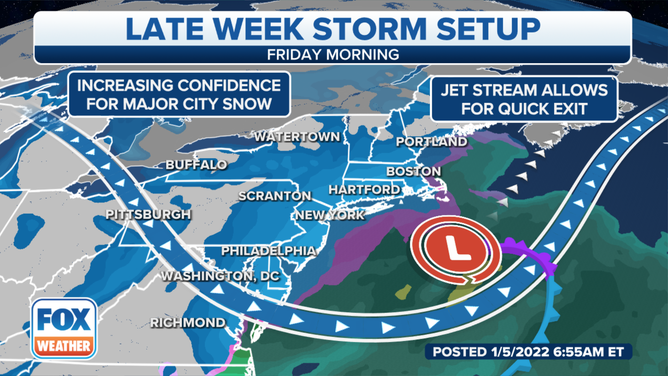 This next snowstorm will first spread light snow from the Rockies into the Plains on Wednesday, including the cities of Denver and Cheyenne, Wyoming. Light snow will continue into Wednesday night from southern Nebraska into portions of Kansas and Missouri, including the Kansas City metro area.
A separate system will also bring snow, strong winds and near-blizzard conditions to parts of the Great Lakes, including Buffalo, New York, through Thursday.
Storm timeline: Mid-South
Snow or a wintry mix will break out by Thursday morning over the mid-South from northeastern Arkansas into West Tennessee and northern Mississippi, including the Memphis, Tennessee, metro area. Untreated roads, particularly bridges and overpasses, are likely to turn slippery during the morning commute in these areas.
7 THINGS YOU NEED TO KNOW ABOUT WINTER DRIVING
The snow will spread eastward through the day into Middle and East Tennessee, Kentucky, the Ohio Valley and the central and southern Appalachians. Travel will likely become hazardous in Nashville and Knoxville, Tennessee; Louisville, Kentucky; and Charleston, West Virginia.
Rain is expected in the Deep South, though some snow, sleet or freezing rain might mix in as far south as northern Alabama and extreme northern Georgia.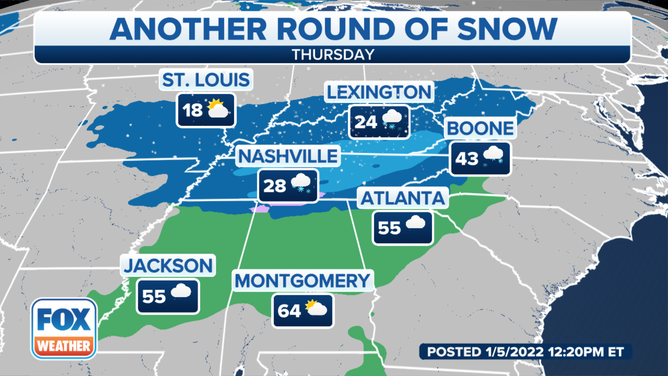 Storm timeline: East Coast
By Thursday night, snow will continue in the central and southern Appalachians while also spreading into the mid-Atlantic and southern and central New England.
This includes the entire Interstate 95 corridor from Boston to New York City, Philadelphia, Baltimore, Washington and Richmond, Virginia.
The snow could turn heavy at times as the low-pressure system responsible for it strengthens near the East Coast.
VDOT: 'COMPLETELY UNACCEPTABLE' FOR DRIVERS TO BE STRANDED FOR HOURS ON INTERSTATE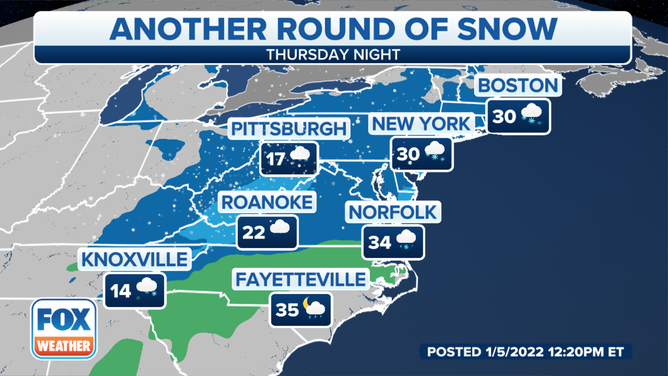 Travel conditions will be hazardous throughout this region Thursday night into Friday morning. The morning commute will likely be challenging due to falling snow and snow-covered roads along the Interstate 95 corridor between Boston and Washington.
Snow will gradually taper off in the mid-Atlantic through Friday morning, but it may linger much of the day in New England before ending Friday evening. The storm will pull away from the Northeast on Friday night.
Gusty winds could create areas of blowing and drifting snow at times, especially along the New England coast.
WHAT YOU SHOULD KNOW ABOUT BLOWING, DRIFTING SNOW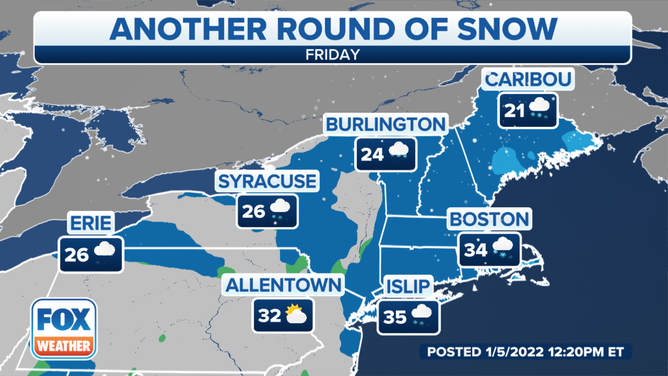 How much snow?
Between 1 and 3 inches of snow is forecast for many areas of Tennessee and Kentucky, including Nashville, Knoxville and Louisville. Less than an inch is expected in Memphis.
The higher elevations of the central and southern Appalachians will see snowfall totals on the order of 3 to 6 inches, with some spots in eastern Kentucky, West Virginia and the Great Smoky Mountains picking up more than a half-foot of snow.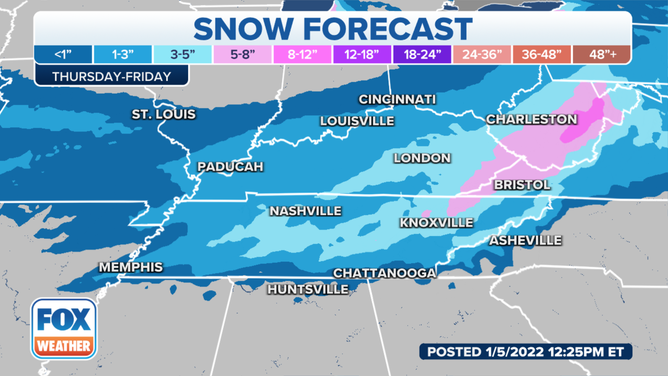 At least 1 to 3 inches is currently expected along much of the Interstate 95 corridor from New York City to Philadelphia and Washington.
Parts of coastal New England, including the Boston metro area, could see 3 to 6-plus inches of snow, depending on the exact track of the storm in relation to the East Coast.
If at least 1 inch of snowfall is recorded in New York and Boston, it will be the first 1-inch snow event of the season for both cities. As of Wednesday, only 0.2 inches has fallen in New York City, while Boston has picked up 0.4 inches so far.
CITIES IN ALABAMA, TENNESSEE HAVE RECEIVED MORE SNOW THAN NEW YORK CITY THIS WINTER