Near-blizzard conditions expected as heavy snow piles up in upper Midwest, Great Lakes
The National Weather Service said there's a chance of thundersnow within about 20 miles of the Lake Erie shores
A winter storm is tracking across the upper Midwest and Great Lakes, bringing a combination of heavy snow and strong winds that could result in near-blizzard conditions in some areas.
The National Weather Service has issued Winter Storm Warnings from the Arrowhead of Minnesota into northern Wisconsin, the western Upper Peninsula of Michigan and western Lower Michigan. Winter Weather Advisories are posted over a larger portion of the upper Midwest from the eastern Dakotas into central Michigan.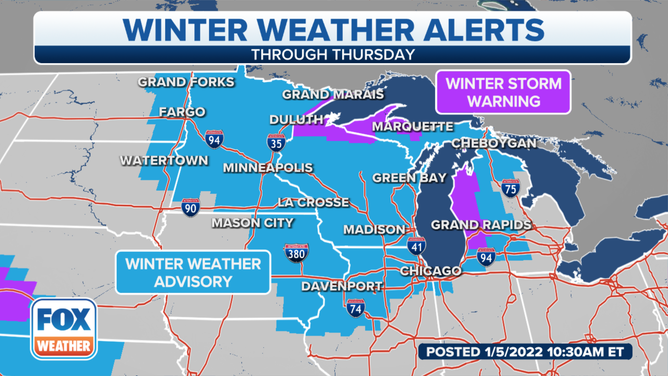 Snow will continue through the day Wednesday from Minnesota to Michigan as a low-pressure system slides across the region.
The NWS office in Grand Rapids, Michigan, said near-blizzard conditions are expected in parts of the Great Lakes region due to 40- to 45-mph wind gusts creating areas of blowing and drifting snow. Visibility will be reduced to near zero at times through Wednesday afternoon.
WHAT YOU SHOULD KNOW ABOUT BLOWING, DRIFTING SNOW
The NWS office in Chicago said extremely dangerous travel conditions were occurring with a very narrow band of snow Wednesday morning in northeastern Illinois and northwestern Indiana.
A traffic camera from the Indiana Department of Transportation showed whiteout conditions along Interstate 65 near Merrillville, Indiana, where a Snow Squall Warning was in effect until 11:30 a.m. Eastern time.
WHAT ARE SNOW SQUALLS AND WHY ARE THEY SO DANGEROUS?
Bands of lake-effect snow are then excepted to develop in the eastern Great Lakes snowbelts Wednesday night into Thursday.
Lake-Effect Snow Warnings and Winter Weather Advisories are in effect northeast of lakes Erie and Ontario. This includes the cities of Buffalo and Watertown, New York.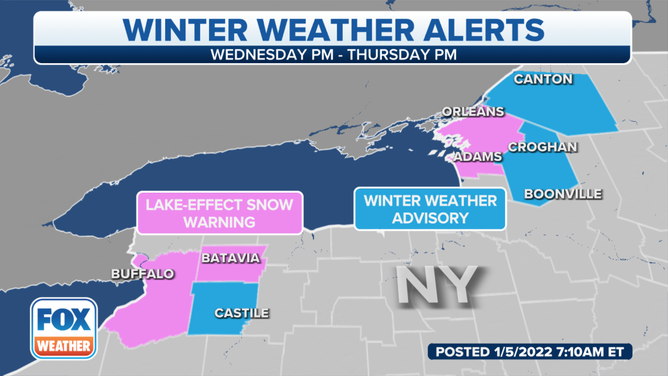 Beginning Wednesday evening, weather conditions will support "a single plume of moderate to occasionally heavy lake snow that will extend across the Buffalo metro area," NWS-Buffalo meteorologists wrote in a forecast discussion Wednesday morning.
"Snowfall rates will range from a half to as much as 1.5 inches an hour, and this should promote snowfall amounts by daybreak Thursday up to 8 inches from the Buffalo metro area and its immediate southern suburbs to Darien, with lesser amounts extending northeast to western Monroe County," the NWS added.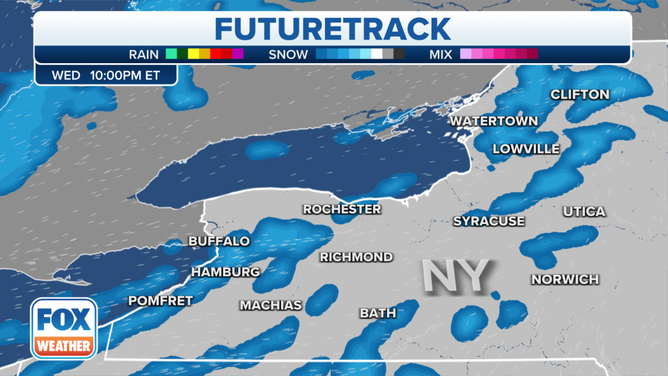 Additionally, the NWS said there's a chance of thundersnow within about 20 miles of the Lake Erie shores.
THUNDERSNOW: WHAT CAUSES LIGHTNING AND THUNDER DURING A SNOWSTORM?
The band of lake-effect snow is predicted to remain nearly stationary into Thursday. That could bring an additional 3 to 6 inches during the day for downtown Buffalo and its immediate southern suburbs and northeastward to Darien and Batavia, New York.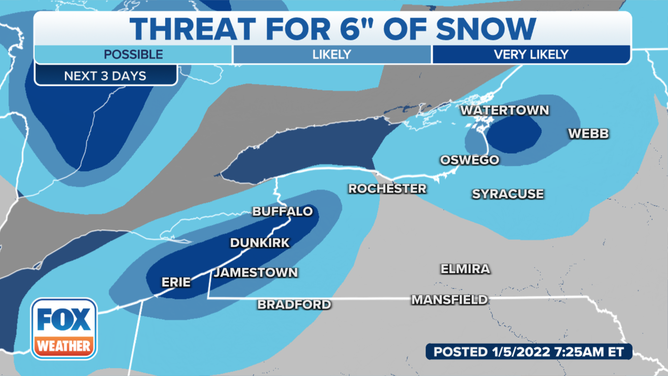 A lake-effect snowband will also develop Wednesday night northeast of Lake Ontario and target areas near and just south of Watertown, New York. Snowfall rates will be on the order of a half-inch to an inch per hour. Overnight snowfall amounts in these areas are forecast to top out between 3 and 6 inches, according to the NWS.
The snow could turn a bit heavier on Thursday, with snowfall rates reaching an inch or more per hour between Watertown and the northern slopes of the Tug Hill Plateau on the east side of Lake Ontario. An additional 4 to 7 inches of snow is expected to pile up during the day in the most persistent lake snows.
THESE ARE THE 7 SNOWIEST CITIES IN THE U.S.
Computer forecast models indicate 8 to 12 inches of snow will fall in the Buffalo and Watertown areas through Thursday evening. However, a foot or more is likely to accumulate in some areas to the south of those cities.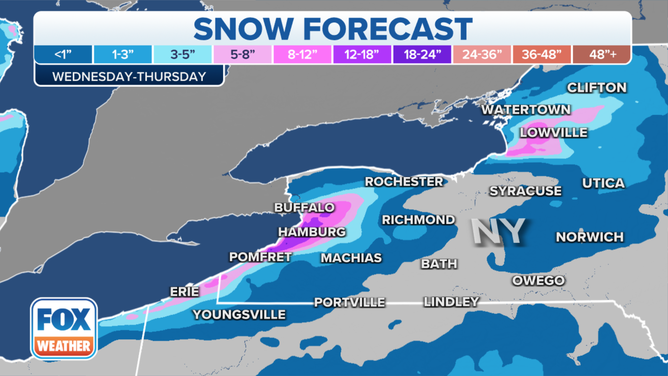 Wind gusts around 35 mph could also create areas of blowing and drifting snow, which means visibility might drop to near zero at times.
Travel will be significantly impacted on portions of the New York State Thruway (Interstate 90) from Buffalo to the west of Rochester, New York, and also on Interstate 81 in Watertown and points south.