Large storm system brings heavy rain, coastal flooding and gusty winds from mid-Atlantic to Northeast
Heavy rain, 50- to 60-mph wind gusts and moderate to major coastal flooding are all significant threats
A large area of low pressure over the Ohio Valley will bring heavy rain, coastal flooding and gusty winds as it moves toward the Northeast through the weekend.
Strong easterly winds from the Atlantic will funnel moisture onshore, leading to widespread heavy rain and some thunderstorms Friday into Saturday. These strong onshore winds will also pile water into the mid-Atlantic bays, posing a significant coastal flood threat during high tide.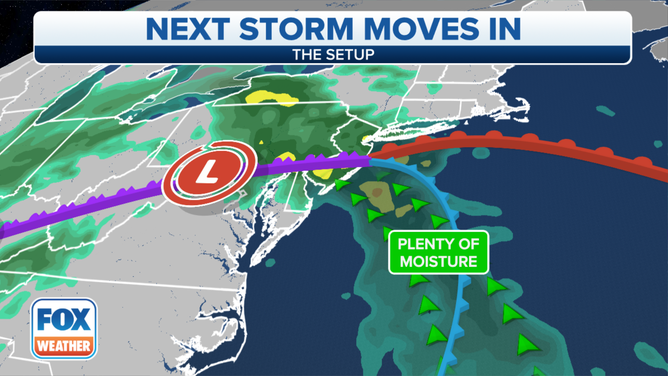 On Friday, the heaviest rain will fall over the mid-Atlantic.
Flash flooding is a concern from northern Virginia into eastern West Virginia, south-central Pennsylvania and much of Maryland, where locally heavy downpours could yield rainfall rates up to 1 inch per hour Friday morning and afternoon.
WHY THE SCIENCE OF SUPERSTORM SANDY WAS BOTH NORMAL AND ABNORMAL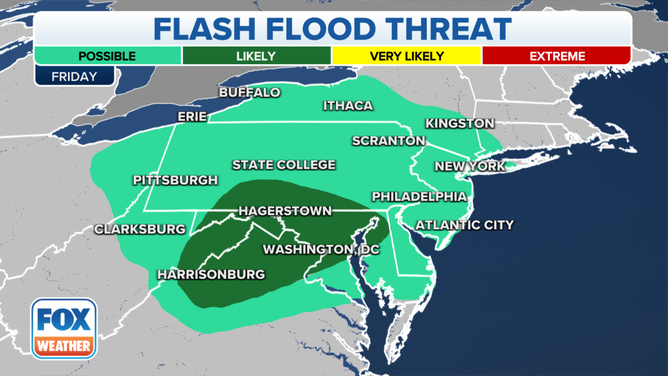 Friday night into Saturday, the heaviest rain will shift into New England and New York state. Additional flash flooding is not ruled out Saturday from the upper Hudson Valley eastward into New England.
The greatest risk of flash flooding Saturday is likely over eastern New England, where localized rainfall rates could approach 1 inch per hour at times.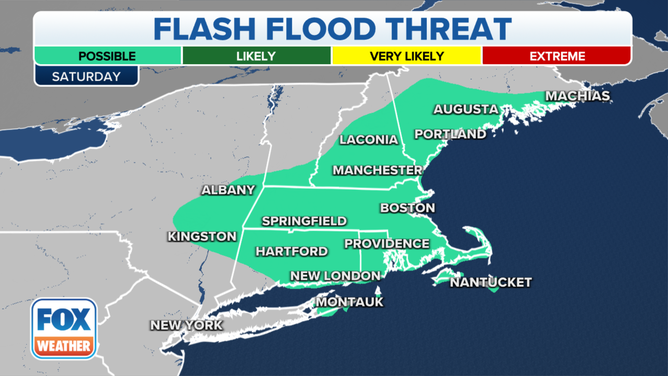 Rainfall totals through the weekend will range from 1 to 3 inches across the mid-Atlantic and Northeast, with locally higher amounts of 3 to 5 inches possible in some spots.
NEW ENGLAND HAS SEEN ITS FAIR SHARE OF WILD WEATHER IN OCTOBER
A few strong to severe thunderstorms are also possible in the mid-Atlantic on Friday, posing threats of damaging wind gusts and isolated tornadoes. A few rumbles of thunder might be heard as far north as southern Maine on Saturday, but no severe weather is expected.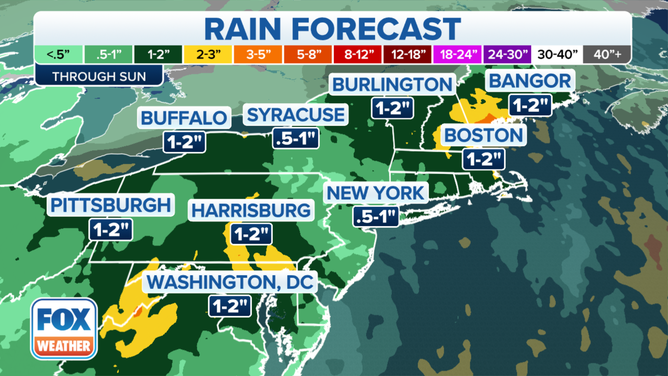 Moderate to major coastal flooding for mid-Atlantic
The National Weather Service has issued Wind Advisories and High Wind Warnings for parts of the mid-Atlantic through early Saturday morning.
STRONG WINDS KNOCK OUT POWER, DELAY FLIGHTS IN NATION'S HEARTLAND
Easterly wind gusts of 50 to 60 mph are expected Friday and Friday night, which could knock down tree limbs and lead to a few power outages. The strongest winds will be along the immediate coastline, where power outages could be more widespread.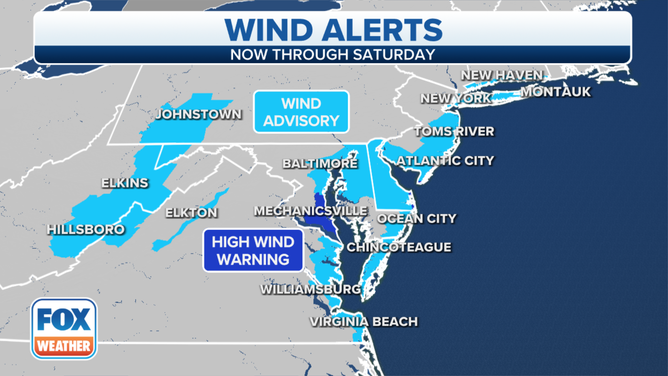 Water will pile into the mid-Atlantic bays because of these strong onshore winds, causing moderate to major coastal flooding to develop during high tide.
Coastal Flood Warnings and Advisories have been issued by the National Weather Service from New Jersey and Long Island to the Virginia Tidewater into early Saturday afternoon.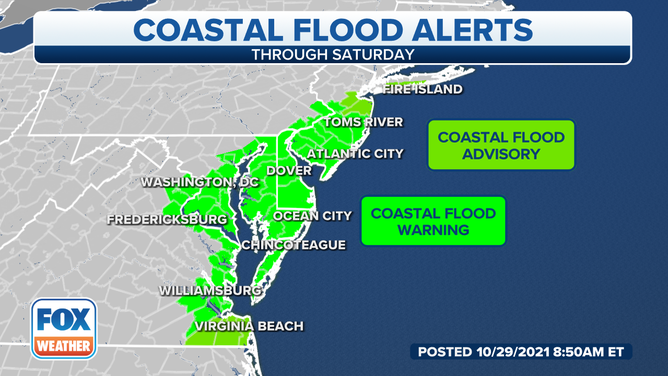 The highest tides and greatest coastal flooding risk will occur from Friday afternoon through Friday night or very early Saturday morning, particularly at times of high tide. However, additional minor to moderate coastal flooding is possible even at low tide in some spots.
STRONG ONSHORE WINDS TO CAUSE WORST COASTAL FLOODING SINCE 2003 IN PARTS OF MID-ATLANTIC
Water levels are expected to be as much as 4 feet above normally dry ground. Around the Chesapeake Bay, the water could approach levels not seen since Hurricane Isabel in 2003.
Record flooding of 9.5 feet is predicted for the upper Delaware Bay at Reedy Point, Delaware, on Friday evening, according to the National Weather Service. At this level, widespread roadway flooding begins near the bay, the river and the tidal tributaries in New Castle County, Delaware, and Salem County, New Jersey. Additionally, vulnerable homes and businesses may be damaged as water levels rise. Numerous roads will likely become impassable, and some neighborhoods may be isolated. The floodwaters will become a danger to anyone who attempts to cross on foot or in a vehicle, the NWS said.
HOW FLOODWATER CAN MAKE YOU VERY SICK
Some locations could experience flooding for eight consecutive high tides, making this an exceptionally long-duration event.
It might take until Sunday for winds to finally shift to an offshore direction and allow water to start flowing back toward the Atlantic again.