New England has seen its fair share of wild weather in October
From record-low pressure to 140 mph wind gusts, New England is no stranger to strong storms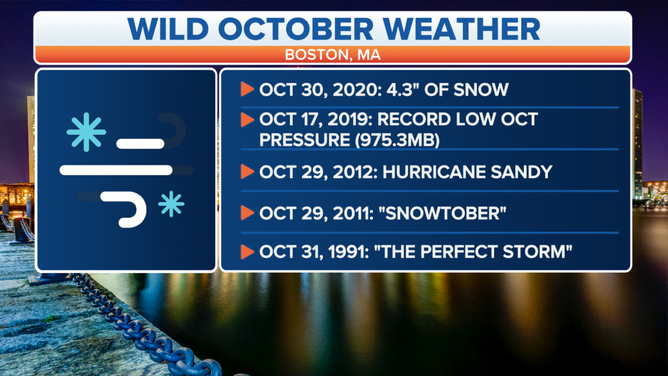 BOSTON - The 'bomb cyclone' that moved through the Northeast and New England on Wednesday joins a list of powerful storms that have wreaked havoc in the area during October in years past.
October 29-30, 2020: Snow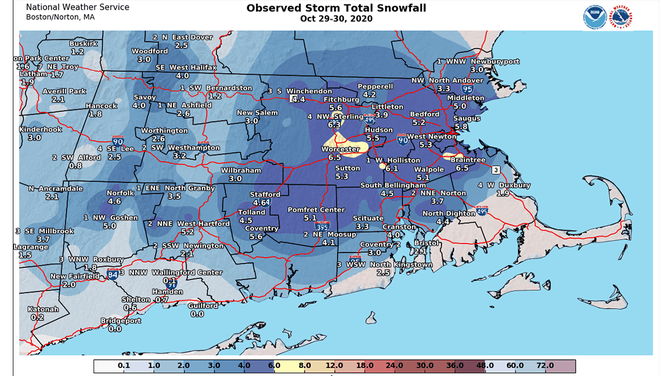 Several inches of snow fell across Massachusetts and New England during a storm in October 2020. Boston picked up 4.3 inches of snow officially, but places in higher elevations, like Worcester, picked up more than 6 inches of snow.
Places along the coast of Massachusetts and Connecticut escaped most of the snow and only reported an inch or two in most of those locations.
October 16-17, 2019: Record-low pressure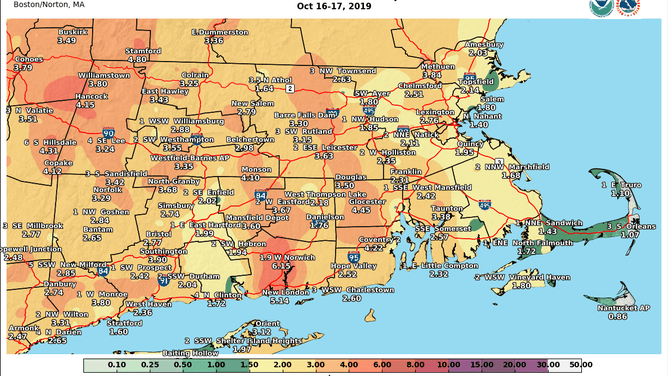 A storm moved through the region in October 2019 that brought record-low pressure in several cities. The previous record set in 2006 was 982.4 mb, and that was broken when Boston measured pressure of 975.3 mb on October 17, 2019.
Concord, New Hampshire and Nantucket also broke records.
Many areas also picked up a lot of rain and reported damaging winds. Areas of Western Massachusetts reported between 3 and 4 inches of rain. New London, Connecticut received more than 5 inches of rain while Cape Cod only received less than an inch.
Strong winds were also an issue in the area. 
The strongest winds were reported on Cape Cod where a 90 mph gust occurred in Provincetown. Wellfleet saw a gust of 89 mph and Yarmouth was just under 80 mph.
Boston Harbor also saw strong winds with a gust of 81 mph on Deer Island.
October 29, 2012: Sandy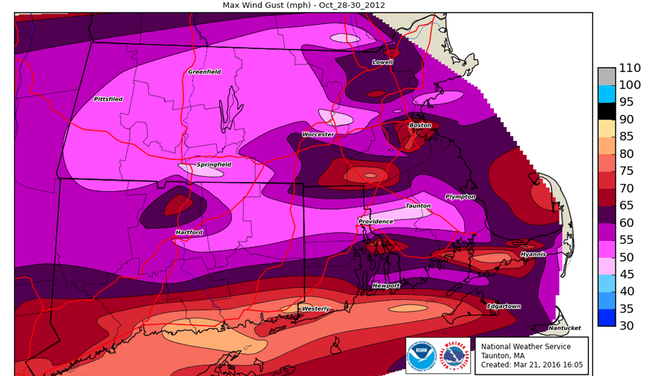 'Superstorm Sandy' moved up the east coast of the United States and moved into the New England area at the end of October 2012.
At its peak, Sandy was a Category 3 hurricane and killed more than 200 people from the Caribbean to Canada. It was also the largest Atlantic hurricane on record by diameter.
New England saw wind gusts of more than 80 mph in some areas, but most areas saw gusts between 45 mph and 60 mph. Mount Washington in New Hampshire reported a wind gust of 140 mph.
Hundreds of thousands of people lost power during the storm and several roads were flooded.
October 29, 2011: 'Snowtober'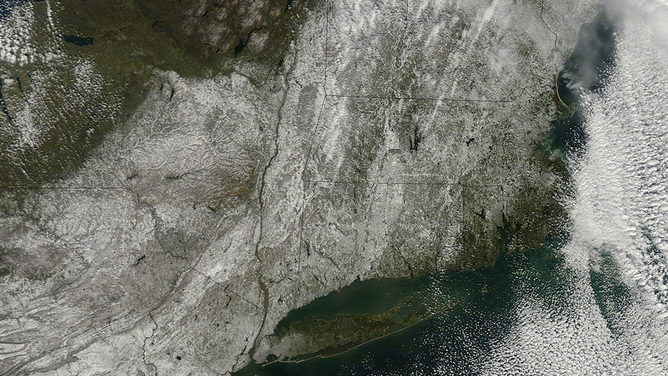 One year before 'Superstorm Sandy' moved through the area, New England was slammed with an early storm that dropped up to 30 inches of snow in some areas. Trees, many of which still had their leaves, couldn't support the extra weight of the heavy, wet snow and began to snap and get uprooted. That took down power lines across the region and that led to millions of outages that lasted for more than a week.
Winds also gusted to 40 mph with higher reports in Massachusetts.
October 31, 1991: 'The Perfect Storm'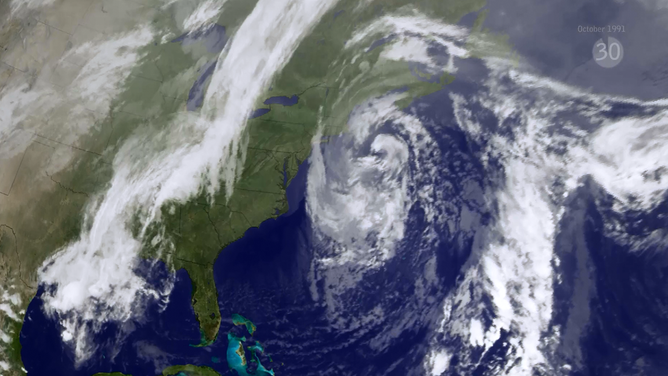 In October 1991, a low-pressure system absorbed Hurricane Grace and grew into a system that is now known as "The Perfect Storm."
This storm was compared to the 'Blizzard of 1976' after strong, destructive winds, heavy rain and large waves were reported along the coast and across New England. Hundreds of homes were damaged or destroyed.
Former Pres. George Bush's home in Kennebunkport, Maine, was severely damaged when waved crashed onto the first floor of the home.
Thirteen people died as a result of the storm, including the crew of the Andrea Gail, of Gloucester, Massachusetts. The ship and its crews went down in the waters of the Atlantic Ocean and were never found.