'Unfathomable loss': Kentucky governor prays for no more flood deaths as emergency efforts continue
"It's tough. Those that are lucky enough to still be here with us have lost everything. And these are folks that didn't have much to begin with," the governor said
HAZARD, Ky. – Search and rescue modes are still underway in eastern Kentucky on Saturday two days after massive flooding events caused by a deluge of rainfall killing at least 25 people in the state.
Though that number will increase significantly in the ongoing natural disaster, Governor Andy Beshear said.
"We continue to pray for the families who have suffered unfathomable loss," the governor said. "We also pray for the first responders. This mission has been especially challenging, and what they are experiencing firsthand is tremendously stressful and difficult. We thank all those involved for their tireless efforts."
Beshear spoke to FOX News' Neil Cavuto on Saturday and said he was blessed to have the state's National Guard as well as from West Virginia and Tennessee, inadditon to Kentucky State Police and the Department of Fish and Wildlife operating over 600 air rescue efforts the last couple of days. 
At least 1,432 Kentuckians have been rescued by first responders from Kentucky, Tennessee and West Virginia, the governor said.
HOW TO WATCH FOX WEATHER ON TV
Beshear added that the state has deployed over 30 aircraft up and reconnaissance and in rescue mode, but it's "just total devastation, the likes of which we have never seen," he said.
And for the emergency personnel on the ground, it's hard to access some of these areas.
"When you think about what this water has done, it's taken out roads, it's created landslides. It's overwhelmed water systems," Beshear said. "We can't get to some power systems and water systems because they're fully flooded."
HISTORIC KENTUCKY FLOODING: AT LEAST 25 DEAD WITH SEARCH AND RESCUE UNDERWAY AND MORE RAIN EXPECTED THIS WEEK
And when a road is blocked, authorities can't get to dozens or even hundreds of people. 
"It's tough,"  Beshear said. "Those that are lucky enough to still be here with us have lost everything. And these are folks that didn't have much to begin with."
Crews are working day and night to get those stranded to safety and access to an emergency shelter. Beshear said he is committed to a complete rebuilding effort to get residents back on their feet. 
"But for now, we're just praying that we don't lose anybody else," he said.
There have been 25 confirmed fatalities in five counties: four in Breathitt County; two in Clay County; 14 in Knott County (10 adults and four children); two in Letcher County; and three in Perry County.
In one area alone, Beshear said he knows 10 inches fall directly on it overnight Thursday.
THESE VIDEOS TELL THE STORY OF CATASTROPHIC FLOODING IN KENTUCKY
"And when you think about the gullies, the hollers, you know, water in one area and that amount and another come together, and it just gets even worse," he said.
Beshear surveyed the damage Friday along with FEMA Administrator Deanna Criswell in a National Guard helicopter.
"Houses gone, not just walls gone, but entire houses gone. And you can't even see the debris. It's probably miles away at this point," he said.
As the National Guard continues their ongoing searches, they are now about to access their high-water vehicles into places that previously had no entry to make sure that they can get as many people out and to safety.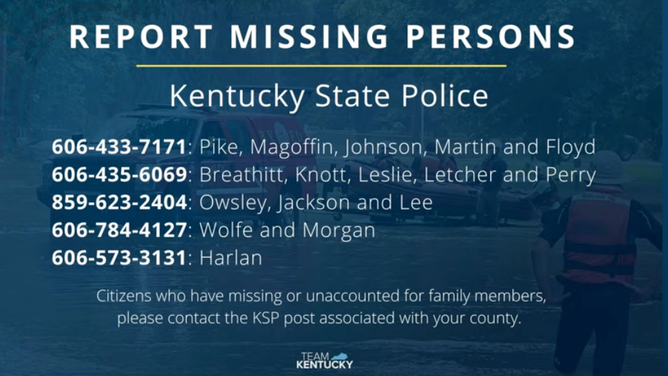 "But we're going to have people without power and without water for a long time," Beshear said. "It's about to get hot in the middle of next week, so we are already doing the planning to take care of them."
Kentucky Power said crews working around the clock to restore power to more than 23,000 customers who lost power at the height of Thursday's storm. More than 7,500 customers have seen their power restored since Saturday morning, while 15,789 remain in the dark.
16,000 PEOPLE STILL WITHOUT POWER IN KENTUCKY FOLLOWING THURSDAY'S DEADLY STORM
"I know the utilities are working as hard as they can to get it back up and running," Beshear said. 
And for the thousands still stranded in their home without electricity, it's been hard to find ways to communicate with them, the governor added.
"That's been a challenge, especially in Letcher County, where the water we hope will crest today," Beshear said. "Your phones don't work in a lot of these areas right now. So our goal is to get to as many people as possible and get them to a shelter."
A total of 142 people are being temporarily housed at Kentucky State Parks, according to the state.
WAITING FOR RESCUE: STORIES OF SURVIVAL AFTER FLOODS SWEEP KENTUCKY
This is the second catastrophic event that has brought Kentuckians to their knees in less than a year. In December, a deadly EF-4 tornado tore through the community of Mayfield, destroying everything in its path.
"We do need your help," Beshear said. 
HOW TO HELP VICTIMS OF THE DEVASTATING FLASH FLOODS
The state established the Eastern Kentucky Flood Relief Fund to help those affected to get them back on their feet, help with rebuilding and provide assistance those those putting their lives back together. All donations are tax-deductible, and donors will receive a receipt for tax purposes after donating. Learn how to donate: Click here.
Some charitable organizations are opening hands to supplies and volunteers, while others are in need of monetary donations.
"Americans are amazing people," Beshear said. "They open their hearts and their homes to one another. And this is a time of need after the tornadoes, an incredible outpouring of love from all over. And we are grateful for it."
CLICK HERE TO GET THE FOX WEATHER UPDATE PODCAST
The FOX Weather app is a great resource that can be used to alert you of any watches or warnings issued for your area. The free FOX Weather livestream is also available 24/7 on the website and app and on your favorite streaming platform. The FOX Weather Update podcast also provides weather information for the entire country.