16,000 people still without power in Kentucky following Thursday's deadly storm
As utility crews begin to access the severely damaged areas, they are reporting that entire sections of circuits are destroyed and will have to be redesigned and rebuilt.
ASHLAND, Ky. – Kentucky Power is working around the clock to restore power to more than 23,000 customers who lost power at the height of Thursday's storm.
The line of slow-moving thunderstorms that dumped torrential rain across eastern Kentucky is now being blamed for at least 25 deaths as floodwaters damaged hundreds of homes, vehicles, rivers and creeks rose out of their banks.
More than 7,500 customers have seen their power restored since Saturday morning, while 15,789 remain in the dark, according to Kentucky Power.
HISTORIC KENTUCKY FLOODING: CHILDREN AMONG AT LEAST 25 DEAD AS OFFICIALS FEAR RISING DEATH TOLL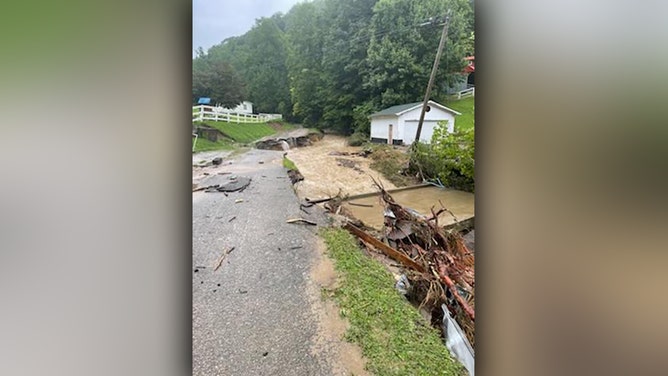 "The vast majority of these customers live in Breathitt, Leslie, Knott, Letcher, Perry and Pike counties," the utility company said. "Many areas remain inaccessible by our crews, hampering restoration efforts."
As crews begin to access the severely damaged areas, they are reporting that entire sections of circuits are destroyed and will have to be redesigned and rebuilt. Roads and terrain are so damaged that crews cannot rebuild in the same areas.
"Our damaged substations have been temporarily restored through switching and load transfers from other sources," the company said in a written statement. "In some cases, crews had to disassemble equipment, manually clean out mud and debris, make repairs, inspect and test to ensure proper operation. The Topmost substation received up to five feet of water."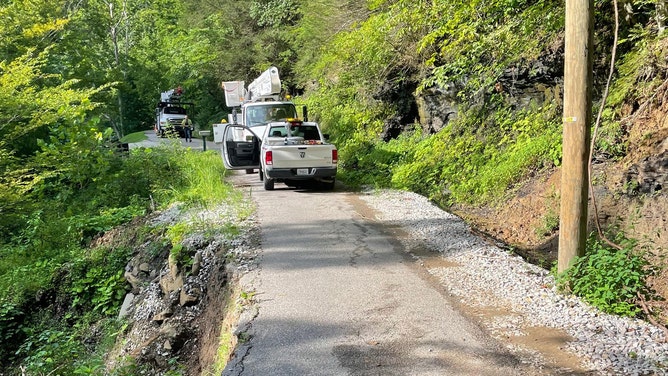 More than 60 broken poles, 17 damaged transformers, 50 broken cross arms and over 225 spans of downed wire have been recorded as of Friday night. 
Assessment in some areas is still impossible due to areas inaccessible from high water or washed-out roads.
However, good weather Saturday will allow a helicopter to assess damage in some areas that can't be reached by vehicle, Kentucky Power said. Drones are also being used to assess the damage.
'HOUSES ARE FLOATING AWAY': FAMILIES TRAPPED AS FLOODWATERS TEAR THROUGH EASTERN KENTUCKY
More than 700 people with Kentucky Power will be working on Saturday to restore as much power as possible. Crews from sister companies and other business partners from Ohio, Indiana and Michigan have joined the efforts.
There are still multiple areas that remain inaccessible due to blocked or damaged roads and floodwaters, particularly in Breathitt County, Kentucky Power reports.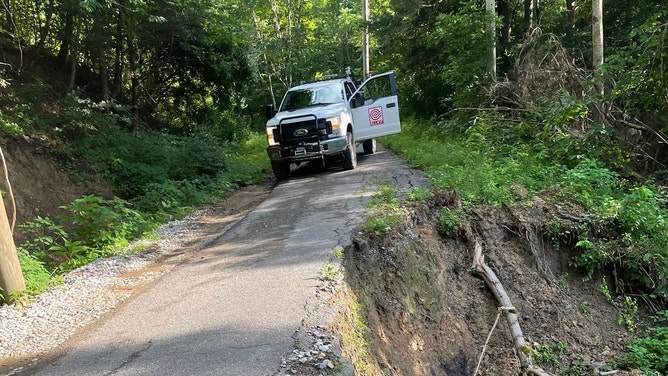 "Keep in mind these are estimated projection for those who are able to receive power, meaning there is no damage to your home or meter loop," the utility company said.
HERE'S WHAT TO DO AFTER YOUR CAR FLOODS
Kentucky Power estimates that 95% of Leslie County customers should be restored by Saturday night. Customers in Floyd and Pike Counties should be 95% restored by Sunday night. Crews are also anticipating to have most areas in the South Williamson area wrapped up by Saturday night.
It is estimated that power restoration will continue well into next week for customers in the remaining counties of Breathitt, Knott, Letcher, and Perry.
CLICK HERE TO GET THE FOX WEATHER UPDATE PODCAST
The FOX Weather app is a great resource that can be used to alert you of any watches or warnings issued for your area. The free FOX Weather livestream is also available 24/7 on the website and app and on your favorite streaming platform. The FOX Weather Update podcast also provides weather information for the entire country.