Waiting for rescue: Stories of survival after floods sweep Kentucky and St. Louis
Number of missing in Kentucky is unknown with spotty cell service and access cut off to flooded areas
A 98-year-old grandmother watching the water rise in her Kentucky home, people waiting in trees and rooftops for rescue and children at summer camp stuck in rising floodwaters – these are just a few of the survival stories emerging from the massive flooding events caused by a deluge of rainfall in eastern Kentucky and the greater St. Louis area this week. 
FOX Weather reporters have been embedded in communities where flooding rescue and recovery and efforts are underway.
HOW TO WATCH FOX WEATHER ON TV
Missy Crovetti shared a photo of her 98-year-old grandmother Mae Amburgey sitting on her bed surrounded by floodwaters in her Whitesburg home in Letcher County. Corvetti told FOX Weather she posted the heartbreaking image on Facebook while desperately trying to find help for her grandmother and uncle. Both are recovering at a hospital after swimming for their lives, according to Corvetti.
Also, in Letcher County, FOX Weather correspondent Katie Byrne learned more about a viral photo of a woman photographed before her rescue sitting atop a roof with her dog in a crate. Just the peak of the roof is visible above the floodwaters. 
Bryne said the woman put her dog in a container that would float and swam to a neighbor's rooftop, where she waited for hours for rescue.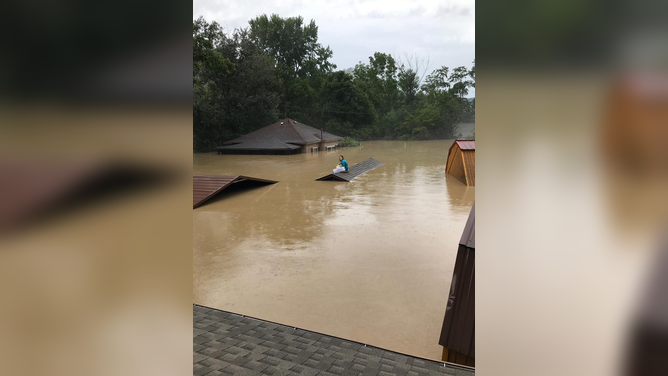 Bryne also spoke to residents looking for loved ones, but cell service outages are delaying reunification. 
People were attempting to salvage their belongings through the mud and flood debris in a neighborhood in Hazard, Kentucky. 
HISTORIC KENTUCKY FLOODING: CHILDREN AMONG DEAD AS OFFICIALS FEAR RISING DEATH TOLL
"We're all struggling," Woodrow Dunn said. "But everybody is helping everybody, so that's one good thing, I guess."
FOX Weather's Max Gorden was covering the rescue and recovery efforts in Hindman, Kentucky, within Knott County, which has had the highest death toll from the flooding event.
"This is a very tight-knit community, everybody knows everyone, and it just seems like everyone I talk to knows a family whose lost someone, or they know someone who is lost," Gorden said.
Survivors described talking to a woman on the phone trapped in floodwaters, and the line went dead when floodwaters swept her home away. 
According to Kentucky Gov. Andy Beshear, more than 330 people displaced by the flooding are in shelters across eastern Kentucky. More than 70 people have been rescued by air and hundreds more by boat, which is the only way to access some impacted areas. Three senior living homes were evacuated.
Three Kentucky State Parks are open for flooding victims who need a place to stay. 
One of the hardest hit areas is the town of Jackson in Breathitt County, where FOX Weather correspondent Will Nunley reported floodwaters are still moving roofs and debris from homes.
"This is the result of these powerful floodwaters and these creeks just splintering homes and bringing all that creek water here to the river and bringing it downstream where more flooding concerns are happening," Nunley said of the river behind him.
'HOUSES ARE FLOATING AWAY': FAMILIES TRAPPED AS FLOODWATERS TEAR THROUGH EASTERN KENTUCKY
Early on Friday, fog hampered helicopters searching for survivors and getting supplies to areas cut off by the high waters. Those flights picked up again after the fog cleared.
Evacuations were ordered in a community near Jackson because officials were worried a damn in the area might be breached. Officials are still closely monitoring the damn.
St. Louis first experienced a 1-in-1,000-year flooding event on Tuesday, and flooding rains returned on Thursday.
'THIS IS NOT NORMAL:' ST. LOUIS STREETS BECOME RIVERS AS RAIN FLOODS HOMES, HIGHWAYS
According to the National Weather Service, a Flash Flood Emergency was issued because St. Louis' rainfall totaled nearly a foot in parts of St. Louis County, with rainfall rates of 1-3 inches per hour. Fire and rescue teams worked to pull 55 people from flooded homes on Tuesday, and more were rescued when their cars became overwhelmed by floodwaters.
FOX Weather correspondent Mitti Hicks was reporting from Gateway City, where residents are still shocked over the amount of rainfall and the damage left behind. 
The second round of heavy rainfall stranded motorists and flooded a day care where a summer camp was underway, and a local priest was rescued from his car.
Firefighters said they successfully carried six children out of the Cornerstone Institutional Baptist Church to a drier location.
"This street where we're standing right here was completely underway yesterday," Hicks said Friday. "It was a different story here 24 hours ago."
CHILDREN RESCUED FROM RISING WATERS AT A SUMMER CAMP IN ST. LOUIS AFTER ANOTHER ROUND OF FLASH FLOODING
The FOX Weather app is a great resource that can be used to alert you of any watches or warnings issued for your area. The free FOX Weather livestream is also available 24/7 on the website and app and on your favorite streaming platform. The FOX Weather Update podcast also provides weather information for the entire country.