Stormy, soggy 4th of July ahead for northern tier of US as dangerous heat sears Plains, Midwest
The central US will be the battleground between severe storms to the north and dangerous heat to the south
FOX Weather meteorologists will be tracking showers and storms across the northern tier while dangerous heat sears the central U.S. for America's 246th birthday.
Celebrations are planned from coast to coast, and in typical summer fashion, some spectators will have to dodge some raindrops, thunder and lightning on Independence Day.
Current Radar Loop
(FOX Weather)
---
Here's the forecast for each region.
HOW TO WATCH FOX WEATHER ON TV

Northeast forecast
The Fourth of July will be warm and pleasant in the Northeast and mid-Atlantic after Saturday's stormy start to the holiday weekend.
High temperatures on Independence Day will make it into the 80s, but humidity values and dew points should remain comfortable behind Saturday's cold front, which has now pushed well south of the region.
7 FAMILY-FRIENDLY ALTERNATIVES TO FOURTH OF JULY FIREWORKS
The forecast calls for cities along the Interstate 95 corridor from Boston to Washington to range from the lower 80s to the upper 80s Monday afternoon before settling down into the upper 70s and lower 80s for the start of fireworks shows.
New York City's 46th Annual Macy's 4th of July Fireworks show is expected to start around 9:25 p.m. under a partly cloudy sky.
HOW WEATHER IMPACTS JULY 4TH FIREWORK SHOWS
Southeast forecast
The FOX Futuretrack for Monday, July 4, 2022, shows scattered showers and thunderstorms across the Southeast.
(FOX Weather)
---
The combination of plenty of moisture, warm temperatures and a cold front could help kick off scattered showers and thunderstorms on the Fourth of July holiday.
Communities from the Tennessee Valley to the Gulf and Southeast coasts could see stormy weather, especially during the afternoon and early-evening hours.
Where rain falls, the precipitation will have a cooling effect and provide some relief from the summer heat.
If the Southeast is in your destination plans, make sure to download the FOX Weather app to track the storms on our 3D mobile radar.
FALLING GAS PRICES WELCOME NEWS FOR FOURTH OF JULY TRAVELERS LOOKING TO AVOID AIRPORT DELAYS
Midwest forecast
It could come down to location, location, location in the Midwest and Plains, with northern parts of the region seeing the threat of severe thunderstorms as central and southern portions deal with dangerous heat and humidity.  
A Severe Thunderstorm Watch is in effect for parts of northern Illinois, including the outer Chicago suburbs, and a few counties in northwestern Indiana until 7 p.m. CT for potential for isolated wind gusts to 65 mph, hail up to the size of a quarter and a possibility of a few tornadoes. 
A Severe Thunderstorm Watch was also in effect for central Montana through 10 p.m. MT for isolated wind gusts to 70 mph, hail up to 2 inches in diameter and frequent lightning.
Current Watches
(FOX Weather)
---
Overall, scattered severe thunderstorms are expected from parts of the northern Rockies and northern High Plains eastward into the upper Midwest and Great Lakes regions, including the Minneapolis/St. Paul and Chicago metro areas. Large hail and damaging winds should be the main threats.
SEVERE STORMS COULD KICK OFF THE WORKWEEK FROM PLAINS TO MIDWEST, MID-ATLANTIC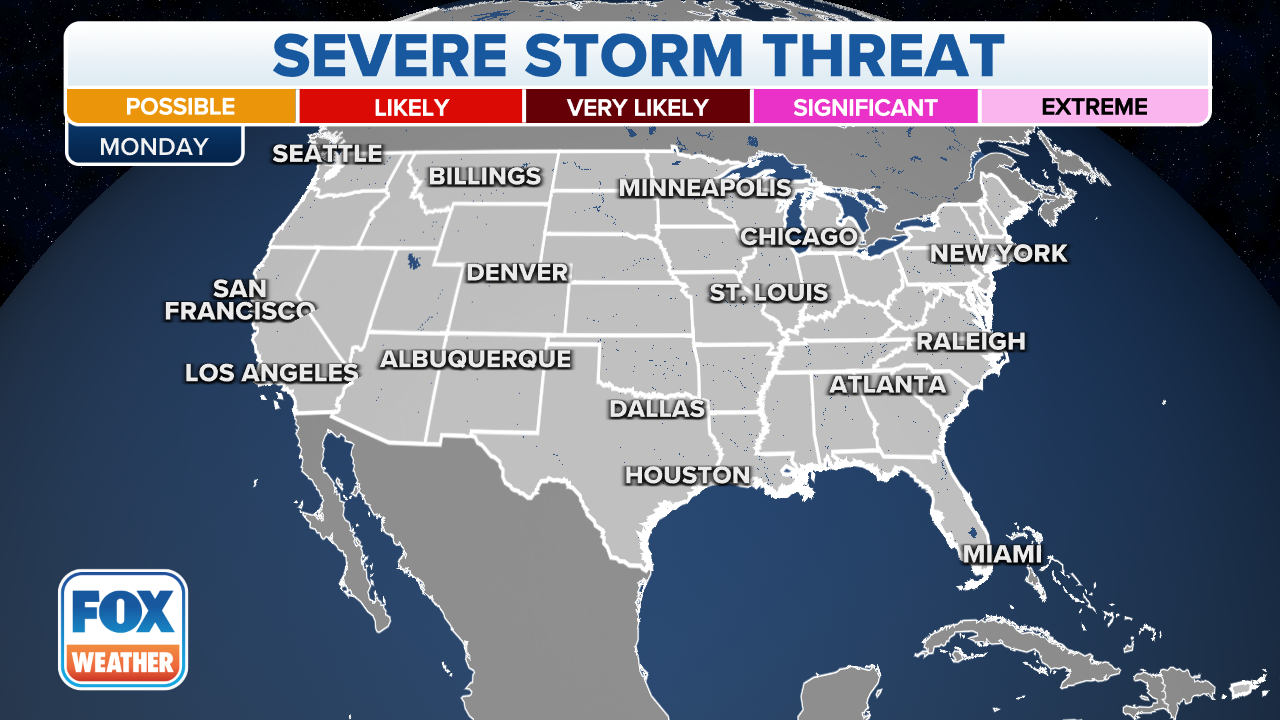 Severe storm threat on Monday, July 4, 2022.
(FOX Weather)
---
Meteorologists say the most significant concern for temperatures that will be well above average will be in the Central and Southern Plains and the mid-Mississippi Valley. Highs could be 5 to 15 degrees warmer than average, which means temperatures will reach the 90s and even the lower 100s.
FIREWORKS NOW BANNED OR RESTRICTED IN THESE STATES DUE TO DROUGHT, EXTREME HEAT
Forecast highs on Monday, July 4, 2022.
(FOX Weather)
---
West forecast
Because of a lingering storm system over the Pacific Northwest, most of the region will see the cooler-than-average temperatures continue on Independence Day.
Los Angeles will also enjoy another day with highs in the 70s.
WAR TROPHY FROM GEORGE WASHINGTON'S ARMY DISCOVERED AMID BRITISH SHIPWRECK
Below-average temperatures will make for great weather for parades and firework displays in large parts of Oregon, California and Nevada on the Fourth of July.
An average high for July 4 is typically 92 degrees in Reno and 81 in Los Angeles, so large parts of the West will see temperatures between 10 and 15 degrees below average.
The chance for a few scattered showers will exist in the Pacific Northwest, the northern Rockies and the Four Corners region.
CLICK HERE TO GET THE FOX WEATHER UPDATE PODCAST
The FOX Futuretrack for Monday, July 4, 2022, shows a few scattered showers in the Four Corners region.
(FOX Weather)
---
The Southwest is in its monsoon season, meaning an influx of moisture could lead to areas of heavy rainfall and localized flash flooding.
For areas that have not seen recent rain and are experiencing high fire dangers, communities have banned fireworks and are encouraging families to attend drone shows.
Be sure to download the FOX Weather app to track any storms in your area and receive potentially life-saving weather alerts issued by the National Weather Service. The free FOX Weather livestream is also available 24/7 on the website and app and on your favorite streaming platform. The FOX Weather Update podcast also provides weather information for the entire country.