Fireworks now banned or restricted in these states due to drought, extreme heat
Cities have banned fireworks altogether or restricted use citing ongoing fire danger
Independence Day fireworks celebrations have been thwarted by a global pandemic in recent years, but 2022 has brought new challenges to the Fourth of July in the form of drought and extreme heat.
According to the U.S. Drought Monitor's most recent report, nearly half of the continental U.S. remains in some level of drought. Some good news for the Southwest is that monsoon rains are providing much-needed relief to dry landscapes. However, many areas remain under drought conditions.
Hot temperatures, dry foliage and fireworks can be a dangerous combination, so many large fireworks shows happen over water to prevent wildfires.
HOW TO WATCH FOX WEATHER ON TV
Fireworks start an estimated 19,500 fires every year, and more fires are reported on July Fourth than any other day of the year, according to the National Fire Protection Association.
Drought and wildfire weather are causing some communities in California, Colorado, New Mexico, Utah and Texas to outright cancel fireworks shows because of the risk. Some cities are rethinking what a fireworks show looks like and turning to drones as the solution.
Hire UAV Pro, a Denver-based company, uses its drones to produce a synchronized light display. The owner told FOX Weather they have been getting calls from all over the West to offer an alternative to fireworks due to the ongoing drought.
Below is a list of fireworks bans and cancellations across the West and Texas due to weather-related factors.
Arizona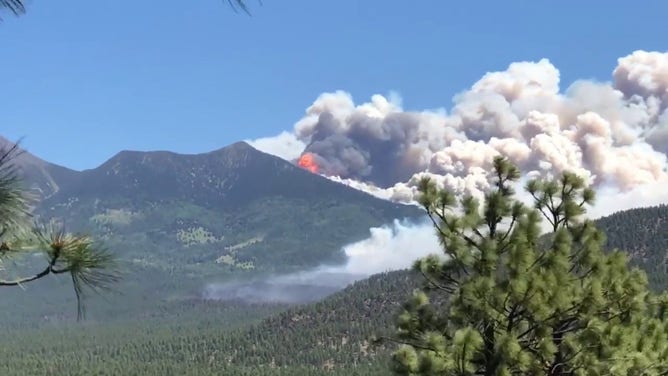 The city of Phoenix has called off its three largest fireworks shows this year, however, the city cited supply chain issues accessing fireworks as the reason, not wildfire concerns.  
HOW WEATHER IMPACTS JULY FOURTH FIREWORK SHOWS

Flagstaff will use a laser light show instead of fireworks this year because of wildfire concerns. The Pipeline Fire ignited about 6 miles north of Flagstaff in mid-June, ultimately consuming more than 26,500 acres. 
Some fire restrictions within the city have been lifted thanks to the recent monsoon rains. Flagstaff is now under Stage 0 fire restrictions.
Texas
Most firework restrictions and cancellations are happening in Central Texas, where exceptional drought continues to be a problem.
Bell County Judge David Blackburn explained the county is experiencing about five grassfires or wildfires daily due to dry, hot conditions.  
Texas is forecast to receive rain in the coming days from a tropical disturbance in the Gulf of Mexico.
Even with the rain from early this week ahead of the July Fourth weekend, Blackburn said it's still very hot and dry. 
"We're still urging everybody to be very, very cautious out there," Blackburn said. "While we do have some moisture in the ground that we didn't have prior to the rains, it will dry back up, and we need everybody to be very cautious and very careful."
Bell County temporarily lifted a fireworks sales ban from July 1 to July 4, but a ban remains in place for aerial fireworks. 
7 WAYS TO CONSERVE WATER AT HOME DURING A DROUGHT
Even with the 3 inches of rain from this week and more on the way, Blackburn said it's a "small Band-Aid" for a significant problem.
"Again, temporary relief only for a few days here," he said. "We're still very much in the throes of a drought. We're going to see it, I think, continue across the summer unless we can get some of those rains that you've been talking about in the Gulf to make their way up here in droves."
Some Texas counties have restricted the sale of certain fireworks products, including Williamson and Travis counties, where a burn ban is also in effect.
 "Williamson County is urging everyone to use extreme caution this Independence Day so that everyone has a safe holiday," County Judge Bill Gravell said in a statement. "To that end, we have worked in collaboration with the Texas Pyrotechnic Association and American Fireworks, Williamson County's largest retailer, to enhance fire safety through this decision to voluntarily not sell stick rockets and missiles with fins or rudders. These products pose the greatest risk of fire danger."
In East Texas, the city of Athens and the Texas Freshwater Fisheries Center canceled its "Fireworks at the Fisheries" event due to an ongoing burn ban in Henderson County. 

Nueces County, including Corpus Christi, is one of many under a burn ban. The county commissioners have restricted fireworks, including types with "sticks, missiles and fins."
County Judge Ben Zeller declared a local disaster for Victoria County, including limiting the sale of fireworks for a week due to the ongoing drought. 

Comal County, where New Braunfels is located, has a similar ban because of dry conditions. Firework skyrockets attached to sticks and missiles with fins are part of the ban, which went into effect on June 24. 

A similar ban on fireworks with sticks and missiles is in place in San Antonio and Bexar County. 

A burn ban in Potter and Randall counties includes the use of fireworks. The ban could be lifted if significant rainfall offers drought relief. 

A temporary ban on the sale and use of skyrocket fireworks is in place through July Fourth in Waco after McLennan County officials voted to enact a ban due to the ongoing drought. 
New Mexico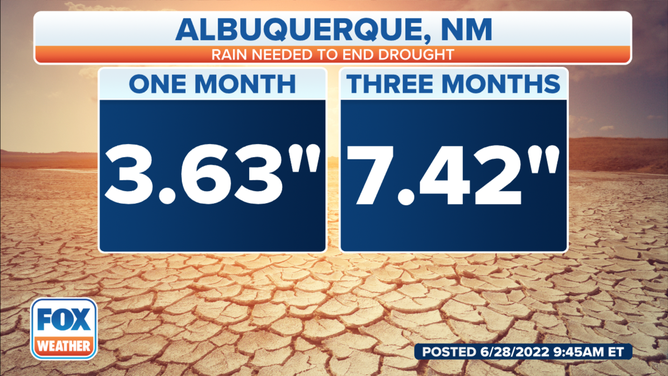 Most of New Mexico remains in the most severe category of exceptional drought, according to the U.S. Drought Monitor. The north and south parts of the state are experiencing extreme to moderate drought conditions.
New Mexico Gov. Michelle Lujan Grisham signed an executive order in late April urging New Mexico municipalities and counties to ban the retail sale of fireworks in their communities. The governor's request was made as the Calf Canyon and Hermits Peak fires started and would become the state's most significant, consuming more than 340,000 acres. 
Some towns and counties took up the governor's call and have restrictions in place. 
Bernalillo County commissioners voted to ban open flames and fireworks due to extreme drought conditions.
City leaders in Artesia enacted an ordinance in May prohibiting aerial fireworks and specific kinds of fireworks within the city. Mayor Jon Henry wrote on Facebook the resolution banned certain fireworks within city limits that pose extreme fire danger in "environmental conditions such as ours."
After welcome monsoon rainfall, Albuquerque will host its Freedom 4th event at Balloon Fiesta Park with fireworks. Consumers can only use certain fireworks within the city. Fireworks labels that say "warning" are illegal, and those that say "caution" are legal.
"July 4th is one of the busiest days for our members every year," Albuquerque Fire Marshal Kris Romero said in a statement. "The safety of our community is our priority, and we ask the residents of Albuquerque to help us by being careful and only using legal fireworks. Our team will be patrolling the entire city and our open spaces so that we can respond quickly to emergencies that occur."
California
In California, more than 60% of the state is in extreme drought, while 12% is in exceptional drought conditions -- the most severe level of drought on the U.S. Drought Monitor. 
CALIFORNIA DROUGHT SPARKS DEBATE OVER RESERVOIR PLAN
During the ongoing drought, Carlsbad city leaders extended an ordinance on fireworks sales and use within city limits. The rule was first adopted 10 years ago and prohibited the use of aerial and ground-audible fireworks. The restriction was extended in May while Eddy County was under exceptional drought. 
A northern San Joaquin Valley fireworks show at Lake Don Pedro was canceled because of ongoing drought conditions, including the lake's projected low level.
Colorado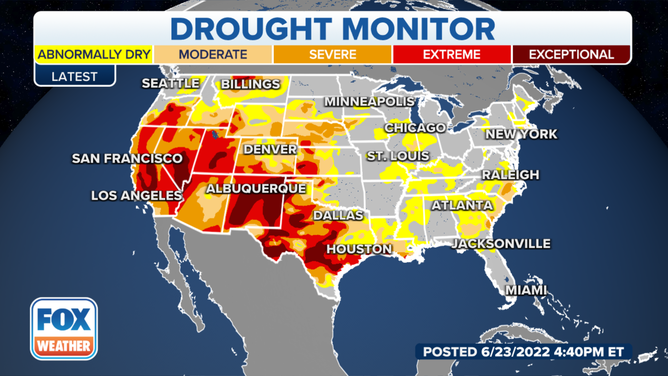 The city of Castle Rock's pyrotechnics show was called off due to dry weather conditions. The city has been under Stage 1 fire restrictions since April 21. Under these restrictions, the sale of fireworks is permitted but using private fireworks is not. 
Utah
Most of Utah remains in extreme drought with exceptional drought underway in the middle of the Beehive State.

In Ogden, the fire marshal issued an order banning fireworks and open flame across certain areas until mid-October. The areas under the ban are designated at the highest risk of wildfire due to the severe drought conditions. 
Be sure to download the FOX Weather app to track any storms in your area and receive potentially life-saving weather alerts issued by the National Weather Service. The free FOX Weather livestream is also available 24/7 on the website and app and on your favorite streaming platform. The FOX Weather Update podcast also provides weather information for the entire country.