Storms march through mid-Atlantic, Northeast bringing hurricane-force winds to DC
Washington, D.C., appears to have been one of the hardest hit cities, with storms producing 80-mph winds that knocked down trees and power lines.
WASHINGTON – Severe weather threatened millions in the Northeast and mid-Atlantic region for the third time in a week on Saturday.
The combination of heat and humidity helped to trigger showers and thunderstorms from Tennessee to Maine and Severe Thunderstorm Watches were in place for millions along the I-95 corridor due to the threat of damaging wind gusts to 80 mph, and hail to 1 inch in diameter.
HOW TO WATCH FOX WEATHER ON TV
Northern Virginia and Washington. D.C. were placed under a Severe Thunderstorm Warning on Saturday afternoon. The NWS reported wind gusts of 65-80 mph were possible and received a report of a 60 mph wind gust near Ronald Reagan Washington National Airport.
Firefighters reported trees fell on cars and even an apartment building. First responders said the damage was significant enough at the complex to force evacuations. They said at least two people were transported to a local medical center after their SUV was crushed by a falling tree.
Authorities in Virginia said they are investigating the death of a 43-year-old man in Dumfries after a tree fell onto his home. Prince William County police said in a Facebook post that the death is "possibly related to storms."
The National Zoo was also closed on Sunday to allow for crews to continue to work on clearing debris after the severe weather on Saturday.
80-MPH WINDS RIP THROUGH WASHINGTON AS STORMS CAUSE 250,00 POWER OUTAGES IN DC METRO

Refreshing taste of fall to follow storms in New England
Once the cold front passes, much cooler weather will push into New England, giving the region and early taste of fall.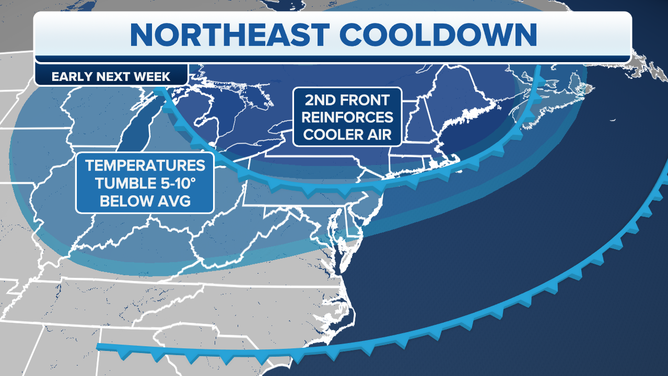 Temperatures will drop Ito the 60s and 70s across Maine and New Hampshire late Saturday and Sunday, with is a good 10 degrees below average.
Highs will drop to around 80 in the New York area Sunday and Monday, coming after spending two days in the 90s sweating under heat alerts.