80-mph winds rip through Washington, DC, causing significant damage across metro
The National Weather Service said winds gusts were estimated to have topped 80 mph in the metro area.
WASHINGTON – Severe storms on Saturday produced wind gusts of hurricane force around the District of Columbia, downing trees and leading to widespread power outages.
First responders were busy in the first hours after the storm responding to calls of trees on top of homes and cars and called the damage in some neighborhoods "significant."
Videos and photos from K Street in the heart of the district to neighborhoods in the sprawling suburbs of Maryland and Virginia showed nearly the same scenes – uprooted trees and snapped limbs nearly everywhere you turned.
The National Weather Service said wind gusts with storms that tore through the nation's capital were estimated to have topped 80 mph and were accompanied by torrential rainfall and frequent lightning.

HOW TO WATCH FOX WEATHER ON TV
While many in the region questioned whether a tornado moved through, the FOX Forecast Center said it is possible parts of the district were the victims of what is known as a downburst – a push of wind from a thunderstorm that can cause wind gusts in excess of 100 mph. These damaging wind events can down trees, cause structural damage and are a major threat to aviation.
The storm was well-forecast, and a Severe Thunderstorm Watch and subsequent warnings were in place before the dangerous weather arrived.
Data from PowerOutage.us showed at least 250,000 outages in the metro region after the storm, and authorities urged residents to only use 911 for life-threatening emergencies. As of Sunday morning, that number had dropped significantly to just over 80,000 outages reported.
Dozens of embassies along what is known as Embassy Row in the northwest section of the district were included in those without power.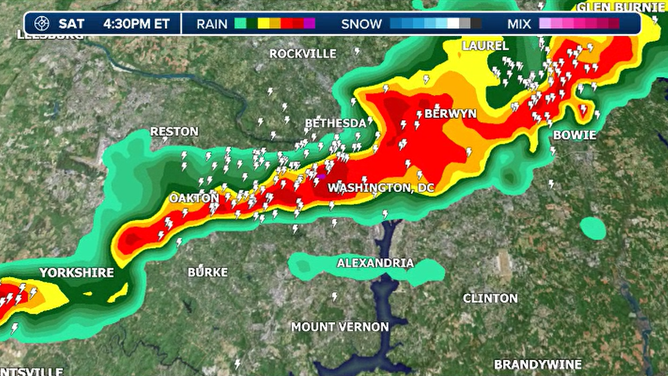 LIGHTNING STRIKE NEAR WHITE HOUSE KILLS 3, INCLUDING WISCONSIN COUPLE; 1 CRITICALLY INJURED
Extensive tree damage was reported around the National Cathedral and the U.S. Naval Observatory, where the residence of the vice president is located.
Nearly two hours after the storms, firefighters were still responding to calls and prioritizing reports where potentially hazardous conditions still remained.
At least two people were injured in the storm after their SUV was crushed by a falling tree. Firefighters said both were transported to a local hospital with injuries that ranged from minor to serious.
Authorities in Virginia said they are investigating the death of a 43-year-old man in Dumfries after a tree fell onto his home. Prince William County police said in a Facebook post that the death is "possibly related to storms."