Lightning strike near White House kills 3, including Wisconsin couple; 1 critically injured
Meteorologists estimate 40 million lightning strikes hit the country each year, with an average of 27 deaths directly caused by the strikes.
WASHINGTON – A couple from Wisconsin and a 29-year-old man were killed, and a woman remains critically injured after lightning struck near the White House Thursday evening, sending police scrambling to help victims in Lafayette Park.
A spokesperson for the District of Columbia Fire and Emergency Medical Services Department said uniformed agents from the U.S. Secret Service and U.S. Park Police were first on the scene and provided life-saving aid until paramedics arrived.
Firefighters reported two men and two women were transported to local hospitals in critical condition. The Metropolitan Police Department said three of the victims passed away from injuries after arriving at the hospital.
Two of the victims were identified as James Mueller, 76, and Donna Mueller, 75, of Janesville, Wisconsin, according to FOX 5 DC. 
A 29-year-old man also died from his injuries and was identified by police as Brooks A. Lambertson, of Los Angeles, according to FOX 5 DC. Police said Lambertson is unrelated to the couple that also died in the lightning strike.
According to Lamberston's employer, City National Bank, the 29-year-old was visiting D.C. on business, FOX 5 DC reported.
In a press release, the company called him an "incredible young man who will be remembered for his generosity, kindness and unwavering positivity."
"We are saddened by the tragic loss of life after the lightning strike in Lafayette Park," White House Press Secretary Karine Jean-Pierre said in a statement released to the media. "Our hearts are with the families who lost loved ones, and we are praying for those still fighting for their lives."
HOW TO WATCH FOX WEATHER ON TV

President Joe Biden is at the White House recovering from COVID-19, but there were no indications from the U.S. Secret Service that the residence or any of the official grounds were impacted by the storm.
First lightning deaths in Washington since 1991
Lafayette Park is a popular site for tourists who visit Washington to take pictures outside the White House.
LIGHTNING BOLT OUTSIDE OF YELLOWSTONE NATIONAL PARK STRIKES TENT, KILLING CAMPER
Police did not disclose whether the victims were tourists or knew about the incoming storm. Firefighters say the victims were found near a tree by the fence that surrounds the White House Complex, not far from Pennsylvania Avenue.
Doppler radar showed strong storms moving through the region shortly before 7 p.m. Eastern with lightning that impacted the heart of the District of Columbia.
The three victims are the first lightning deaths in the District of Columbia since 1991, when one person was killed, and 10 others were injured as they took shelter under a tree during a thunderstorm at a lacrosse match, according to the National Lightning Safety Council.
But there have been other close calls.
During the protests of 2020, the park was also hit by lightning, which injured two National Guardsmen. And in 1998, 11 people were injured by a lightning strike while attending a concert at RFK Stadium.
"This incident underscores the need for people to get to a safe place any time a thunderstorm is in the area. Even a distant rumble of thunder should serve as a warning to get inside a substantial building or hard-topped metal immediately," says John Jensenius, Lightning Safety Specialist with the National Lightning Safety Council. "The incident also underscores the danger of sheltering under a tree, as images from the scene show victims near a tall tree. Lightning tends to strike the tallest object in the immediate area, which is often a tree."
WHEN THUNDER ROARS, EVEN TAKING OUT THE TRASH CAN TURN DEADLY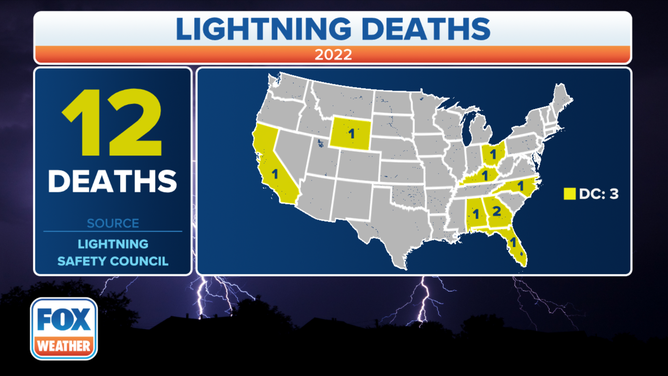 Chris Vagasky with Vaisala reports there have been 289 cloud-to-ground lightning flashes within a mile of the White House in the 11-year period between 2010 and 2021, averaging about 24 strikes a year.
Around 40 million lightning strikes hit the country each year, and the Centers for Disease Control and Prevention says it is rare to get struck by a lightning bolt.
WHAT HAPPENS WHEN SOMEONE IS STRUCK BY LIGHTNING
According to National Weather Service data, the country averages 27 reported lightning deaths each year.
CLICK HERE TO GET THE FOX WEATHER UPDATE PODCAST
Be sure to download the FOX Weather app to track any storms in your area and receive potentially life-saving weather alerts issued by the National Weather Service. The free FOX Weather livestream is also available 24/7 on the website and app and on your favorite streaming platform. The FOX Weather Update podcast also provides weather information for the entire country.