Flash Flood Watch issued for Arkansas, Oklahoma as heavy rain threat increases
Rainfall totals of up to 3 nches are expected for much of the mid-South, with locally higher amounts possible
A cold front has stalled out over the mid-South, becoming the focal point for heavy rain capable of flash flooding through Friday night. The rain could hamper tornado recovery efforts in the nation's heartland.
Showers and storms began to develop Thursday along and ahead of the front from the Ohio Valley to the Southern Plains.
However, the risk of flash flooding will increase on Friday as Gulf of Mexico moisture continues to build up along the stalled front, triggering the development of slow-moving showers and thunderstorms.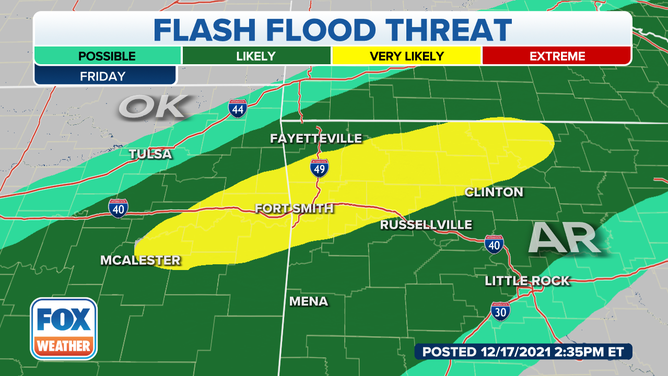 Areas of flash flooding are likely as an axis of enhanced rainfall extends eastward from the Southern Plains through the Tennessee Valley into Friday night. Areas of heavy rain combined with the threat of severe storms could result in flooding issues across these areas as a wave of low pressure drifts along the stalled front.
Rainfall totals of up to 3 inches are expected for parts of this region by Saturday morning, with rainfall rates as high as 1.5 inches per hour. Locally higher amounts are possible if multiple thunderstorms drench the same locations.
A Flash Flood Watch has been issued for northwestern Arkansas and eastern Oklahoma until 6 a.m. Central on Saturday.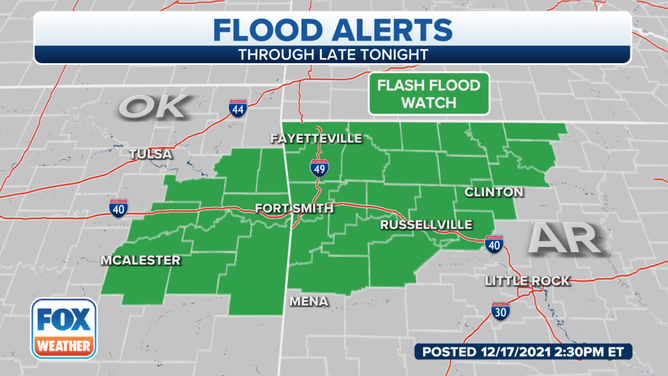 It's important to note that if any flooding develops across the tornado-ravaged areas of western Kentucky, it could be enhanced by debris clogging or partially clogging area drainage systems.
RAIN DRENCHES TORNADO-DAMAGED AREAS AMID RECOVERY EFFORTS IN KENTUCKY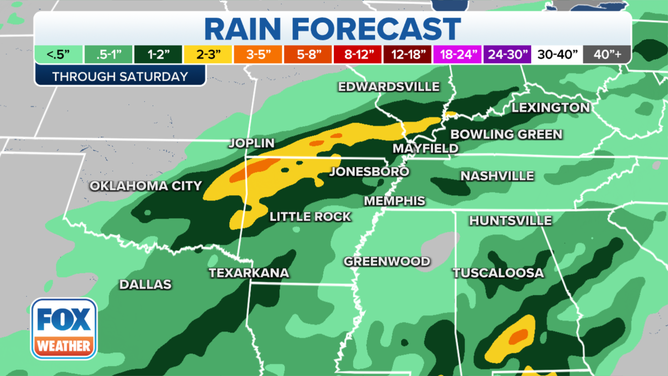 A few strong to severe thunderstorms are also possible late Friday afternoon into the evening across parts of the Southern Plains, mainly from Central Texas into southeastern Oklahoma and northwestern Arkansas.
The main threats will be damaging wind gusts and large hail, but an isolated tornado cannot be entirely ruled out in the darkest red-shaded area on the map below.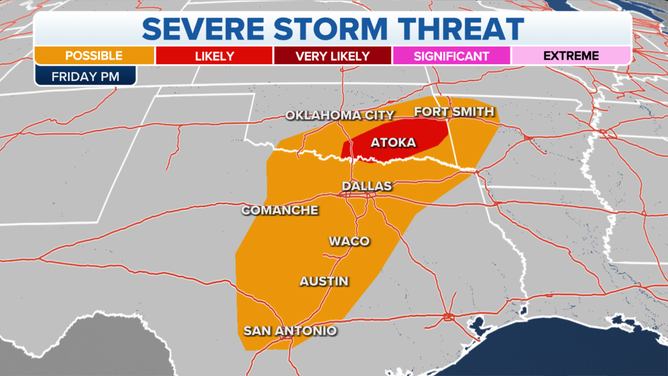 The stalled front will finally begin to slide south and eastward into the Deep South on Saturday and toward the East Coast by Saturday night, pushing the showers and thunderstorms away from the waterlogged mid-South.