Rain drenches tornado-damaged areas amid recovery efforts in Kentucky
Heavy rain expected over tornado recovery areas Friday
People recovering after a tornado outbreak across Kentucky and Arkansas quickly put up tarps Thursday as heavy rain drenched damaged areas. 
The National Weather Service has confirmed at least 50 tornadoes as part of the Dec. 10 outbreak that spanned six states across the mid-south. At least 75 in Kentucky were killed during the catastrophic weather event. NWS damage surveys are still underway.
FOX Weather reporter Katie Byrne was in Mayfield, Kentucky on Thursday, one of the hardest-hit areas by the tornado outbreak, when the rain started. Tornadoes damaged about 75% of the town in Graves County. 
"We've been seeing a lot of people putting tarps on what's left of their home," Byrne said. 
Moisture from the Gulf of Mexico and the Pacific Ocean are fueling rain bands pushing across tornado-damaged areas from Arkansas to Tennessee.
A flood watch is in effect for portions of Arkansas and Oklahoma from Friday morning into the night.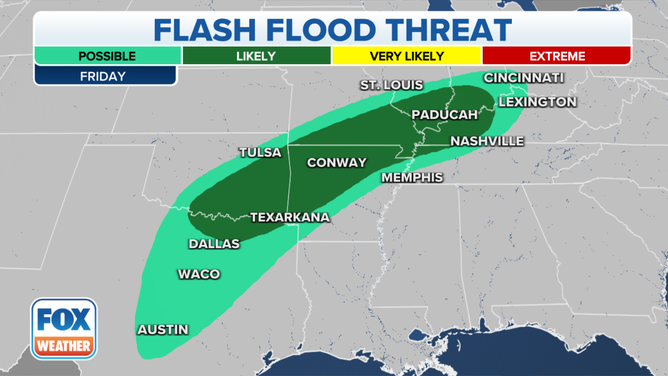 FOX Weather Meteorologist Katie Garner said the heaviest rain will happen Friday and is expected into the weekend. According to the NWS Office in Paducah, Kentucky, heavy rainfall is possible Friday night into Saturday morning. 
Western Kentucky is looking at 3 to 5 inches of rain.
Rainfall will negatively impact residents trying to save belongings and make repairs and Kentucky's farmers. Kentucky Department of Agriculture Commissioner Ryan Quarles said crews were working to cover grain harvests exposed by the tornadoes.
"We have another storm system coming through that's going to provide a lot of rain," Quarles said Thursday. "There's a lot of grain systems that are storing the grain harvest for 2021 that we're trying to get tarps on top of grain silos that may be exposed to help prevent spoilage and further economic loss."