4th of July fireworks show in Fort Worth, Texas, ends early when grass fires ignite
Organizers said they had been watering the area down for weeks to try to prevent dry patches that could end up as unintended fire fuel
FORT WORTH, Texas – Fort Worth's big Fourth of July fireworks show ended early on Monday night after a grass fire broke out along the Trinity River.
FOX 4 Dallas-Fort Worth reported thousands of people showed up at the Panther Island Pavilion for what was advertised as the largest July Fourth fireworks show in North Texas. 
HOW TO WATCH FOX WEATHER ON TV
But the music cut off abruptly, and the show ended just a few minutes after it started. Across the river, dry and windy conditions had contributed to several small grass fires.
Firefighters could be seen putting out the fires as an announcer encouraged everyone in the crowd to go home.
"At first, we thought it was part of the show, but then it started getting wider. We're like, hey, something's happening. But we were sure the Fort Worth Fire Department was going to take care of it," said Tony Estrada.
"It was a pretty big crowd. Everyone was booing when they said it was canceled," added Tony Simp.
FIREWORKS NOW BANNED OR RESTRICTED IN THESE STATES DUE TO DROUGHT, EXTREME HEAT
Many of those people spent hours in the heat enjoying the festival atmosphere for Fort Worth's Fourth. 
There were plenty of fun activities for families, such as face painting, bounce houses, zip lines and, of course, tubing in the river.
FOX 4 talked to 8-year-old Milady McZick on a quick swim break. She took a moment to model her summer fashion.
"A little bit crazy because I never swam in a river," she said. "I have a variety of colors with a glittery heart in the middle."
HEAT ALERTS ISSUED FOR 62 MILLION AMERICANS IN 20 STATES AS DANGEROUS HEAT WAVE BUILDS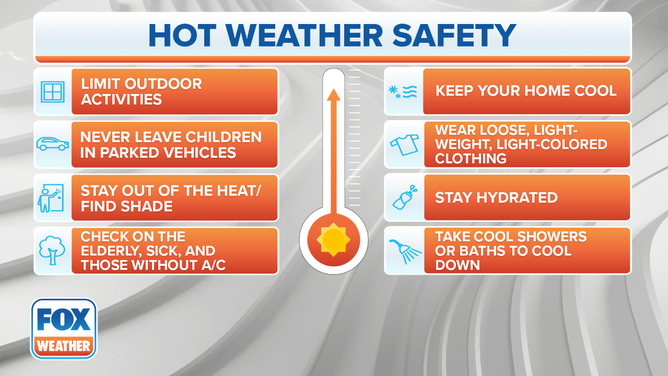 But even with plenty of cool water to go around, EMTs were stationed throughout the park, prepared to handle a multitude of heat-related illnesses.
"You also have on both sides of the river first aid stations, so if somebody is feeling like they're getting kind of hot, they just kind of need to get in the shade and cool off. There's a first aid station again on both sides of the river," said Matt Oliver, a spokesman for the Tarrant Regional Water District, the organization that puts on the event.
Fort Worth police took the lead as head of security following Monday morning's mass shooting at a parade in Illinois.
"Security obviously is paramount, right. It's the most important thing for this event. Going into the planning, I mean it's a local, regional and federal partnership," Oliver said. "There's different gates people can come into. There's security at every single one of those gates. For security reasons, and this isn't just this year, there's no coolers that are allowed."
HOW WEATHER IMPACTS JULY FOURTH FIREWORK SHOWS
While people couldn't bring a cooler, they could bring a sealed water bottle. There were free water-filling stations on both sides of the river.
Yessenia Rodriguez lives in Fort Worth, but this was her first time attending the festival. Despite the heat, she said it was worth it.
"It's pretty hot," she said. "We're willing to take the heat. It's worth it. Texas is worth it."
This year's fireworks show was in the hands of a company called Magic in the Sky, based just outside San Antonio. Their top priority was launching fireworks as safely as possible in the extreme heat.
Organizers said they had been watering the area down for weeks to try to prevent dry patches that could end up as unintended fire fuel.
CLICK HERE TO GET THE FOX WEATHER UPDATE PODCAST
The Fort Worth Fire Department said firefighters were able to put out the flames and safely detonate the remaining fireworks around midnight.
It responded to more than 200 fires this holiday, which is double the number of last year.