Follow the path of destruction from the EF-3 tornado that struck Mullica Hill, N.J.
The National Weather Service storm survey team from their Mt. Holly office has since presented its timeline and description of the damage the tornado wrought along its 12.6-mile path.
MULLICA HILL, N.J. -- On Sept. 1, a strong tornado ripped through southern New Jersey, causing severe damage along the Mullica Hill area. Two people were injured and the twister likely caused millions in storm damage.
The National Weather Service storm survey team from their Mt. Holly office has since presented its timeline and description of the damage the tornado wrought along its 12.6-mile path. 
Touchdown in Harrisonville, NJ.
The tornado touched down at 6:10 p.m. at EF-0 strength at 60 mph near Harrisonville, NJ doing mostly damage to trees and limbs before strengthening and moving northeast.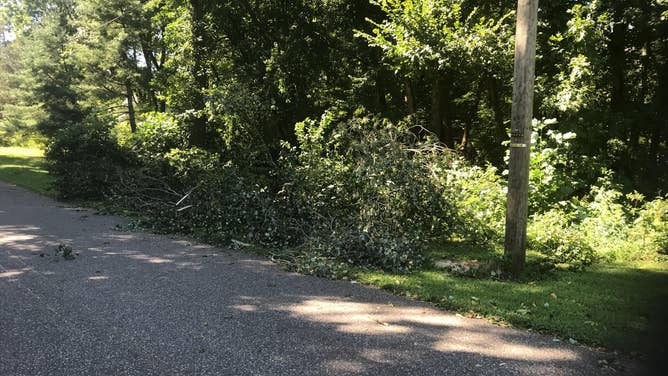 EF-1 strength as it heads into Cedar Grove
As it moved to the northeast, it crossed into the Cedar Grove area as an EF-1 tornado, producing more significant damage to trees with many trees uprooted, according to the storm survey team.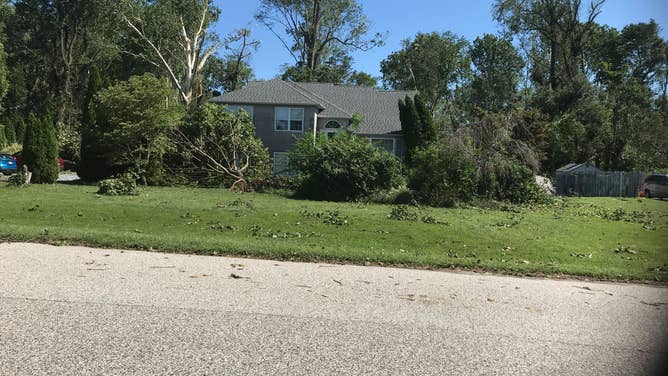 Tornado gets stronger as it goes into Willow Oaks neighborhood
The tornado moved into the Willow Oaks subdivision strengthening further to EF-2-level wind, producing significant damage to trees, as well as serious structural damage to a number of homes, surveyors said.
The NWS said several homes had exterior walls completely collapsed, a number of homes lost roofs and upper story walls, and one home had only a few interior walls remaining.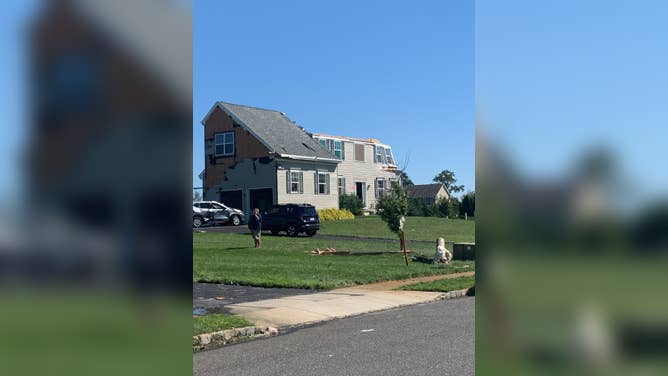 "Vehicles were tossed around and moved, and damage from flying debris was observed in several spots," storm surveyors wrote.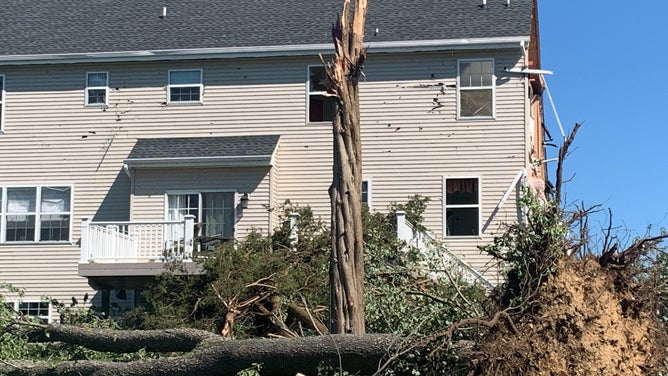 More damage in Bridgeton Pike

The tornado continued to move to the northeast to the Bridgeton Pike area, where multiple trees had trunks snapped and most of the barns and storage buildings at a large commercial farm were completely destroyed, according to the NWS.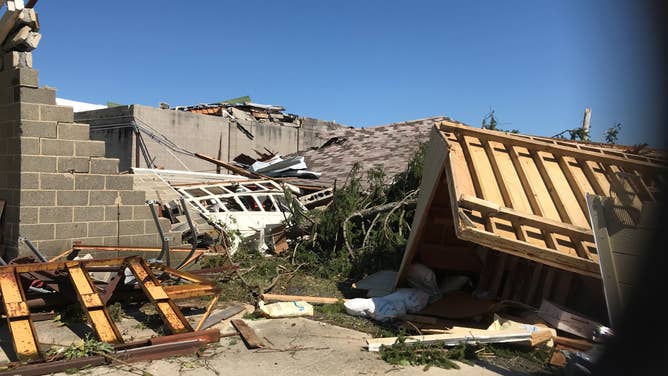 This is the spot along its path that the tornado reached its maximum width, which surveyors estimated to be around 400 yards wide (four football fields!)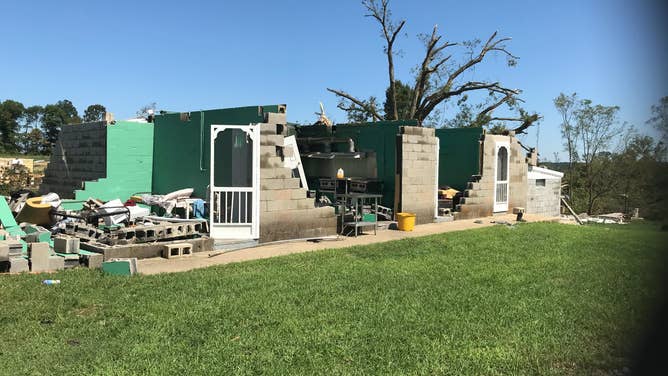 Salvatore Drive: Where the tornado goes into its full wrath
Next, the tornado then continued northeast through the woods with multiple trees snapped before entering the subdivision at Salvatore Drive, the Weather Service said.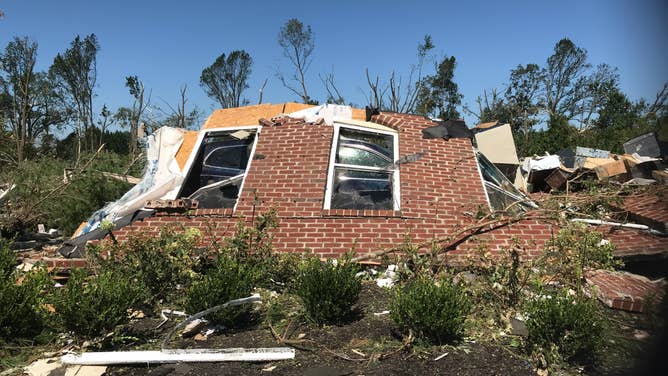 "Here the tornado's most significant damage was observed with one home completely destroyed with no interior or exterior walls standing," the NWS storm survey team wrote.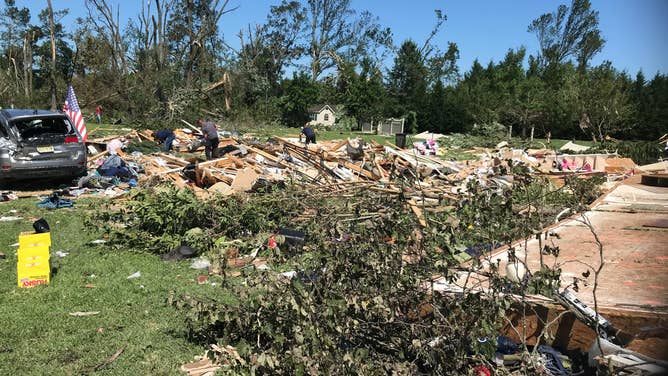 "Other homes in the subdivision had exterior walls collapsed along with garage collapses and vehicles being tossed around by the tornadic winds."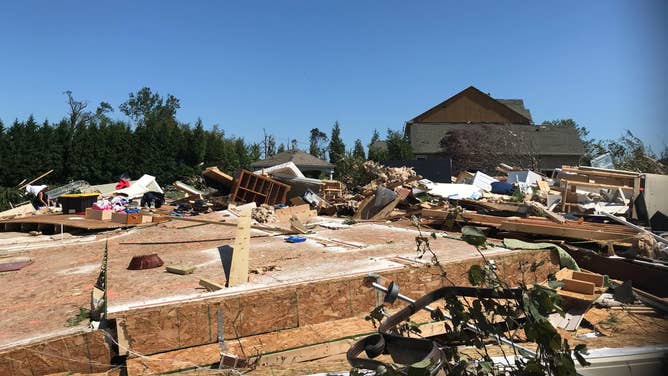 Judging by the extensive damage at this spot, surveyors estimated the center of the tornado was bringing winds consistent with EF-3 damage, while noting tree damage was a little less severe on the fringe of the tornado path, giving winds estimated at EF-2 strength on the edge of the circulation.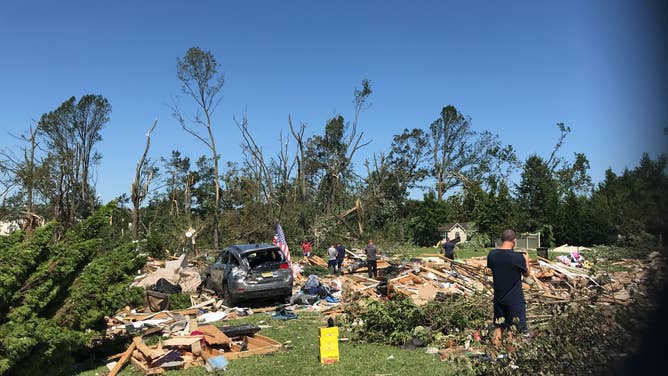 This was the section of the tornado's path where the twister was given its official EF-3 designation, with a peak wind estimated at 150 mph.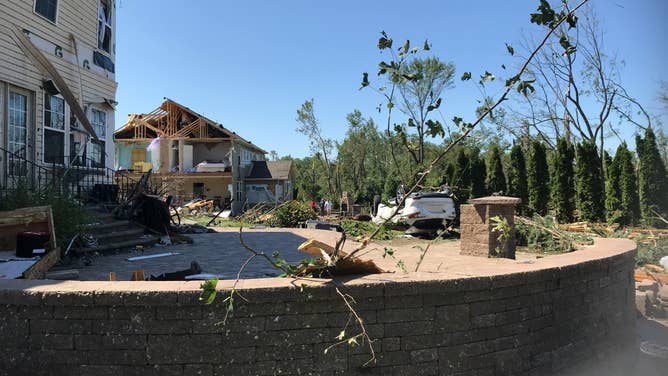 Dairy Farm Damaged
The tornado's next target as it tracked to the northeast was a large commercial dairy farm, where the storm survey team says extensive damage occurred.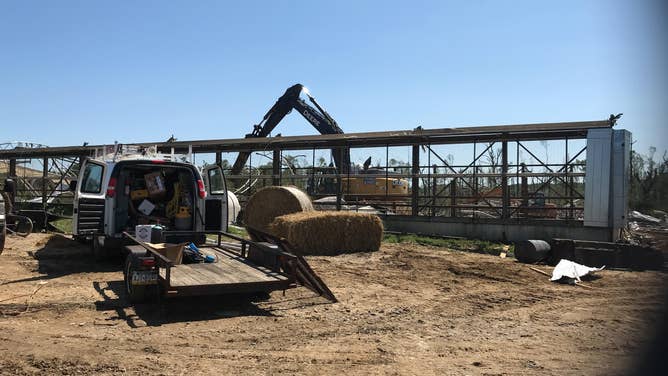 Barns were destroyed and two large grain silos were toppled, according to the NWS.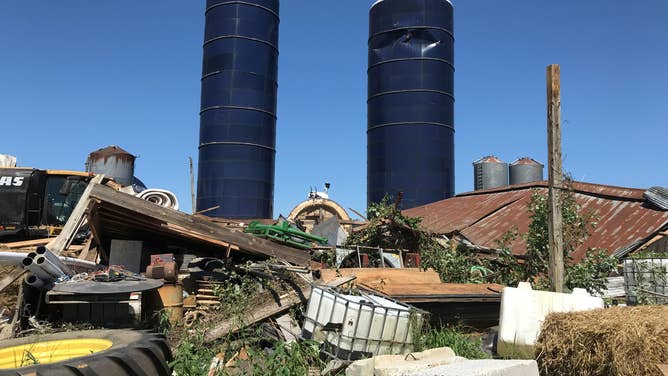 Several trees stripped bare
The tornado then crossed Jefferson Road and crossed Eachus Road snapping multiple trees. 
Thereafter, the tornado moved into the Breakneck Road area -- still at EF-2 strength -- "producing complete deforestation with nearly 100 percent of the trees in a thickly wooded area snapped," storm surveyors wrote.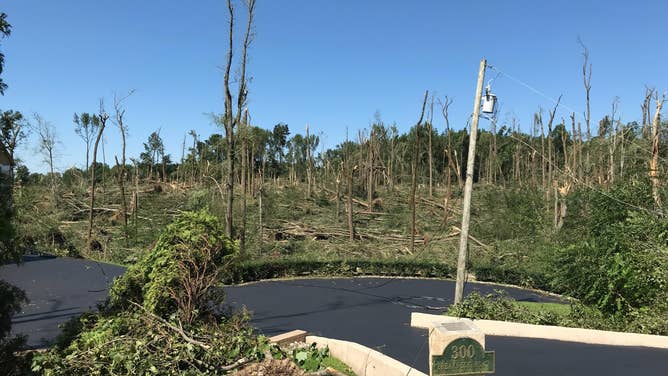 Commercial greenhouse destroyed
The tornado path crossed Main Street, just south of Chestnut Branch Park in Mantua Township, snapping and uprooting a number of trees before reaching the Delaware Valley Florist Commercial greenhouse, mostly destroying the structure, surveyors wrote.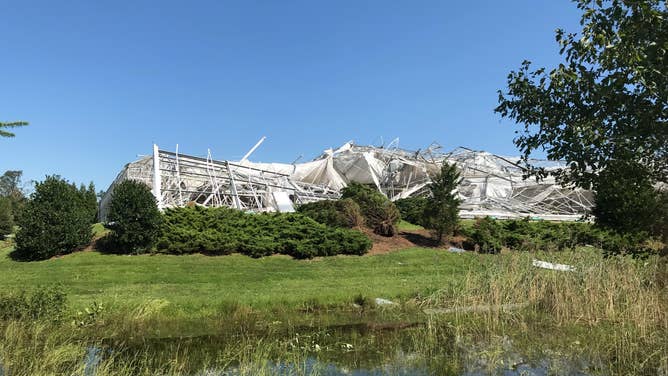 The tornado damage path then continued to the northeast, reaching Wenonah, where it wreaked havoc snapping and uprooting a number of trees, while a few homes lost roofs and one structure collapsed, according to NWS.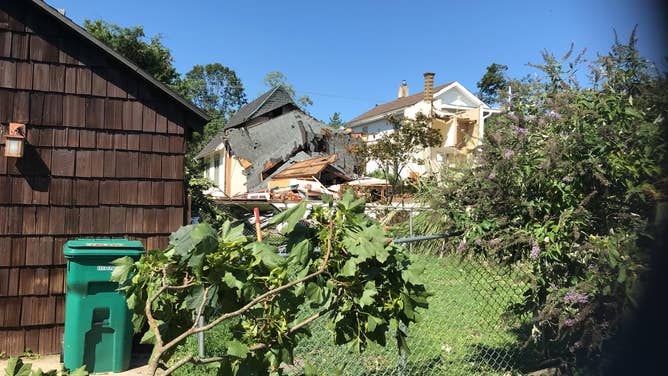 In eastern portions of Woodbury Heights, surveyors said they found several trees were snapped along a path from Chesnut Avenue to the intersection of Walnut Avenue and Tanyard Road.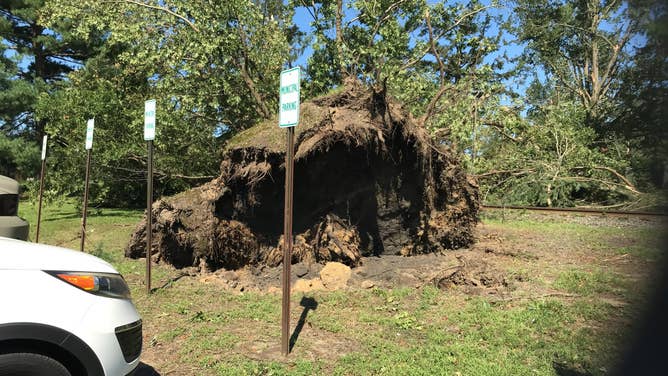 And along a path on Glenwood Court, two homes lost a significant amount of siding on one side and a fence was blown over.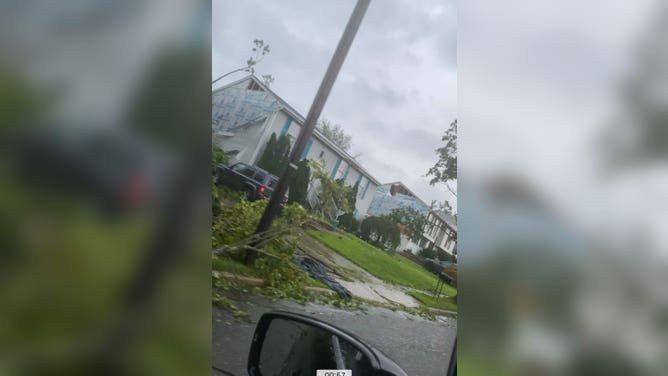 The tornado began to weaken as it approached Deptford, still managing to cause some tree damage.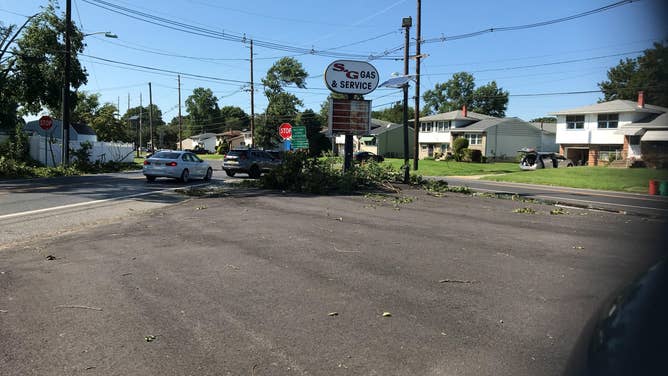 From there, a full 30 minutes after it had touched down 12 miles earlier, the tornado finally dissipated – and just in time. If it had stayed on its current path, it was moments from striking the Deptford Mall complex:
Well that was a close call. Just doing some research on the Mullica Hill, NJ tornado from Sept. 1 and this is part of the @NWS_MountHolly storm survey. That EF-3 tornado was heading for Deptford Mall but dissipated moments before :O (red line tornado path) #njwx pic.twitter.com/07XXtRB1bk

— Scott Sistek (@ScottSeattleWx) September 7, 2021
Despite the damage, luckily no one was killed. The tornado was one of several to touch down in southern New Jersey as the remnants of Hurricane Ida brought stormy weather to the Mid-Atlantic states.
The National Weather Service office in Mt. Holly issued 16 tornado warnings that day, including their first ever Tornado Emergency – the most extreme warning in their arsenal – for the Mullica Hill tornado. 
We print our warnings issued automatically for verification purposes. Between all new warnings and warning updates, it has added up to 3.5 pounds of paper over the last 24 hours! It has been incredibly busy, even on the midnight shift. Severe flooding continues across the area. pic.twitter.com/ofjoaTgDQJ

— NWS Mount Holly (@NWS_MountHolly) September 2, 2021
The tornado outbreak was just the latest in a very stormy year for the Philadelphia and southern New Jersey area. Their National Weather Service office has issued 4,106 storm reports since Jan. 1 – more than double a vast majority of other National Weather Service offices around the nation.