Dangerous debris field floating in Long Island Sound after historic Northeast flooding
Logs, trees and docks have been flushed into the Long Island Sound due to recent flooding in the Northeast and New England. The result is a large debris field that has forced the Coast Guard and NWS to issued warnings.
NEW YORK – After rounds of flooding rain across New England have slowed for now, the danger is just getting started for those downriver. 
The National Weather Service office in New York and the U.S. Coast Guard issued a Marine Weather Statement warning boaters and swimmers of a debris field in the Long Island Sound between New York and Connecticut that has resulted from the recent flooding.
Logs, trees and docks still tethered to boats broke free of banks and marinas along flooded rivers and were washed into the sound. According to the statement, both agencies said they received reports of a "large debris field across Long Island Sound."
The USCG shared a photo of docks, with at least 6 boats attached, breaking away from Glastonbury Marina on the Connecticut River and floating downriver.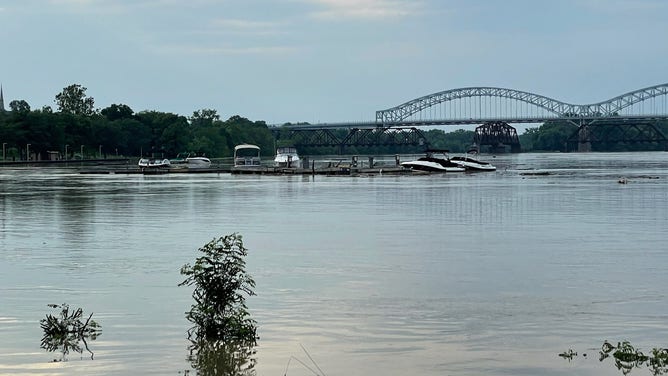 An even bigger issue are those hazards lurking just below the surface that could snag unsuspecting boats, Jet Skis and swimmers. Silt suspended in the floodwater that has made it into the sound further hides the dangers as well as clogs motors.
"It's bad, don't even try it at this point, you'll hit something," commented a poster on the "Boaters of Long Island Sound" Facebook page.
DEADLY FLASH FLOODING SWAMPS NORTHEAST AGAIN, PROMPTING WATER RESCUES AND CANCELING HUNDREDS OF FLIGHTS
Social media posts have been busy with boaters and swimmers comparing notes. One poster said she saw 40- to 50-foot trees floating by shore. 
"I passed a 100-pound propane tank in Essex floating," someone else commented.
Beaches from Rhode Island to Connecticut to New York have been closed, along with several flooded rivers.
The Sound is usually a safe body of water, nestled between Connecticut and Long Island, New York, which shields boaters from the rough Atlantic waves.
The USCG is noting the location of the debris and posting alerts. No plan is in place to remove the debris yet. Officials said the debris would take up to 2 weeks to settle out. Some boaters said on social media that they fear navigation will remain dangerous for the rest of the season though.
Flood threat lingers
Deadly storms dropped record amounts of water over Vermont last week. Up to 9 inches of rain fell across parts of the state, swelling rivers and swamping lowlands under feet of water. The flooding was second only to the Vermont flood of 1927, which officials call the greatest natural disaster in the state's history.
Over the weekend, 7 inches of rain fell in areas of Pennsylvania in just 45 minutes. The NWS confirmed a tornado in Brookfield, Massachusetts. 
High water rescue crews pulled several New Jersey drivers from cars stuck in the water. The quick rising water level took this Connecticut driver by surprise as well. 
VERMONT FLOODING DESTROYS PRODUCE FARM'S ENTIRE CROP
Motorists in New Hampshire could do nothing but watch a road disintegrate into the rushing waters below.
Flash Flood Watches continue for northern New York and all of Vermont through Friday. The Flood Warning for the Connecticut River expires early Friday morning.