Flash flooding possible as torrential tropical rains soak Gulf Coast, Southeast
The combination of a stalling cold front and a tropical disturbance will bring a long-duration, potentially dangerous flood threat through the week.
NEW ORLEANS -- Drizzle is not the order of the day along the Gulf Coast as a disturbance tapping into tropical moisture is set to keep soaking rains in the forecast through the week. It's good news for farmers dealing with drought but may leave others dealing with flash flooding and a soggy vacation.
A stalling cold front and a tropical disturbance will bring a long-duration, potentially dangerous flood threat throughout the week.
HOW TO WATCH FOX WEATHER ON TV
7-Day Rainfall Forecast
(FOX Weather)
---
Forecasts call for 3-5 inches of rain through the end of the week along the immediate Gulf Coast from New Orleans through Mobile and Biloxi, stretching east into Pensacola, with some isolated rain totals exceeding 6 inches.
PLAN, PREPARE, PROTECT: HOW TO BEST COVER YOUR PROPERTY AGAINST FLOODS
While there will be occasional breaks in the rain, it will come in heavy spurts as drenching thunderstorms roll through. Rain rates in these tropically-infused storms could reach 2-3 inches per hour and overwhelm drains, leading to spontaneous flash flooding.
7-Day Rainfall Forecast
(FOX Weather)
---
With the storm's tropical influence and broad circulation, we are watching to see if the storm could develop into a more formal tropical system, though odds remain low. Forecasters with the National Hurricane Center only give a 10% chance of tropical development over the next two days and a 30% chance over the next five days.
WHY WE'RE WATCHING THE NORTHERN GULF OF MEXICO FOR TROPICAL DEVELOPMENT LATER THIS WEEK
"The fuel is there -- we have a broad area of circulation, and it can happen quickly," said FOX Weather meteorologist Britta Merwin. "What we don't know is if this is going to turn into a tropical depression or a tropical storm. We do know is that it is very close to land, so it likely wouldn't develop into anything stronger than that. And even if we were to see a tropical depression form it wouldn't really change the forecast that much. We are still talking about a rainmaker and, unfortunately, the rain in the forecast is substantial, so flash flooding is going to be a risk no matter what happens there."
7 FACTS YOU SHOULD KNOW ABOUT FLASH FLOODS
This type of tropical development has happened before -- three years ago Hurricane Barry formed just off the Gulf Coast as an inland storm system moved offshore on July 11, then became fueled by warm Gulf of Mexico water temperatures and strengthened into a Category 1 hurricane. Barry eventually made landfall near Louisiana's Pelican Island on July 13.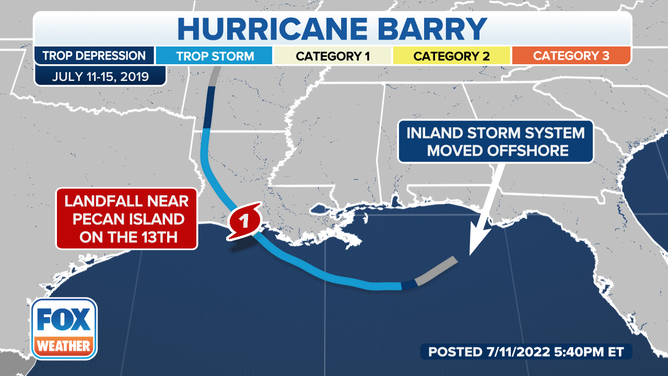 But hurricane development in this current storm remains unlikely.
It's a beneficial rain for farmers
Those who will be cheering the rain this week will be farmers along the Gulf who have been dealing with drought conditions this summer.
New Orleans sat at 6 inches below average for annual rainfall heading into the soggy week.
HERE'S WHAT TO DO AFTER YOUR CAR IS FLOODED
"This (storm) will dump rain in areas that potentially really could be helpful," says FOX Weather multimedia journalist Robert Ray.
Louisiana farmers over toward Lafayette who grow sugar cane and corn have been dealing with severe drought.
"They could use that Southern Soaker for sure," Ray said. "Some of those ag producers could use some of that moving down."
CLICK HERE TO GET THE FOX WEATHER UPDATE PODCAST
Long-range forecasts keep it soggy along the Gulf Coast through the weekend and into next week.  
7-Day Rainfall Forecast
(FOX Weather)
---
Total rainfall totals could climb over 5-8 inches over the next seven days.