Fire Weather Warnings issued in central, southern New Mexico
Wind alerts are in effect for parts of New Mexico and Arizona through Wednesday evening
NOAA's Storm Prediction Center says there's a critical risk for wildfires along the Interstate 25 corridor from Albuquerque, New Mexico, southward to El Paso, Texas, on Wednesday.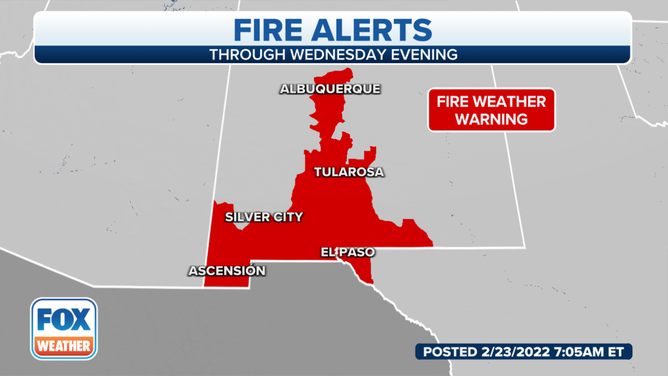 Fire Weather Warnings have been issued in south-central New Mexico, including Albuquerque, Tularosa, Silver City, Ascension and El Paso.
Strong winds and extremely dry conditions will allow fires to grow and quickly spread if any were to ignite on Wednesday.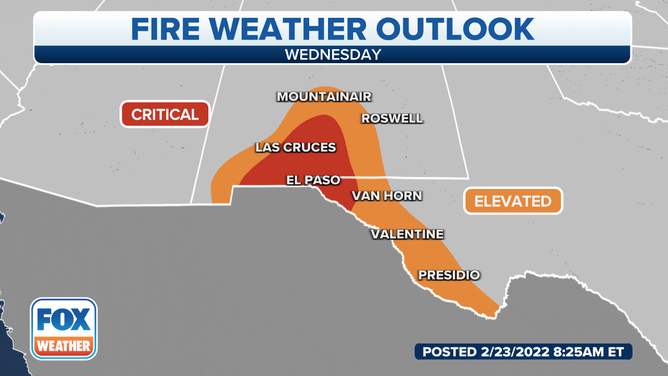 The National Weather Service says winds are expected to be between 25 and 35 mph, with gusts between 50 and 60 mph later in the day.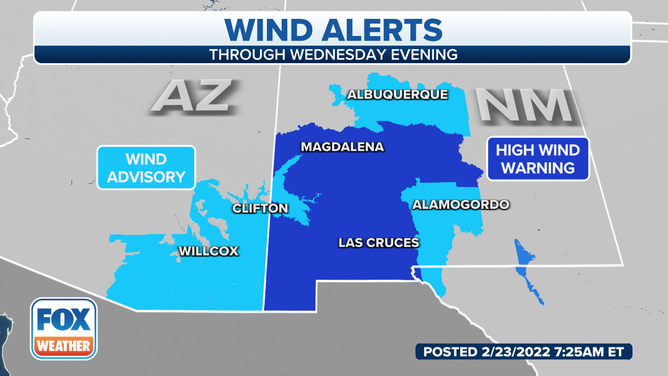 Because of the strong winds expected throughout the day, High Wind Warnings have been issued across southwestern New Mexico, including Magdalena and Las Cruces.
Wind Advisories are also in effect for parts of central New Mexico, including Albuquerque. Southeastern Arizona, including Clifton and Willcox, is also under a Wind Advisory.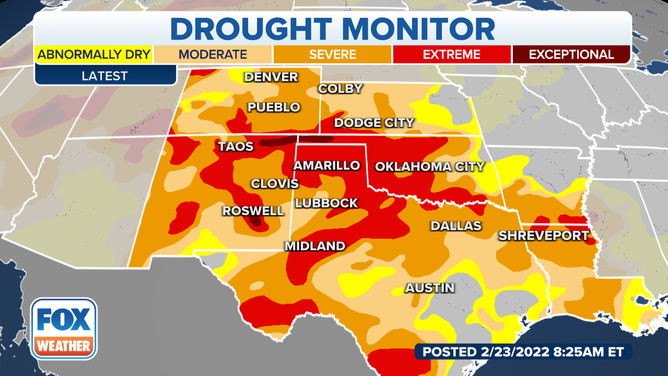 The current U.S. Drought Monitor shows that most of the central and southern Rockies, the Plains and lower Mississippi Valley are in the midst of a severe or extreme drought. And in some areas, like the Oklahoma Panhandle, drought conditions are described as "exceptional."
WARMER-THAN-AVERAGE SPRING PREDICTED FOR MUCH OF U.S., BUT MOST WIDESPREAD DROUGHT IN 9 YEARS FORECAST TO EXPAND
Anyone in areas considered to be at elevated or critical risk of wildfires is asked to limit any activities that could ignite a fire.