Warmer-than-average spring predicted for much of US, but most widespread drought in 9 years forecast to expand
A drier-than-average spring will likely cause the drought to expand even further
A warmer-than-average spring is predicted for a large portion of the United States, with near-average or cooler temperatures confined to areas from the West Coast to the Northern Plains, according to the spring 2022 outlook from the National Oceanic and Atmospheric Administration released Thursday.
The outlook covers the three-month period known as "climatological spring," which extends from March through May.
"The March-April-May 2022 temperature outlook favors above-normal seasonal mean temperatures from the Southwest, across the Central and Southern Plains, to most of the eastern half of the contiguous U.S.," said Dan Collins, forecaster at NOAA's Climate Prediction Center.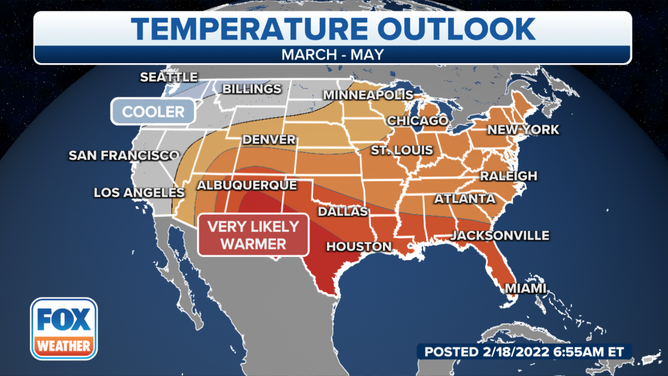 The outlook suggests the highest likelihood of warmer-than-average temperatures will extend from parts of central New Mexico into West and South Texas, while the best odds of below-average temperatures are in portions of the Pacific Northwest and northern Rockies. California, the Great Basin and the Northern Plains should have temperatures that are close to average this spring.
STUDIES FIND WINTER IS FASTEST-WARMEST SEASON IN U.S.; HERE'S WHY THAT'S BAD NEWS
NOAA also expects the season to be drier than average from Southern California and the Southwest into western areas of the Central and Southern Plains, as well as along the Gulf Coast to the Atlantic coast of the Southeast.
The only areas predicted to have a wetter-than-average spring are parts of the Midwest, northern Rockies and Pacific Northwest.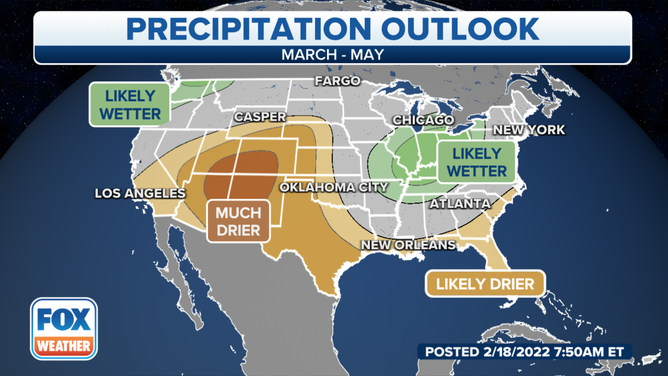 This is unfortunate news for the expansive drought-stricken area extending from much of the West into the Plains, lower Mississippi Valley and upper Midwest.
With 57% of the continental U.S. classified in drought as of Feb. 15, plus another 16% considered "abnormally dry," this has become the most widespread drought in the Lower 48 since Jan. 29, 2013, according to data from the National Drought Mitigation Center at the University of Nebraska-Lincoln.
ONGOING 22-YEAR DROUGHT IN WESTERN U.S. IS DRIEST PERIOD IN OVER 1,200 YEARS, STUDY FINDS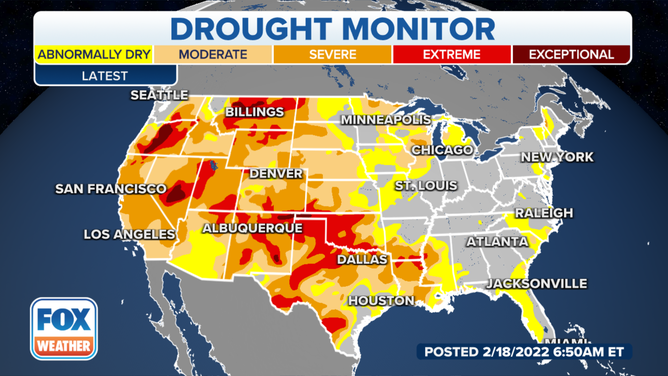 NOAA also released its seasonal drought outlook Thursday, which indicates areas of Texas that are not yet in drought are expected to develop a drought this spring. Drought development is also predicted in the Florida Peninsula and Big Bend, southern and southeastern Georgia, parts of the Carolinas, as well as portions of New Jersey, eastern Pennsylvania and the Hudson Valley of New York.
And for the majority of the nation's drought-stricken areas, the drought is forecast to persist through the spring. Only the interior Pacific Northwest and parts of the upper and lower Mississippi valleys are predicted to see some drought improvement over the next three months, according to NOAA.