Summer's dangerous grip: Heat alerts in effect across portions of central, western US
A strong upper-level high will continue to support above-normal to record-breaking temperatures from the Southwest to the southern Plains through the weekend
The relentless heat will continue across most of the country, so be sure to keep that air conditioner running.
And if you're thinking of enjoying a little frosty treat like ice cream to beat the heat, just remember – it can make you feel hotter.
A strong upper-level high will continue to support above-normal to record-breaking temperatures from the Southwest to the southern Plains.
HOW TO WATCH FOX WEATHER ON TV
There's no end in sight with potential temperature records in the next 5 days..
(FOX Weather)
---
Heat Advisories are in effect across portions of Texas, Oklahoma, Arkansas and Louisiana, where daytime heat indices are expected to soar well into the 100s on Monday, the National Weather Service said.
In the northern Plains, eastern Montana is also under a Heat Advisory. Thankfully, this area will get a bit of relief on Tuesday behind a cold front.
HOW THE WEATHER YOU'RE ACCUSTOMED TO AFFECTS NATIONAL WEATHER SERVICE HEAT WARNINGS, ADVISORIES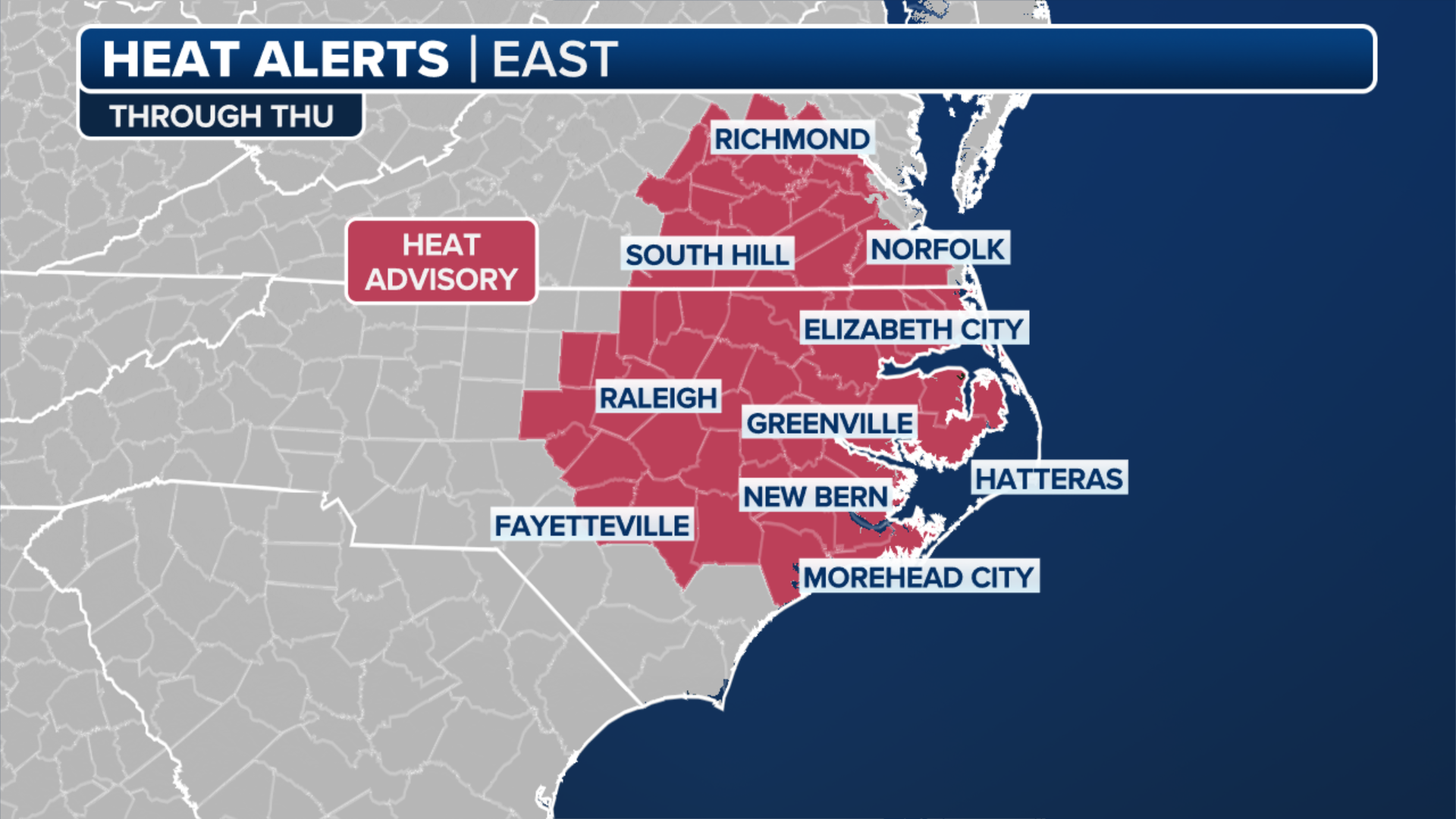 Heat alerts are in effect across the country.
(FOX Weather)
---
Excessive Heat Warnings have also been issued in the South and West.
Central and southern Oklahoma are included in those warnings, including the Oklahoma City metro.
In Texas, the Excessive Heat Warnings are in effect for the Abilene and Tyler areas.
The same high-pressure system will also bring intense heat to the Rockies and northern Plains.
"These spots are already hot, and when you add 10 to 20 degrees above the average for this time of year, you're talking stifling heat, oppressive heat and dangerous heat in some cases," said FOX Weather meteorologist Amy Freeze. "That's the reason for all of the heat alerts that we've got."
FIRESTARTER: LEAVING YOUR WATER BOTTLE IN THE SUNLIGHT CAN HAVE DISASTROUS RESULTS

Temperatures will be in the 90s to mid-100s, which is 10 to 15 degrees above average for this time of year.
Day after day of 100-degree weather is expected to continue across Texas, where cities such as Houston, San Antonio, Austin, Waco and Dallas have experienced their top-three-hottest summers to date.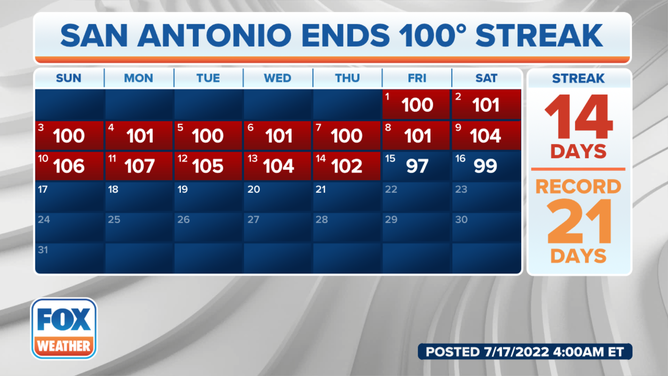 San Antonio has hit 100 degrees for 14 straight days, but that streak ended Friday when the city only reached 97 degrees. The previous record was 21 days of 100-degree temperatures, which occurred in July/August 1963
WHAT IS THE 'FEELS-LIKE' TEMPERATURE?
The longer-range pattern continues to suggest this heat is not going anywhere anytime soon, which will continue to increase the risk of heat-related illnesses and potentially strain energy resources in the region.  
CLICK HERE TO GET THE FOX WEATHER UPDATE PODCAST
Be sure to download the FOX Weather app to track the temperatures in your area. The free FOX Weather livestream is also available 24/7 on the website and app and on your favorite streaming platform. The FOX Weather Update podcast also provides weather information for the entire country.