Drought-stricken regions set to get much-needed rain
High pressure associated with the heat will effectively act as a block, sending storms to track along its periphery for the remainder of the week
While the central U.S. cooks under oppressively hot temperatures, much-needed rain is headed for the South and Southeast which will help drought conditions that have been getting worse.
High pressure associated with the heat will effectively act as a block, sending storms to track along its periphery for the remainder of the week. As a result, multiple rounds of showers and storms will move over the same areas from the Plains to the mid-Atlantic and finally end in the Southeast.
HOW TO WATCH FOX WEATHER ON TV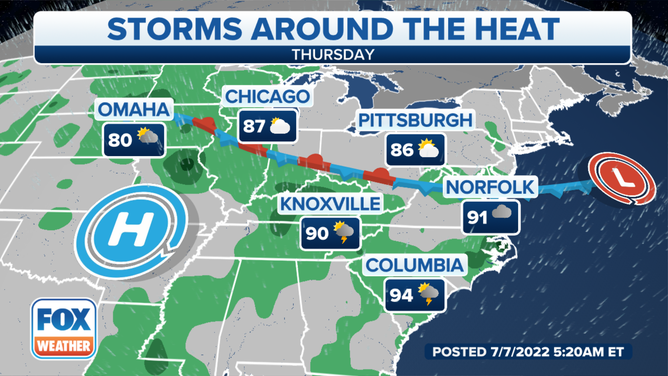 By the time the week ends, a large area of 3 to 5 inches of rain is likely, with isolated spots possibly picking up as much as 8 inches.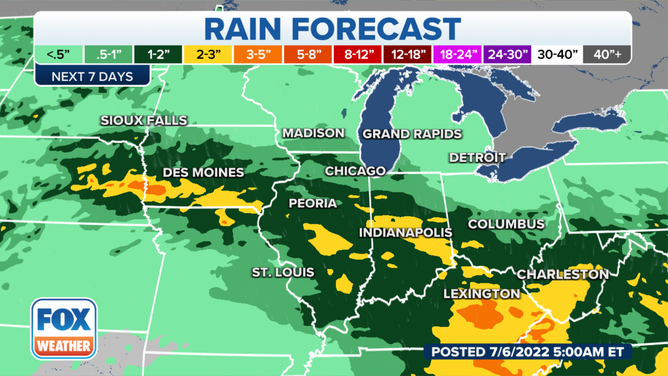 Overall, the rain is expected to be very beneficial for two drought-stricken regions.  
Flash drought conditions are beginning to develop in parts of the Midwest and Corn belt states. As the name suggests, a flash drought is defined as a rapid onset or intensification of drought.
Some locations there have seen almost no rain in the past two weeks and only between 30 and 50% of their average rainfall over the past 30 days.
THE U.S. DROUGHT MONITOR EXPLAINED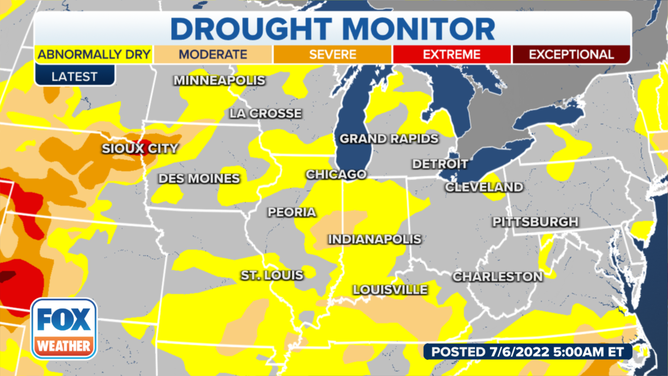 By the end of the week, heavy rain will reach the Carolinas, where drought conditions have been expanding. Tropical Storm Colin brought some drought relief last weekend, especially in South Carolina, but the rain this week will cover a much larger area.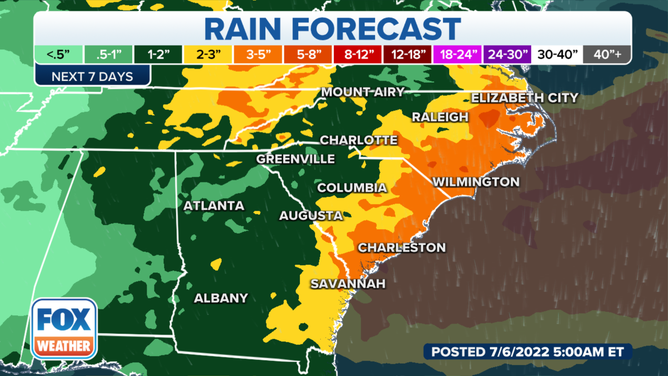 The drought is most severe in eastern portions of North and South Carolina. Drought conditions there started in February.
DROUGHT IMPROVING IN WEST BUT TAKING A TOLL ON THE EAST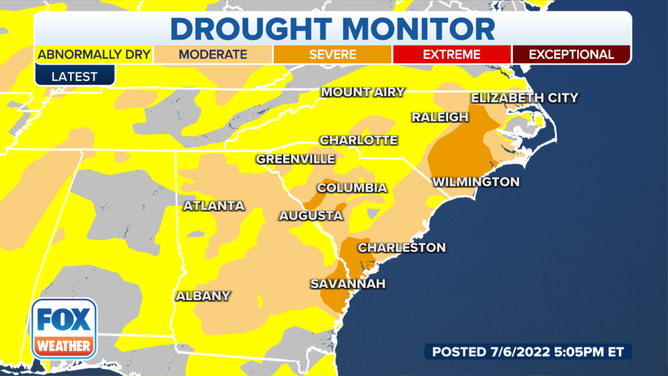 Even with pre-existing dry conditions, instances of flash flooding will become increasingly likely with each passing day as the ground becomes more saturated and is able to handle less additional rain.
CLICK HERE TO GET THE FOX WEATHER UPDATE PODCAST
Track the rain in your area with the FOX Weather app. The free FOX Weather livestream is also available 24/7 on the website and app and on your favorite streaming platform. The FOX Weather Update podcast also provides weather information for the entire country.