Drought improving in West but taking a toll on the East
The USDA, NOAA and the National Drought Mitigation Center publish the U.S. Drought Monitor every Thursday. It shows that 48% of the continental U.S. is in moderate or worse drought conditions.
The latest U.S. Drought Monitor shows improvement for some southwestern states but drier conditions across the eastern half of the country.
Monsoon relief
Monsoon rains, dropping over 2 inches of rainfall in a day across areas of fire-ravaged Arizona and New Mexico, nearly erased exceptional drought conditions. This can be seen on the maps below, where the first image is the current U.S. Drought Monitor and the second is from May 24.
WATCH: MONSOON-FUELED SEVERE WEATHER ACROSS THE WEST

In that time, Albuquerque, New Mexico, recorded its sixth-wettest June on record with 2.38 inches of rain. The Yellowstone River in the National Park peaked at 14 feet, the highest ever, wiping away severe drought from eastern Montana and most of Wyoming.
MONSOON SEASON BRINGS WELCOME RAIN, FLOODING CONCERNS TO SOUTHWEST
Arizona was even able to lift fire restrictions in state and federal lands as monsoon rains lessened the fire risk. Previously dry falls in Colorado again sounded through canyons.
SOUTHWEST MONSOON SEASON IS HERE: WHAT YOU NEED TO KNOW
But drought forecast models show dry conditions persisting across most areas in the West. Arizona, Washington and Oregon are the main exceptions.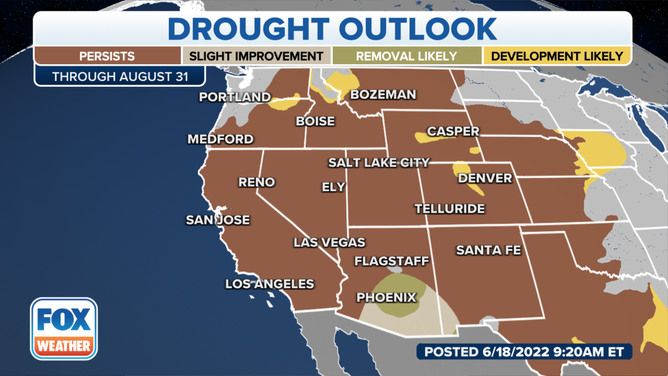 Drought expands in the East
Drought in the eastern U.S. expanded and worsened in just a month. Georgia, the Carolinas, Louisiana, Kentucky, Indiana and New England all show widespread abnormally dry conditions to moderate drought. Eastern North Carolina fell into severe drought. Carolina farmers reported browning corn leaves.
CLICK HERE TO GET THE FOX WEATHER UPDATE PODCAST
Record-high temperatures plagued much of the region toward the end of June. Macon, Georgia, and Montgomery, Alabama, crushed record highs that held for more than 90 years. Memphis, Tennessee, tied a record high that has stood for 141 years.
JUNE WAS A MONTH OF WEATHER EXTREMES. HERE'S THE PROOF
Corn leaves are curling due to hot and dry weather in Kentucky, according to the U.S. Drought Monitor. The monitor even reports that white-tailed deer in Texas will probably have lower antler quality. North Platte, Nebraska, could also tie its driest June on record.
More than 47% of the Lower 48 is in moderate, severe, exceptional and extreme drought.
Looking ahead
NOAA's outlook for next week still looks dire and dry for New England, Texas, Oklahoma, Nevada, Utah and Idaho. Warmer-than-average temperatures will stress water levels and crops across the central U.S., the West and the Southeast.
The Upper Midwest, the northern Great Plains and the Ohio Valley are forecast to see above-average precipitation, and drought conditions could improve for the next U.S. Drought Monitor update on Thursday.
Get the most up-to-date forecast for where you live from the app, FOXWeather.com or watch FOX Weather on your TV.