Death Valley wrings out from historic 1-in-1,000-year rain event as monsoon slams Southwest
All roads inside Death Valley National Park remain closed due to flooding, according to park officials, after nearly a year's worth of rain fell in 3 hours.
DEATH VALLEY, Calif. – Death Valley continues to assess damage from a historic rain event that led to widespread flood damage across the national park as other parts of the Southwest get slammed with monsoon rain.
All roads inside Death Valley National Park remain closed due to flooding, according to park officials, after nearly a year's worth of rain fell in three hours.

HUNDREDS STRANDED AFTER HISTORIC MONSOON RAINS INUNDATE DEATH VALLEY
"The heavy rain that caused the devastating flooding at Death Valley was an extremely rare, 1,000-year event," said Daniel Berc, a meteorologist with the National Weather Service Las Vegas.
The "1,000-year event" term means the probability of a flooding event of that magnitude is 0.1% in any given year. 
WHAT DOES THE TERM '100-YEAR FLOOD' ACTUALLY MEAN?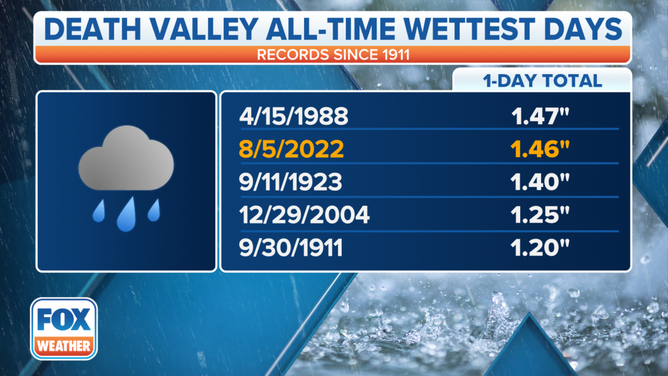 Hundreds of miles of roads are known to have moderate to severe damage from floodwaters and debris flows, park officials said. An aerial tour of the park area found several vehicles that had been carried by raging waters to remote areas of the park. All drivers have been accounted for and are safe.
All park roads are expected to remain closed for days to months, though crews are hoping to reopen Highway 190 by Aug. 17 to allow access to the park's visitor center and hotels in Furnace Creek.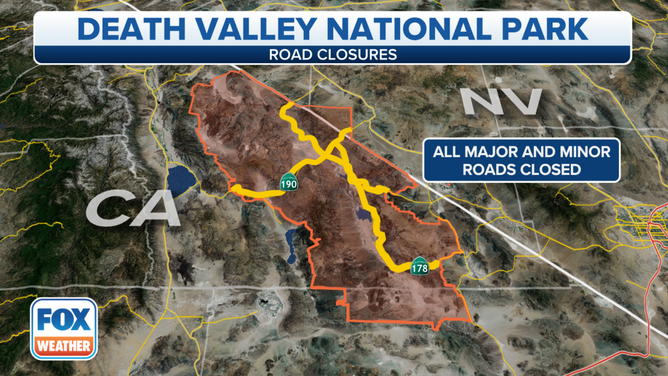 CHILLING IRONY: HOW WORLD HEAT CHAMP DEATH VALLEY OWES NAME, IN PART, TO A SNOWSTORM
"Death Valley is an incredible place of extremes," park superintendent Mike Reynolds said in a release to the media. "It is the hottest place in the world and the driest place in North America. This week's 1,000-year flood is another example of this extreme environment. With climate change models predicting more frequent and more intense storms, this is a place where you can see climate change in action!"
Flood threat across Arizona, Nevada, New Mexico and California
The seemingly never-ending daily dose of showers and thunderstorms will continue this week as an upper-level high-pressure system will continue to pump abundant amounts of moisture northward from the Southwest through the Great Basin.
7 FACTS YOU SHOULD KNOW ABOUT FLASH FLOODS
Flash Flood Threat
(FOX Weather)
---
The coverage of storms and overall flood threat will significantly increase Tuesday across Arizona, Nevada and the deserts of California. This includes Phoenix, Tucson, Flagstaff, Yuma, Las Vegas and Death Valley.
This will also include a very isolated severe threat, as any storms that are able to fully organize and mature will be capable of small hail and 50- to 60-plus-mph winds. 
MONSOON STORMS FLOOD ROADS, STRAND DRIVERS ALONG DENVER'S INTERSTATE 70
"Take extra caution in some of these canyons, also in areas of the area of recent burns scars," FOX Weather meteorologist Britta Merwin said. "Those are two areas that will flood more quickly in comparison to other locations.
The greatest concentration of storms will remain across the deserts of California, Arizona and Nevada for the rest of the week while spreading into Utah.