Hundreds stranded after historic monsoon rains inundate Death Valley
Flooding has closed every road in Death Valley National Park, according to the National Park Service. Several roads have been damaged by the floodwaters.
Thunderstorms driven by the summertime monsoon pattern caused significant flash flooding issues in the Desert Southwest Friday and the wet weather pattern shows no signs of slowing down.
Death Valley averages only 2.15" of rain in an entire year but saw nearly 1.46" in a 24-hour period.
The park received at least 1.7" of rain, nearly an entire year's worth on Friday morning.
The heavy rainfall led to flash flooding that closed every road in Death Valley National Park, according to the National Park Service.

At least 1,000 people were estimated to be temporarily trapped by the rising floodwaters that have since receded.
The flooding left cars damaged and a thick layer of mud and debris in parking lots and roadways.
Additionally, many nearby facilities including hotel rooms and business offices were damaged.

CHILLING IRONY: HOW WORLD HEAT CHAMP DEATH VALLEY OWES NAME, IN PART, TO A SNOWSTORM
Major flooding along Cow Creek and Furnace Creek areas left the Cow Creek water system broken, according to a National Weather Service storm report.
The park is working with the California Department of Transportation and other agencies to assess the damage.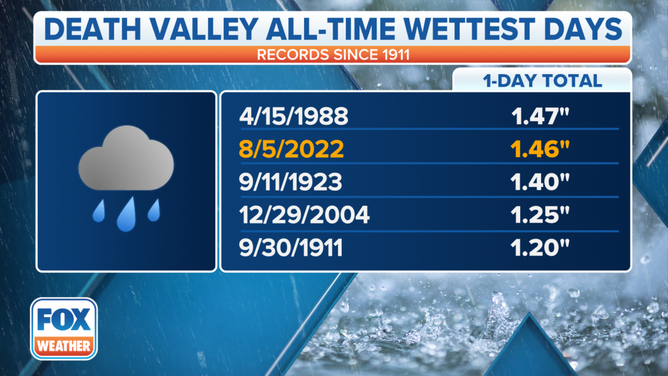 Monsoon rains linger through the weekend 
Monsoon moisture will continue to linger across much of the Intermountain West and Desert Southwest through the weekend.
Flood situations like Phoenix saw Thursday morning will remain possible as these storms have the potential to drop a lot of rain in a short period.
Flood Threat Outlook
 
---
HOW TO WATCH FOX WEATHER ON TV
The greatest flood threat Saturday will be across southern Arizona – including Tucson – as well as the Great Basin. Flash flooding will be possible throughout the Southwest wherever the strongest storms set up, especially around major burn scars.
Forecast models show some areas could pick up on more than three inches of rainfall, which could lead to flash flooding.
SOUTHWEST MONSOON SEASON IS HERE: HERE'S WHAT YOU NEED TO KNOW
Long-range outlooks indicate that above-average monsoon storm activity will likely continue through the rest of the month. 
Flood Threat Outlook
 
---
CLICK HERE TO GET THE FOX WEATHER UPDATE PODCAST
Be sure to download the FOX Weather app to track any storms in your area and receive potentially life-saving weather alerts issued by the National Weather Service. The free FOX Weather livestream is also available 24/7 on the website and app and on your favorite streaming platform. The FOX Weather Update podcast also provides weather information for the entire country.