Deadly Rum Creek Fire has crews scrambling to protect homes from flames
One firefighter has been killed and a state of emergency was declared as Oregon's Rum Creek Fire continues to spread.
MERLIN, Ore. – Firefighters have been working tirelessly to protect homes and other structures in southwestern Oregon as the state's Rum Creek Fire continues to spread.
This comes as the fire crossed containment lines on Wednesday and started burning in new areas along the blaze's eastern edge.
HOW TO WATCH FOX WEATHER ON TV
The latest information on the Rum Creek Fire burning in Oregon.
(FOX Weather)
---
As of Thursday morning, the Rum Creek Fire has scorched 14,940 acres and remains at only 1 percent contained.
"This is rough country," said Joe Hessel, incident commander for the Oregon Department of Forestry Team 1, in a statement. "Every foot, every chain, every mile of line we complete is a big deal."
As the fire spreads, structural protection efforts continue in residential areas that are being threatened by the flames.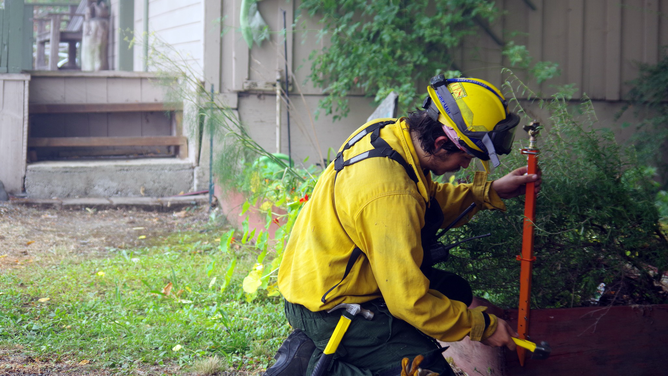 According to local officials, firefighters have been busy wrapping structures and installing sprinklers, clearing flammable materials from roofs and gutters, on and around decks and areas against homes.
At least three buildings, including a home, have been destroyed, and four people have been injured.
Tragically, one firefighter was killed the day after the Rum Creek Fire began.
HOW TO BEST PREPARE YOUR HOMES FOR WILDFIRES
Firefighter Logan Taylor, 25, was working to extinguish the fire when he was hit by a falling tree. He was airlifted to a hospital to be treated for his injuries but later died.
"We are extremely saddened by the passing of Logan Taylor," said Tyler McCarty, of the Oregon Department of Forestry, in a Facebook post. "This loss is deeply felt by our ODF family and throughout the wildland fire community as a whole."
WHAT DO LEVEL 1, 2, AND 3 EVACUATIONS MEAN DURING WILDFIRES
Work continues on containment lines
Crews spent Wednesday reconfiguring containment lines where the fire crossed previous lines near McKnabe Creek using direct and indirect fire attacks.
Officials said heavy smoke on Wednesday also prevented aviation support on the eastern side of the Rum Creek Fire. However, skies were clear on the western side, so crews were able to make severe fire retardant drops to reinforce those lines.
According to officials, residents along the southern and eastern sides of the fire will likely see crews building additional lines around Brimstone Road, Quartz Creek and Hog Creek.
"If the fire is going to go that way, we want to be prepared," said Oregon Department of Forestry operations chief John Flannigan in a statement.
On Wednesday afternoon, Josephine County Sheriff's Office issued a Level 1 notification in the area north of Copper Queen Road and 2000 Block of Dog Creek Road, south of Rattlesnake Road and Tunnel Creek, east of Brimstone Road, Lower Grave Creek Road and Joe Count West of Interstate 5. 
All of the other previous evacuation orders and notifications remain in place, according to officials.