Deadly Hurricane Fiona producing large waves, dangerous rip currents along the East Coast
Beachgoers along North Carolina's Outer Banks are being warned of dangerous surf along the coast, and swimmers are not being allowed to enter the water.
NAGS HEAD, N.C. - Powerful Hurricane Fiona is continuing on a path toward Bermuda and then eventually into Canada, and while the U.S. won't see a direct hit from the ferocious storm, the East Coast will experience some of the storm's effects.
Beachgoers along North Carolina's Outer Banks are being warned of dangerous surf along the coast, and swimmers are not being allowed to enter the water.
HOW TO WATCH FOX WEATHER ON TV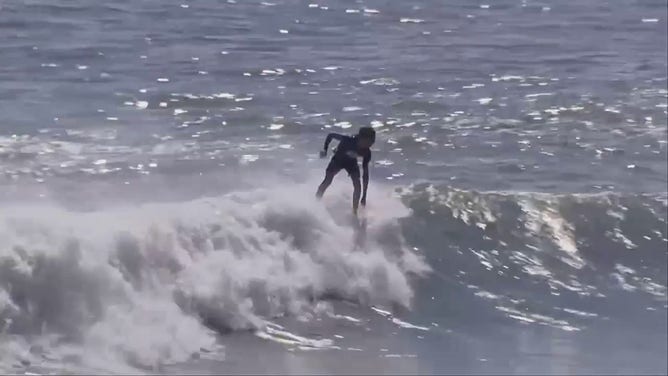 FOX Weather multimedia journalist Brandy Campbell is in Nags Head, North Carolina, where the surf has been getting rougher Thursday.
"We have people out here surfing. There's a surf contest happening," Campbell said. "But people wanting to enjoy the ocean and swim, well, they can't do that."
Campbell reported that red flags warning swimmers not to enter the water are flying, and lifeguards are stopping beachgoers from getting in the water.
The 2022 Easterns is a large surfing competition that is currently taking place in North Carolina, and organizers said they waited to hold the competition to see what kind of wave action Hurricane Fiona could provide to participants. 
"We definitely had to work our way through waiting for Fiona," said executive director of the Eastern Surfing Association Michelle Summers. "(Fiona) was making us be very patient this week. We were hoping we would see some more swell earlier, but (Fiona) took her time. But, as you can see today, the swell has come up and our surfers are really excited."
High Surf Advisories issued from Georgia to Massachusetts

High Surf Advisories have been issued up and down the East Coast as Hurricane Fiona spins out in the Atlantic Ocean.
Large waves between 7 and 11 feet are expected along the beaches along North Carolina's Outer Banks.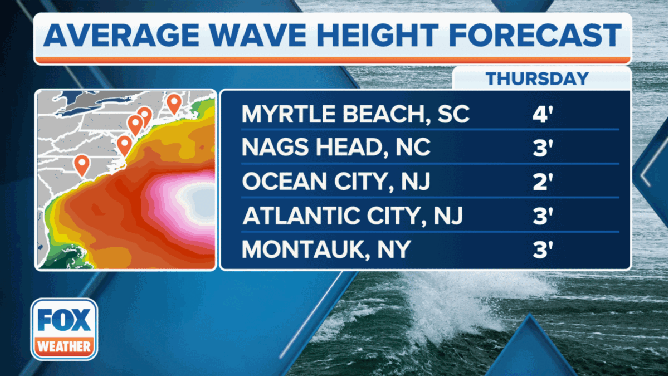 Other High Surf Advisories were issued along beaches in Maryland and Virginia, where waves between 6 and 9 feet are possible.
The Northeast and New England have also been included in High Surf Advisories.
Large waves are expected from the Jersey Shore to Long Island, and waves between 5 and 9 feet are possible along the beaches in southeastern Massachusetts and Rhode Island.
Rip current risks along the East Coast
In addition to the large waves, there is a large risk for rip currents along the East Coast due to Hurricane Fiona.
"We saw some live pictures from the beaches showing the red flags, just advising people to stay out of the water," said FOX Weather meteorologist Ian Oliver. "The reason for that, from Florida up to southern New England, a lot of these areas now in a high rip current risk."
NOAA AIMS TO KEEP BEACHGOERS SAFE WITH NEW LIFE-SAVING RIP CURRENT FORECAST MODEL
Rip currents are strong, narrow currents that move away from the shore and out to sea at high speed, occurring at any beach that has breaking waves – even the Great Lakes. They can occur on sunny days, when one would believe it's safe to swim in the ocean.
"This circulation is pushing water onshore, and that water has to head back out to sea. And where that happens, rip currents form," Oliver said.
So, how do you survive if you get caught in a rip current? 
"If you do get caught in a rip current, the best thing you can do is stay calm," Dr. Gregory Dusek said in NOAA's rip current survival guide. "It's not going to pull you underwater; it's just going to pull you away from shore."
You're advised to call and wave for help to get the attention of a lifeguard on duty. Do your best to float, and don't swim back toward the shore (against the rip current) because it will just make you tired.
"You want to swim out of the rip, parallel to shore, along the beach, and then follow breaking waves back to shore at an angle," Dusek added.