NOAA aims to keep beachgoers safe with new life-saving rip current forecast model
Already, 58 people in the U.S. have lost their lives to rip currents in 2021
NOAA launched its first-ever national rip current forecast model in April 2021 with the goal of keeping beachgoers safe around the country. This new model gives forecasters the ability to predict the hourly probability of life-threatening rip currents along United States beaches up to six days into the future.

Rip currents are strong, narrow currents that move away from the shore and out to sea at high speed, occurring at any beach that has breaking waves – even the Great Lakes. They can occur on sunny days, when one would believe it's safe to swim in the ocean.

"Rip currents account for an estimated 100 deaths in the United States each year," said Dr. Gregory Dusek, a physical oceanographer at NOAA who developed the new rip current forecast model. "Before this, forecasters were manually predicting rip currents on a large section of the ocean twice a day and only a day or two into the future. The earlier prediction has potential to substantially increase awareness and reduce drownings."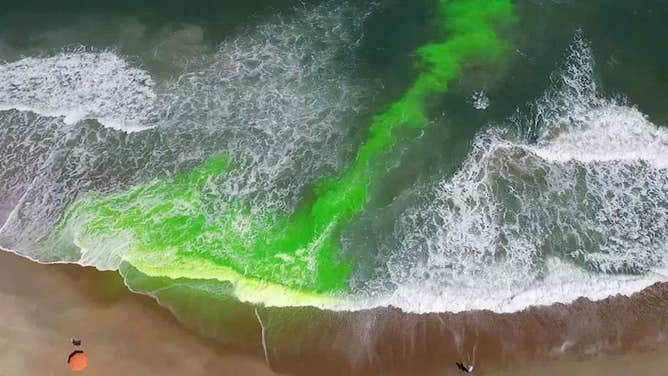 As of Aug. 10, 58 people in the U.S. had already lost their lives to rip currents in 2021, according to NOAA. This is over 11 times greater than the five tornado deaths so far this year. It's also far greater than the six lightning-related fatalities through the end of July.
NOAA's National Ocean Service and the National Weather Service collaborated to develop the forecast model, which ingests wave and water-level data from the NWS's recently upgraded Nearshore Wave Prediction System. Just like predicting weather conditions such as temperature or precipitation, the rip current model predicts the probability of dangerous rip currents on a scale from 0 to 100%.
Why do rip currents form? We used green dye to help show you! Larger waves break over a shallow sand bar = HIGH water levels shoreward of the bar. Smaller waves break in the deep channel = LOW water levels shoreward of the channel. Water flows downhill from H to L! pic.twitter.com/DfcMp0vsXI

— Greg Dusek (@DrGregDusek) May 22, 2018
"Safety for beachgoers and boaters is taking a major leap forward with the launch of this new NOAA model," said Nicole LeBoeuf, acting director of NOAA's National Ocean Service. "Extending forecasting capabilities for dangerous rip currents out to six days provides forecasters and local authorities greater time to inform residents about the presence of this deadly beach hazard, thereby saving lives and protecting communities."

The coverage area for this rip current forecast model includes much of the U.S. East and Gulf coasts, parts of California and Hawaii and portions of the U.S. territories of Guam and Puerto Rico. NOAA indicated that additional areas of coastline will be added in future upgrades to the model.

Many beaches use color-coded flags to warn visitors of the day's rip current risk.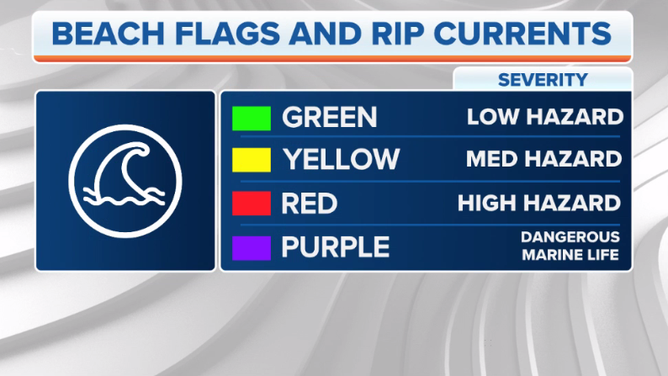 If you see a green flag, strong rip currents are not expected that day, so you should be able to swim safely. However, beware of the yellow and red flags. A yellow flag means there is a moderate risk of strong rip currents, while a red flag indicates a high risk. Take extreme caution when entering the water if a yellow or red flag is posted on the beach.

You can find NOAA's official rip current forecasts at this link.